---
EMAIL INTERVIEW Kelly R. Campbell & Ken Sinclair

Kelly R. Campbell, Supervisor - Building Automation Center
Collier County Government
In this role Kelly leads a team providing all aspects of Customer Service and Building Automation, including HVAC, Security, and General Facilities Management. He has been with the Department of Facilities Management since October 1, 2001. Kelly holds numerous certifications within the fields of Building Automation, Security, and Emergency Management. Contact with Kelly can be made at KellyCampbell@CollierGov.net
---
Collier County Government, Department of Facilities Management, Building Automation Center
658 facilities, nearly 4,000,000 square feet of maintained space and monitoring 19 systems















Sinclair: Tell us about your Building Automation Center?
Campbell: Our Building Automation Center is the "central clearinghouse" for all activity that runs through the Department of Facilities Management. We work hand in hand with all sections of the Department (security, construction, maintenance, real property management and conservation land management), using different automation systems to monitor/run each. Currently, our Department has 658 facilities, encompassing just under 4,000,000 square feet of space. In addition, Collier County is the fourth largest county east of the Mississippi River with approximately 2305 square miles of space. In today's economy, we utilize technology to make up for lack of personnel, as well as to help make the workers we do have as efficient as possible. If something fails in a facility 40 miles away from our headquarters, it is much more resourceful for our technicians to troubleshoot and potentially fix an issue remotely, via automation. Instead of driving 40 miles one way through streets filled with tourists in the winter enjoying the Florida weather just to look at an issue. With our Building Automation Technicians working with our craftsmen, project managers, dispatchers, and administration staff, we take a slightly different approach to integration than the average integrator. Instead of integrating all of our systems onto one machine/server and tying them together, we have taken all the systems and located them in one room. This way our Building Automation Technicians can monitor and dispatch information to our craftsmen and contractors as needed.
Sinclair: What systems do you use in your Building Automation Center?
Kelly – Campbell: The workhorse of our automation center is our Johnson Controls' Metasys HVAC Building Automation System (BAS). We currently have 51,000+ items on this system that we monitor and/or control from more than 50 buildings. These items range from temperatures, humidity, Carbon Dioxide, Carbon Monoxide, fuel levels and other generator information, lighting controls, and the central chiller plant automation, among others.
Other systems that we utilize in the Building Automation Center are:
• Alber UPS Battery Monitoring - This system monitors the status of all UPS batteries which serve our critical electronic records and data.
• Archibus - Maintenance work order management and space management system. Collier County Facilities Management averages 20,000 work requests annually.
• Automated Logic - HVAC monitoring and control system.
• Badgemaster - Makes all the badges for Collier County Government, Constitutional Officers, and contractors.
• Cardkey Pegasys 2000 - Card Access system. We currently have controls on 590 doors, 129 panic alarms, and 6000+ card users on 60+ buildings.
• Baron Mobile Threat Net - XM satellite weather monitoring for the safety of our personnel that work in the field (Florida is the lightning and thunderstorm capital of the world).
• Code Blue Interact RPD - Assistance Box software that tests all assistance boxes twice daily to assure communication lines are working properly (currently 179 blue boxes managed on this system).
• Crossmatch Digital Fingerprinting - This is used for pre-employment and contractor background checks, with fingerprints sent directly to the Florida Department of Law Enforcement.
• Dedicated Micros CCTV - We currently monitor 636 cameras in 60+ buildings.
• Exacom 800 MHz Radio Recorder - We record all radio traffic from our department communications for monitoring and training purposes.
• Lift Net Elevator Monitoring system - Monitors elevator status, keeping statistics on usage and maintenance.
• Maxicom2 - Irrigation monitoring and control system for our Main Government Campus.
• Morse Watchman Key Watcher III - Keeps track of all physical keys used by the Department.
• Optellios Perimeter Intrusion Detection - This system is a perimeter fence intrusion monitoring system used on various County utility plants.
• Powerware UPS Monitoring - Monitors and reports errors in the UPS systems in our buildings.
• Trane Tracer Summit - HVAC monitoring and control system.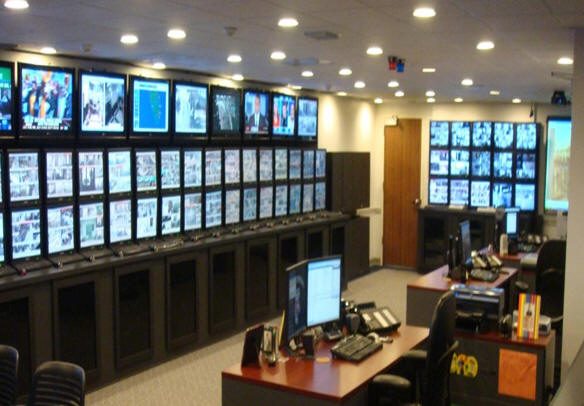 Sinclair: Wow that is amazing. What standards have you embraced to make this happen?
Campbell: The Building Automation Center is approximately 15 years old and has been a work in progress since its inception. We have partnered over the years with Johnson Controls, Inc. on many aspects of our automation. With each additional building, we look for new ways to utilize technology and keep our operations as efficient as possible. Collier County's County Manager general direction has been, no new employees. Instead he has been a proponent of utilizing technology and "working smarter" with the resources we have.
The Building Automation Center has worked diligently with the construction and maintenance sections to insert this technology into the County's vertical standards for construction and renovations. This is done to ensure that all systems are matched with specified equipment as well as included in the specifications of the job.
In an effort to keep us on "the cutting edge" we regularly host guests from outside organizations, including having hosted 4 firms from 4 foreign nations (Argentina, Great Britain, Grand Cayman, and The Bahamas). In addition, we benchmark and tour local governments, businesses, as well as attending various trade shows looking for ideas and ways to improve our operation. We have come a long way with our center and are extremely proud of it. Even though we partner with our security section, we know that there are bigger and better security centers out there. In contrast, we have scrutinized what we do organizationally and have developed what we consider to be one of the finest Building Automation Centers in the world.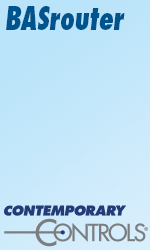 Sinclair: How many staff are involved?
Campbell: There are 6 direct employees for the Building Automation Center, but our success all began with our Facilities Management Director, Skip Camp, CFM. This center has been Mr. Camp's innovation and with his support the center has grown through many challenges. We have been through an area population boom, 2 major hurricanes, a plethora of tropical storms, security issues, 9/11, as well as the economic downturn we are currently experiencing. The next line of credit goes to our Facilities Manager, Damon Gonzales, CFM. Mr. Gonzales is very supportive, both administratively and fiscally, as the Building Automation Center works very closely with the maintenance section.
As for the 6 direct employees of the center, 7 counting myself, there are 2 Building Automation Technicians on duty during the "day" shift, 1 on the "evening" shift, 1 on the "night" shift, and 1 on the "weekend" shifts. The center is manned 24 hours a day, 7 days a week, 365 days a year to serve all of our customers some of which include the Collier County Courthouse, Jail facilities, EMS, Emergency Operations, Sheriff's Department, etc.
The employees in the Operations Center are:
Bill Chatten, Sr. – Building Automation Technician
Frank Sanchez – Building Automation Technician
Hilda Garcia – Building Automation Technician/Service Writer
Maria London – Building Automation Technician
Miguel Carballo – Building Automation Technician/CADD Technician
Nathan Jokela – Building Automation Technician
All of the Technicians have been cross trained in each and every one of our systems to troubleshoot and assist the craftsperson from each specific trade when needed on a system.
Sinclair: How do you handle correction of detected problems in 658 sites?
Campbell: There are a few ways that we handle them. Most of our systems that have alarms have a hierarchy of alarms. These alarms range from maintenance alarms (minor) to critical (major alarms). All of the Building Automation Technicians have a manual in their possession that has protocol for all alarms in the system, who to call, what to do, who to notify, etc. This may mean just making adjustments on the associated automated system, calling the on-call craftsperson for a select trade, calling the Fire Department, calling the Sheriff's department, or as minor as just emailing some people to check something in the morning. All calls are logged as work requests in our Archibus Work Order Management System for the proper trade. They are all classified as emergencies, routine, or preventive maintenance for statistical analysis by our maintenance section and myself.
---


[Click Banner To Learn More]
[Home Page] [The Automator] [About] [Subscribe ] [Contact Us]