---

EMAIL INTERVIEW Anto Budiardjo & Ken Sinclair
Anto Budiardjo is President & CEO of Clasma Events Inc., the organizer of BuilConn held annually in North America, Europe and Asia as part of Clasmaís ConnectivityWeek (www.ConnectivityWeek.com). ConnectivityWeek is a collection of conferences and tradeshows related to smart connected devices, regularly made up BuilConn (www.builconn.com), M2M Expo (www.m2mexpo.com), GridWise Expo (www.gridwiseexpo.com) and DRExpo (www.dr-expo.com)
Please send comments and questions to antob@clasma.com.
---
Connecting BAS with Smart Grid
BAS players simply cannot ignore Smart Grid. It will provide the mechanism for energy generation, distribution and consumption for the future.















Sinclair: Itís been a while since youíve done an interview
Budiardjo: Yes Ken, Smart Grid has been keeping us all at Clasma very busy. Itís been a crazy year for us, our three main events have doubled on average in 2009, and the interest in Smart Grid is continuing to grow.
Sinclair: Tell our readers about this phenomenal growth
Budiardjo: Grid-Interop in Denver last month attracted 500 people (was 200 last year), the buzz at the even was the formation of SGIP, probably one of the most critical organizations involved in standards in Smart Grid. SGIP (Smart Grid Interoperability Panel) is an organizations created by NIST as part of their task given to them by the U.S. Congress as part of EISA 2007. The Monday before Grid-Interop saw the ratification of the SGIP charter, and a governing board election occurred during the Grid-Interop conference.
Sinclair: How does SGIP relate to buildings?
Budiardjo: SGIPís core objective is to facilitate the interoperability of all systems and devices that are related to the grid. IOW, all systems and devices using electricity, which basically means all systems and devices from the generation end of the utility grid, all the way to consuming devices in homes and buildings. Building automation, being the system that controls energy consumption in buildings, will be highly impacted by SGIP and the Smart Grid.
Sinclair: Were there many automation players involved at Grid-Interop?
Budiardjo: A few, mainly involved with Demand Response and related building to grid issues.
Sinclair: If the impact of Smart Grid is potentially significant, this seems like a missed opportunity.
Budiardjo: Yes Ken, the criticality is that NIST is charged (by Congress) to identify the standards that facilitate the accelerated deployment of Smart Grid. With SGIP, NIST has created an open process for all the different stakeholder groups to be involved, including BAS organizations. In effect, SGIP will end up defining what standards will be able to interoperate with each other, and this will likely be written into law for the BAS industry to implement.
Sinclair: Seems to be something BAS companies should care about, how do they get involved?
Budiardjo: Join SGIP, itís free and involves completing a form available online.
Sinclair: I heard GridWeek was a huge success as well.
Budiardjo: Yes, we had nearly 1,500 people (700 in 2008) in DC for that event in September. Both the secretaries of Energy and Commerce were there, giving major speeches on Smart Grid. Demand for attendance was so high that we had to close registration a few days before the event.
Sinclair: Again the same question, how does BAS relate to GridWeek?
Budiardjo: In terms of the trends behind energy management, BAS players simply cannot ignore Smart Grid. It will provide the mechanism for energy generation, distribution and consumption for the future.
Sinclair: How are the BAS standards organizations doing with Smart Grid?
Budiardjo: I would say mixed. BACnet seems to be very active, bear in mind that much of BACnet evolved with the help of NIST, and some of the same people are now involved with SGIP. Other organizations such as LonMark and CABA are involved to various degrees. Also, other standards from outside of the building space are becoming interested in buildings, such as OPC, WiFi and many residential standards organizations.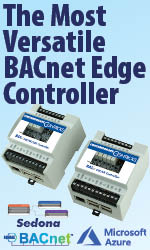 Sinclair: So, letís talk about the future, whatís on the horizon for you?
Budiardjo: B2G Summit at AHR in January is a critical venue to continue the discussion on how Smart Grid will impact BAS. George Arnold who runs the Smart Grid activity at NIST will come to speak, we anticipate a good crowd to be involved at this event. We are working on the agenda right now; expect to see it at www.B2G-Summit.com very soon.
Sinclair: When is it exactly during AHR?
Budiardjo: Wednesday Noon to 5pm, with a reception following. All at the same Convention Center as AHR.
Sinclair: And then BuilConn and ConnectivityWeek will creep up on you in May
Budiardjo: Yes May 24-27 in Santa Clara Convention Center again, we expect over 1,500 people at that event. Expect the same level of relevance to buildings, this time with a heavy dose of IT from the Silicon Valley players.
Sinclair: It seems that things are moving very fast with Smart Grid.
Budiardjo: In the 1990ís there was Internet time, moving very fast in the development of the Internet and the dot com companies. Iíve heard many comments that Smart Grid time seems to be a much faster event from Internet veterans.
Sinclair: I donít think most of us actually understand the significance of Smart Grid yet.
Budiardjo: In the same way that it would have been difficult to appreciate the Internet in the early 1990ís, very true. There was a quote from a major IT networking company that they expect Smart Grid to be around 1,000 times larger than the Internet.
Sinclair: Thatís unfathomable!
Budiardjo: Yes indeed.
---


[Click Banner To Learn More]
[Home Page] [The Automator] [About] [Subscribe ] [Contact Us]