---
Buildings can "Come to Life"
and Teach Occupants about Sustainability

It is probably no surprise to hear that internet usage has surpassed that of watching T.V. with today's youth. One major study indicates that young people spend on average 16.7 hours per week "surfing the web". With the information they see provided in a format that would compete with a major Pixar production it's understandable why kids enjoy this medium. It's also made a profound impact on the way they expect to see information presented, responding more positively to interactive experiences which "breathe life" into educational topics. This has made it challenging for teachers and parents to compete with the glitz and glamor of the internet when trying to present information they feel is important to their children's development.

This was the dilemma educators at one school district in Houston, Texas faced when planning their new LEED Gold facility. A major emphasis behind the district's desire to obtain LEED certification was to be able to educate students in the merits of energy-efficiency, hopefully positioning them as future leaders in community sustainability. Understanding the need for a high-tech delivery system, but not fully understanding what the message should be or how to convey it, the district turned to Nathan Bailey, Energy Solutions Consultant for Automated Logic in Houston. ALC has been a partner with the district for more than 15 years as their Building Automation System provider and was eager to support the owner in their quest for LEED Gold. The goal was to utilize ALC's technology to transform building data into usable information that could be introduced into the learning environment, carrying with it the message of energy conservation and sustainability.

Bailey's concern was not so much the technical issues of this challenge but rather how he could accomplish the mission in a form compatible with the school's curriculum. This led to meetings that included the architect and engineer while reaching out to the school principal, teachers, curriculum developers and the district energy manager. Bailey recalls, "Everyone was asked for their input. Starting with what it would look like, where and when it would be used and how we could present everything in a way that would be both fun and educational at the same time". The basic premise was to help students correlate energy savings into something that would be readily understood. "If we told them they had used 10,000 kWh of electricity they wouldn't understand the impact that had on the environment, but if we told them they used enough energy to power 100-houses, 10,000-TV sets or 100,000-light bulbs they would more likely understand what that meant. The same holds true with water, comparing consumption to things like bathtubs and swimming pools helps them understand and relate this back to something in their everyday life".

What developed from this process was dubbed "EcoScreen", taking hard form as a stylish kiosk display located in the school's front lobby and available to anyone walking through the front doors. Aesthetically impressive, fully interactional and easy to use, it appears "engaging" so as to draw students in for a closer look. "We were determined to build EcoScreen so it would appear as familiar and friendly as possible, something students would find immediately recognizable". What better than a giant flat screen with an interactive touch screen display and high-definition graphics.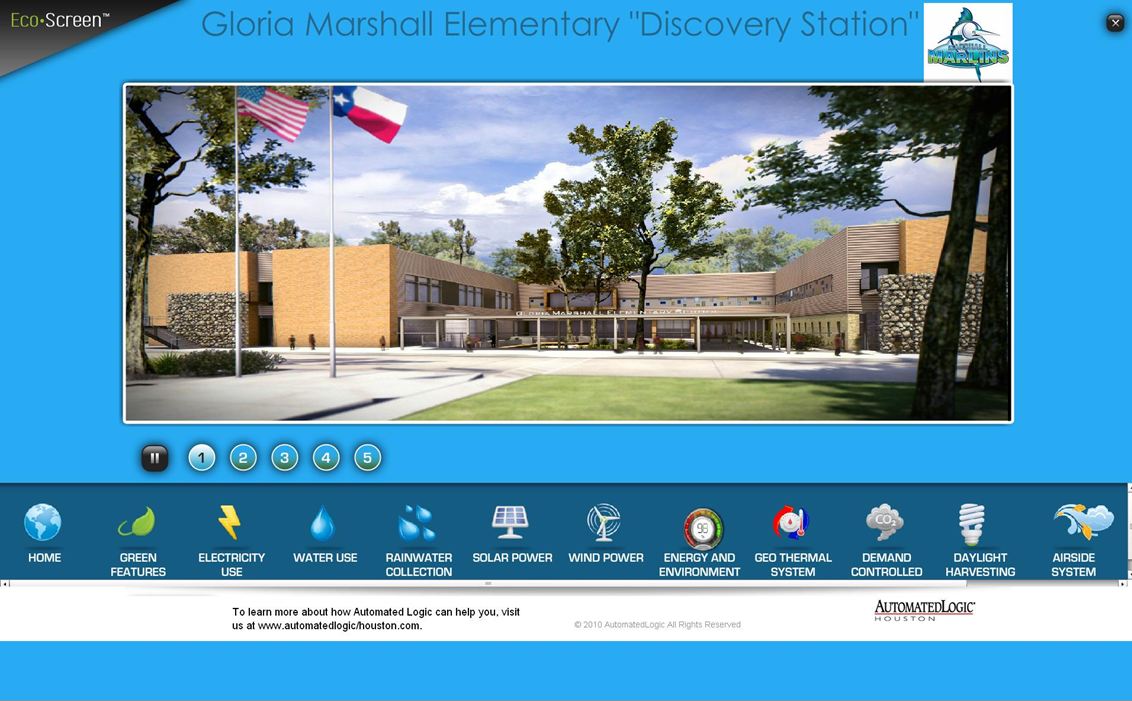 The journey EcoScreen takes the viewer on begins with a home screen slide show of the school and its mascot with all images displayed in official school colors. It's a customized introduction with a scrolling story of their green school. The message includes things like how the school was built to have minimal impact on its natural surroundings and that by leaving most of the original trees in place it helps provide shade for the building in the summer and a home for the birds all year long. Also explained is how their school utilized recycled materials for carpet and furniture and how this has a positive impact on nature and the environment. This message of sustainability and renewable energy is conveyed throughout with images and animations that educate the viewer on solar power generation, rainwater and daylight harvesting along with other energy saving strategies implemented within the school. It is also easily modified to cater to a young person's short attention span, allowing the educational message to change and be kept fresh.
"We also developed various learning modules to demonstrate more in-depth concepts like how their school consumes electricity, gas and water and why being green helps their school save energy and resources as compared to a more traditional building". Each module is available for viewing by simply touching one of the full color graphic icons at the bottom of the monitor's glossy screen. For example, the Electrical Use module is represented by a flashing yellow bolt of electricity. "It's intuitive and very eye catching at the same time".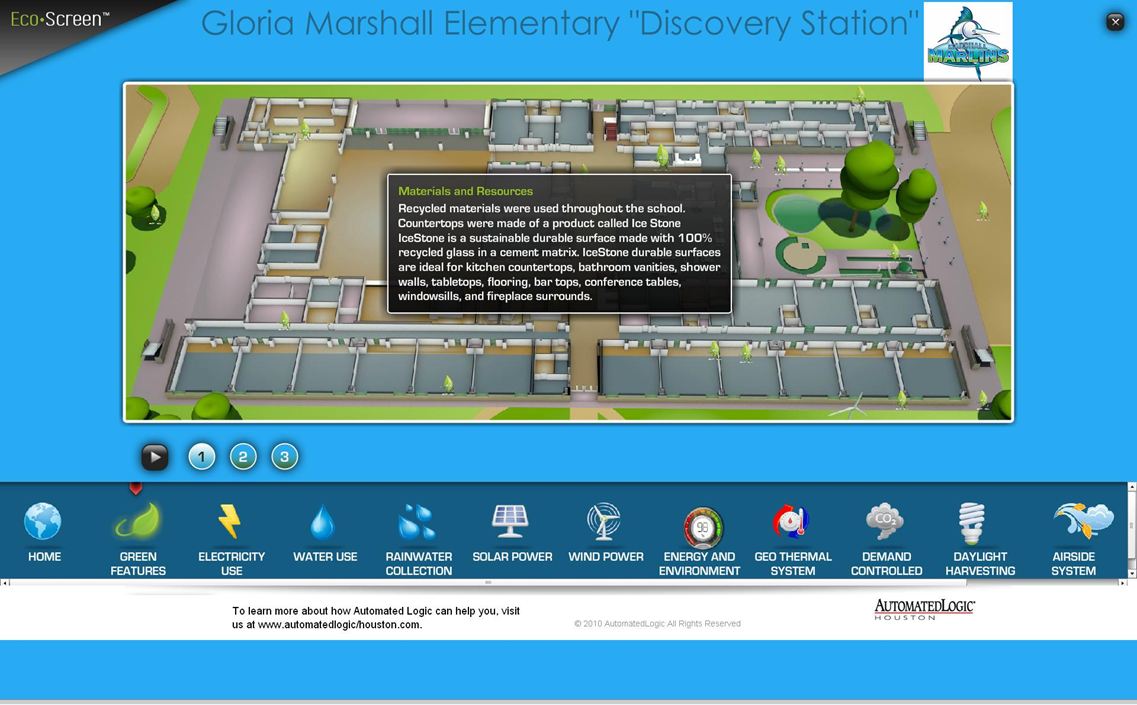 Modules include such topics as Green Features which takes a basic plan view of the school and locates a little green "leaf-man" at various locations throughout. A child can touch the leaf man at any location, maybe their own class room, and learn about the special green features being utilized in that space. Another module, Solar Panels, displays a graph showing how much electricity has been produced from the photovoltaic panels installed on the schools roof. Beside it resides an energy gauge showing real time solar production and an animation showing a glowing sun beating down on the solar panel as it converts the suns energy into electricity. As animated clouds move in, it then demonstrates how electricity production is reduced. The Electrical Use module can be viewed to show how much of the schools electricity came from the utility company and how much more would have been necessary if solar panels were not installed. Other modules include subjects such as Water Usage, Rainwater Collection, Wind Power, Geo-Thermal System, Demand Controlled Ventilation, Daylight Harvesting, Air-Side System and Weather, each with its own impressive and fully customizable set of graphics, animations and scripting.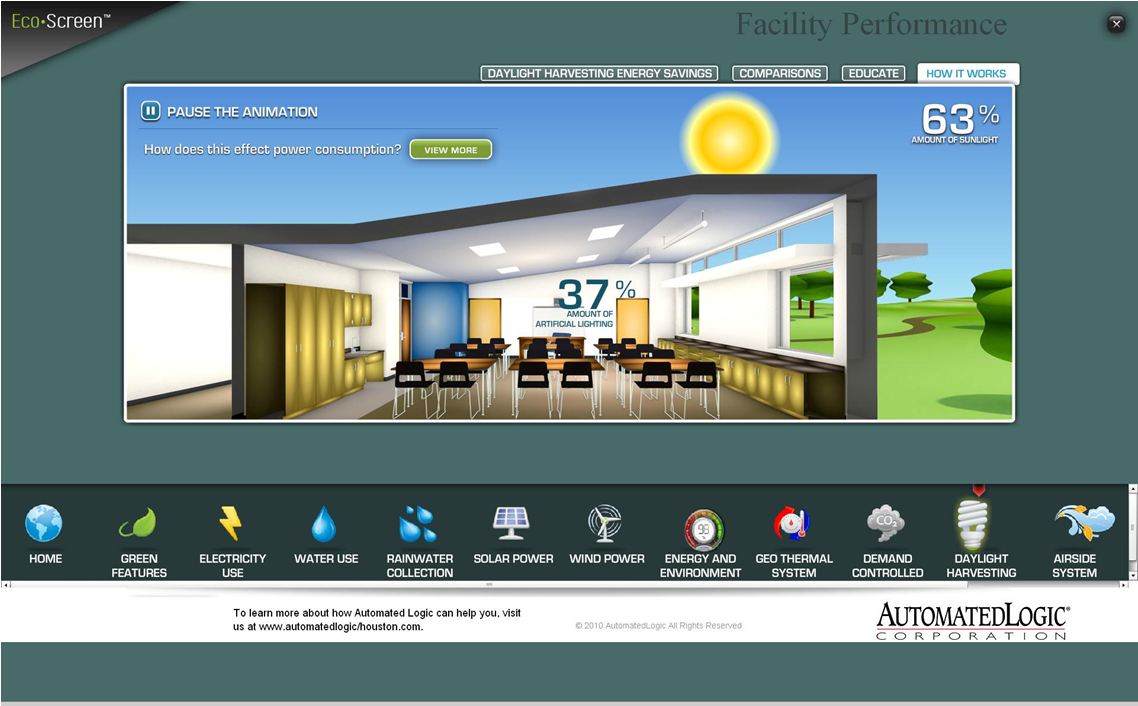 Bailey comments on another of the school's impressive green features and how EcoScreen was able to convey its message. "When your school is utilizing daylight harvesting, it's really important to highlight the benefits generated. To compare natural light use to that of artificial light and show how much energy is saved by implementing daylight harvesting is an important lesson that must be presented in a way that is understandable to anyone viewing the story. With a simple chart and some cool graphics we actually show the students how much electricity was saved by allowing lights to be turned down or shut off when natural daylight is available".

One new and innovative module that has been added to EcoScreen's library since it was originally developed includes a Recycling icon that educates students about their schools recycling program. What kinds of products are recycled and what is made from the recycled materials is explained. "It shows what happens to that plastic bottle or piece of notebook paper once you throw it in the recycling bin and how it ends up back in the building environment as a useful product like a plastic chair seat or reformulated paper used as carpet backing". It can even track and report the student body's recycling activities and provide feedback on how many pounds of recyclables have been collected, correlating this to how many trees or other natural resources have been spared. "This is a great way to get these kids fired up about recycling. We have even been asked to configure the reporting in such a way as to allow for competition between classrooms or grade levels to see who can recycle the most".




Bailey recalls one incident that occurred shortly after the new LEED Gold School had just opened. "I attended the school's first parent-child-teacher night and I remember seeing the excitement on the students and parent's faces as the doors opened and they rushed in. About five-minutes into the event the Eco-Screen area was surrounded by at least fifty students, each pulling their parents towards the screen to get a better look at the cool stuff they'd learned about sustainability at their school. Those kids were so excited and proud to be doing something to help save the environment, right there was the most rewarding moment for me in the entire process".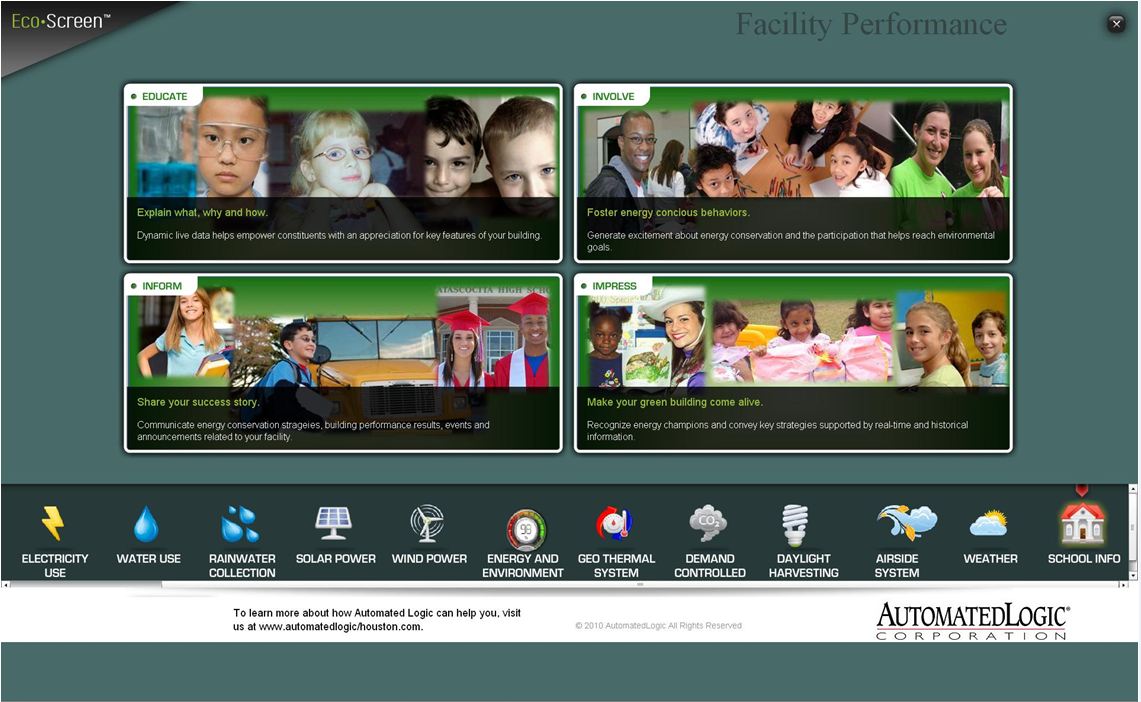 The end result continues to be a work in progress. Bailey has customized the EcoScreen not only for multiple school buildings but has utilized the system as a front-end for marketing and educational efforts by local business and governmental entities as well. "There seems to be no end to the adaptability of EcoScreen, the message that can be told and the way it can be told. It is the ultimate high-tech way to educate, involve, inform and impress any viewer on what the green features within a building can do to save energy, reduce utility dependency, cut costs and provide a positive impact on the environment and the community. This is the closest thing I know to a building coming to life and telling its own story, and the great thing is people are listening"

A working demo of EcoScreen is available at: http://webctrl.uescontrols.net/ecoweb/
To learn more about Eco Screen contact Nathan Bailey at 281-837-0777 nathanb@uescontrols.com.
If in the Chicago area please contact Kevin Lemanski at 630-734-6548 kevin.lemanski@alcchicago.com

Additional information on Automated Logic's full offering of building solutions and automation controls is available on the company web site: www.automatedlogic.com

---

[Click Banner To Learn More]
[Home Page] [The Automator] [About] [Subscribe ] [Contact Us]