---
The Importance of Building Automation Systems Visualization
Through flexible and intelligent building automation visualization, disparate systems, which would otherwise be an obscured asset, can be easily and quickly comprehended.


Korey Warzala

Marketing Associate

DGLogik, Inc
Building system data is an asset for any company. Every building is unique and energy consumption within all buildings varies and fluctuates, which should be managed in a unique manner. To be as lean as possible and maximize efficiency, this requires an intelligent Building Automation System (BAS) and a customizable graphic user interface (GUI) for unique dashboard creation to accurately visualize this information. Effective BAS visualization enables faster energy analysis, monitoring, and the ability to "tell the story" of the building performance to management, engineering, building operators and executives alike to make better decisions on ways to troubleshoot potential problems and cut costs.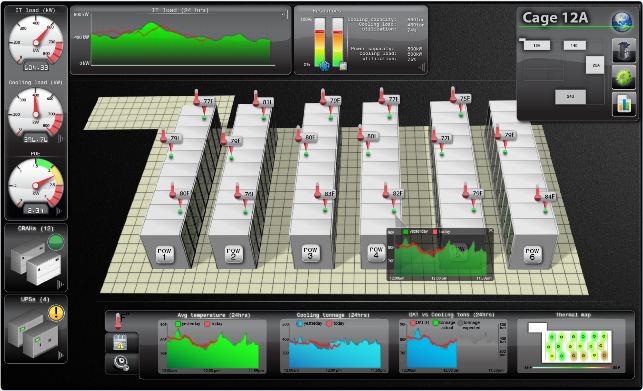 As an industry, the importance of specific, real time data mining is clear but what good is the information if you can't clearly comprehend it? Visualizing real time data using cutting-edge graphics enables faster digestion and quicker utilization. Your information is only as valuable as your presentation. Through flexible and intelligent building automation visualization, disparate systems, which would otherwise be an obscured asset, can be easily and quickly comprehended. Building automation needs a visual interface like an automobile needs a dashboard. Although your building automation system may be running, without visualization you will never be able to monitor how fast you are burning energy or have the ability to change your energy consumption. Companies without the technology to visualize buildings system data will never be able to fully understand the amount of energy they could save and costs they could eliminate. For example, scientists at a federal laboratory reported to the New York Times in 2009 that if power plants and infrastructure were to monitor electrical use over a 20-year period they would save $70 billion and avoid the need to build the equivalent of 30 large coal fire plants. Additionally, if households were to have the same digital tools to set temperature and price preferences, the peak loads on utility grids could be trimmed by up to 15% per year.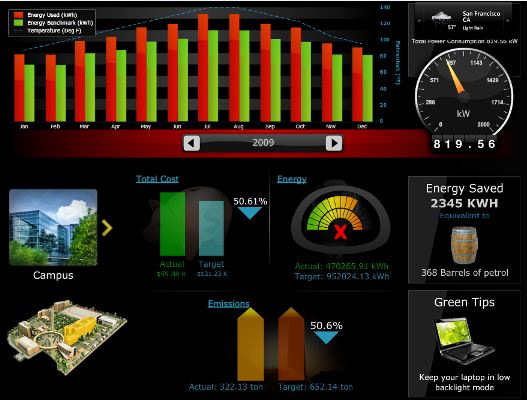 Companies understand the advantages of being Leadership in Energy and Environmental Design (LEED) certified. In a sustainable world, you want to be as green as possible, not only to help the environment, but to keep up with the Jones'. With clearly organized visualization, it is much easier for companies to showcase the internal buildings systems data and for outsiders to accept. The current technology platform even includes a macro to micro, Google Maps inspired, visualization. Visualizing to an outsider a corporate portfolio of building's electrical output down to an exact light bulb in a single hallway in real time with a few clicks shows how advanced we have come in comparison to the relatively unorganized history logs of the past. If companies continue to live in the past, they will only continue to lose out on the asset of fully utilizing building systems data to the fullest. Accept the fact that there is a better visualization platform for building systems data visualization. Refuse to waste any more time, money, or energy. The technology to have all of your building performance data visualized and contextualized is available. Upgrade your building automation system user interface, start managing more efficiently and cutting costs now.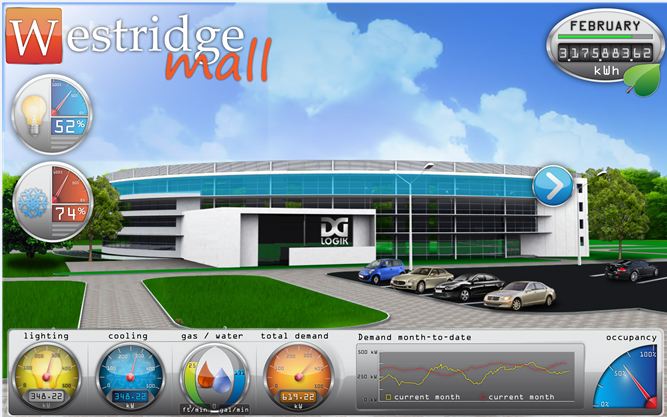 ---

[Click Banner To Learn More]
[Home Page] [The Automator] [About] [Subscribe ] [Contact Us]