---
Wireless Energy Management Systems
A Mini BMS Revolution!



Billal Vindhani

Managing Director

Greenologic Ltd
"A Building Management System without wires represents enormous opportunity, positive impacts on the environment and significant cost savings for buildings around the world. It is probably the most significant advancement in the Building Automation industry for a decade." - Billal Vindhani

With the increasing legislative directives and the year on year increase on energy prices, it is becoming more and more important for building owners and operators to log energy usage in a bid to reduce consumption. As well as addressing environmental impacts, this also is a positive move to reduce operational costs by addressing wasted energy use.
A huge number of buildings, especially small buildings have absolutely no form of control or monitoring capabilities. In these instances, it is unproductive to install a full-blown BMS, the solution is retrofitting using a Wireless Energy Management System.
Europe in general has a high-wage economy and the main cost of any building-services project is now labour. Building-management systems (BMS) are no exception, and typically 40% - 60% of the project cost is for wiring alone.
ZigBee Mesh Networks

Using systems based on the ZigBee mesh network means a huge reduction in installation costs for refurbishment projects, or for extending an existing system to incorporate intelligent wireless controls and data harvesting from the meter level. Commissioning is also faster, simpler and more cost effective.
ZigBee Mesh technology provides high-quality solutions for transforming and replacing devices used in automation systems to transmit information wirelessly. Whether it is a new installation or an expansion of an old one, wireless ZigBee technology delivers reliable information transmission without the need of expensive cabling.
Using various monitoring modules – Temperature Sensors, Lighting Sensors, Humidity, Hall-effect, Digital inputs, Analogue inputs, Phase monitoring, Energy Monitors, Pulse counters; combined with relay-controller units, Thermostats and Controllable Power Outlets give the possibility to build versatile systems.
Data collected from the ZigBee network can then be processed with an existing BMS System. So it is an ideal enhancement to an existing system. This allows a building owner to gain more efficiency and cost savings from their existing systems. Mesh networks are also the perfect solution for smaller sites, such as retail outlets, restaurants, commercial buildings, schools, universities and buildings which have no form of monitoring or control capabilities - in fact almost any building! The devices are capable of connection to mini web enabled BMS systems, which allow the creation of a Wireless Energy Management System.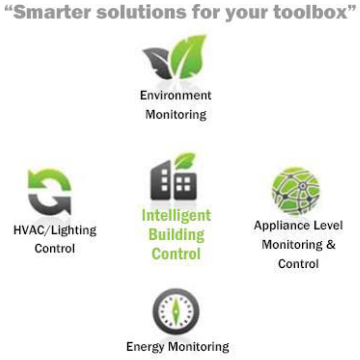 Benefits of a Mini BMS System
Wireless data harvesting from any building using ZigBee Mesh Technology. Main/sub meter data extracted to understand how energy is being used within a building.
Environment monitoring (temperature, humidity, lux) to maintain a comfortable and efficient building environment.
Allows smaller buildings to benefit from the intelligence often only gained by larger buildings by standard, large scale BMS systems providing intelligent control in any building.
Continuous monitoring and control of all activities within a building. Giving the ability to make immediate savings through intelligent control of building equipment down to the appliances, by understanding their usage and implementing sophisticated control strategies.
Remote management of building operations, energy performance and maintenance/diagnostics for pro-active facilities management.
Also an ideal solution for buildings which have renewable systems installed i.e Photovoltaic Systems. Monitor exactly what you generate; monitor exactly what you import/export. Automatically utilise your green energy at the point of generation. Maximising the efficiencies of your renewable system, and further reduce the ROI on these renewable plants.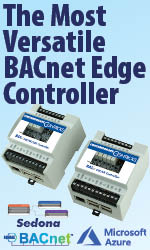 Building owners and operators are demanding better control and more information from their buildings. This is where ZigBee Mesh devices combined with a Web Enabled Mini BMS System addresses this problem and "plugs the gap" by allowing for extremely versatile wireless nodes to be incorporated into an existing building to enable enhanced control as well as remote monitoring at all levels. Monitoring and control solutions can be rapidly deployed in a wide range of applications, providing industrial-grade performance with real-time access to your data via the Internet. Data collected from these systems can then be processed by either off the shelf analytical tools (aM&T packages) or customised front ends and presented in meaningful and powerful format. Dashboards are used to showcase energy reductions and building performance, and also to encourage behaviour change and our relationship with how we use energy. Presenting the information collected from these systems in a meaningful format to the target audience is essential.
Showcasing your Success
Energy and Performance dashboards are an effective way of showcasing your facility and an educational tool. Dashboards are a great tool to showcase energy reduction activities from renewable resources to managing multiple sites or machinery; from displaying your site's A-G Energy Rating to demonstrating Corporate and Social responsibility activities.
Using the latest in web based technologies coupled with graphical designs; the dashboards automatically query the web enabled mini BMS web server to pull out specific data for showcasing on the dashboard, some of which may undergo mid-level calculation methodologies to showcase kWh as kWh/person or emissions of CO2 for example.
Since control systems typically produce respectable savings, going wireless for low cost installation is a powerful incentive for many organisations and building owners. By installing a wireless mesh control network over a wide area, many buildings can reduce consumption of their heating and lighting, as well as create more efficiencies from circuits and appliances which consume energy. Simplifying maintenance, flexibility, and the opportunity to improve building performance for significantly reduced energy costs are the main reasons companies should be looking to adopt Wireless Energy Management Systems in their buildings. For both retrofit and new build, ZigBee mesh networks provide the perfect solution.

---
Greenologic is a forward thinking product distributor and solution provider in the Building Automation Market; we are proud to be the exclusive point of contact for a number of innovative technologies. Our solutions are flexible and scalable; and can reap significant environmental and cost savings for a wide range of buildings from retail outlets, schools, manufacturing plants, warehouses, offices, hotels, care homes even the house you live in. Greenologic only delivers its technology and solutions through our partner network of installers and resellers. "We provide smart new tools for your tool box".
http://www.greenologic.co.uk
Email: billal@greenologic.co.uk

---


[Click Banner To Learn More]
[Home Page] [The Automator] [About] [Subscribe ] [Contact Us]