---
Every month there is a blizzard of information contained in the emails and newsletters that cross my desk on their way to AutomatedBuildings.com. Some of this information is not in the form of any type of content we can publish but I feel I should share with you these snippets, blog bits, and url links that are about to fall off my desktop.
What type of energy management fool are you? Mainly about how best to extract information from data that can be made available from buildings. Focus is on pragmatic methods, debating received wisdom, and naturally promoting kWIQly.com - where we try to deliver on our ideals.
Adobe announced they would be discontinuing Flash for Mobile Browsers, to instead focus on HTML 5 (Steve Jobs' vision for the future of the internet). We will no longer continue to develop Flash Player in the browser.
"Touch and feel" real-world applications of interoperability New in 2011, the Grid-Interop Plug-In will provide a first-of-its-kind demonstration of Smart Grid interoperability in a literal show-and-tell of interoperable systems and devices -- from the utility's back office to the homeowner's thermostat. Six scenarios covering demand response, cyber security, transmission and distribution, and a testing corner will be displayed.
Has Open Architecture Delivered? October 2011 By Bill Lydon, Editor Since the 1980s, the automation industry has been adopting standards for networked industrial communications, software, and applications. Have users gained all the benefits originally envisioned?

Why is intelligent lighting for commercial and public buildings so often considered separate and distinct to all other building controls? Initially this question was posted on the Smart Building Group and provoked a number of interesting comments. Now that Building Automation System Integrators can directly connect inexpensive networks of DALI light fittings to their BMS controls solutions and use the BMS controls environment to address, commission, control, maintain and manage these networks natively, does this challenge traditional lighting controls suppliers?
Daylight Zones: Toplighted Spaces By Lighting Controls Association November 21, 2011 Last month at LightingControlsAssociation.org, we published an article about how to establish daylight zones in sidelighted (windowed) building spaces. We looked at an industry rule of thumb and then how the latest generation of energy codes and standards address it.
HTML5 what you think about that technology. Is HTML5 a must for BMS industry? Started by Nino Kurtalj read comments; Our world has shifted to a mobile world and as such our business will follow. Everyone lives on their smartphone giving access to the web pretty much anywhere anytime.For many business reasons HTML5 is becoming the animation standard for the web. I suspect you will see several manufacturers come out with HTML5 compatibility. I have always been disappointed on how slow control companies have been to shift to new technologies. Hopefully we jump on this one little quicker...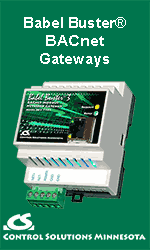 Analyzing Building Operations: What Do We Do With All This Data? The market has become flooded with software solutions and dashboards that provide real-time monitoring of building operations. But how much data is too much data? What data is really important to effecting day-to-day operations of buildings? This session will discuss different ways to obtain and analyze building data in order to help you determine what really matters. We'll hear from real estate owners who have implemented advanced data analytics in order to successfully monitor, manage, and predict operational performance in their buildings – and we'll demo the latest in advanced analytics that take data management to another level.

Microsoft has constructed a monstrous six-story "Windows Phone" just a few feet away from the world's largest Macy's store, right in the middle of one of the city's more popular outdoor picnic areas. The gadget sure is huge, but it's not a phone in the traditional sense -- enormous tiles display video feeds transmitted from a control room, and move out of place to accommodate live stage performances. We dropped by for a midday calisthenics session, which surprisingly appeared to be a hit with locals and tourists. There were functioning devices on hand as well, in a makeshift showroom, though those were far less popular than the 55-foot behemoth front and center. Jump past the break to see it in action.
There should be an app for that The vast majority of BAS are based on wireless technologies, and on accepted protocols such as LonMark, BACnet, DALI, and Modbus. In order to keep up with the smartphone market, and to meet engineers' needs, manufacturers should work toward integrating apps into their solutions. I challenge the building systems manufacturers out there to create an app for their product that enhances and simplifies the end user's job.
The Center for Interactive Research on Sustainability (CIRS) at the University of British Columbia (UBC). The CIRS building is one of the most innovative high performance facilities in North America that will embody green building design best practices and foster research and collaboration on sustainability solutions.
These top 10 technologies will be strategic for most organizations, and IT leaders should use this list in their strategic planning process by reviewing the technologies and how they fit into their expected needs," said David Cearley, vice president and Gartner fellow. "Organizations should start exploratory projects to look at promised candidate technology and kick off a search for combinations of information sources, including social sites and unstructured data that may be mined for insights," said Carl Claunch, vice president and distinguished analyst at Gartner.
Hot Topic - VSaaS - Video Surveillance as a Service We are delighted to announce that Mr Matia Grossi will be providing our Keynote presentation - Entitled "VSaaS and Security in the Cloud" this fascinating seminar will introduce the concept of VSaaS, Video Surveillance as a Service, were the opportunities lie within the Cloud and Virtualized environment and how security professionals can leaverage VSaaS as part of a Security portfolio.
What are the opportunities for the security industry?
What are the barriers and challenges to adoption?
Matia Grossi is an independent analyst specialized in providing market research and analysis on the commercial security market.


---

[Click Banner To Learn More]
[Home Page] [The Automator] [About] [Subscribe ] [Contact Us]