---
Mobile Devices
Dr. Gordon Moore, a co-founder of Intel, observed in 1965 that the density of silicon chips doubled every two years since their invention in 1958. Ten years later he modified his prediction, observing that component density and practical performance was actually doubling every 18 months. Amazingly it has done so ever since; a prediction commonly known as Moore's law.

Then along comes Ray Kursweil, a futurist and Director of Engineering at Google, who took Moore's law one step further by also factoring in the cost effectiveness of a chip and saw Moore's law was one of accelerating returns. The left axis is a logarithmic scale that is the # of computations per second per $1,000 cost.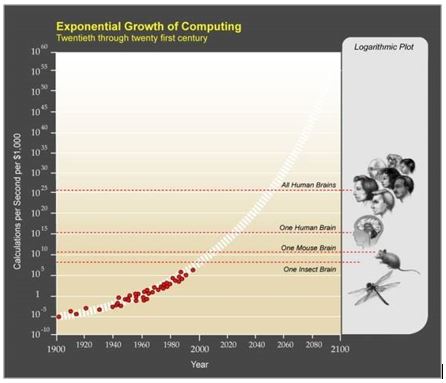 Kursweil estimated the computing power of the human brain and determined that based on this exponential growth machine computational intelligence will surpass all collective human intelligence within a few decades. Compared to the 100 years of progress of the 20th century, we will experience the equivalent of 20,000 years of progress in the 21st century.

Coincidentally, Jonathan Koomey – a professor from Stanford, discovered that the electrical efficiency or number of computations per KWh doubles every 18 months as well. This all has boded well for mobile devices since we can make smaller, more powerful, less costly devices that require less battery power.

Mobility is the future
What does this mean for Facilities Management (FM)? Smart Phones and Tablets are becoming our primary personal computers. In late 2010 was the first time that mobile devices exceeded the number of computers purchased and that the gap has accelerated ever since. Earlier in 2013 was the first time the installed base of mobile devices is greater than computer laptops and desktops.

FM is an ideal place for mobile technology because it largely involves people working on-site with little time spent in typical office environments. With people in various locations in a building or at several buildings on a daily basis; keeping information on a desktop computer in an office behind a fire-wall or in binders on a shelf does not give operations personnel the information they need to make decisions in the field.

Cloud-based Software
The move of the software industry to software as a service (SaaS) complements that of the advances of mobile technology. We no longer need powerful desktop computers to run the applications we use, nor do we need armies of IT professionals and great investment in internal technology infrastructure to keep the software we use running and up-to date. Most modern software can be accessed by simply opening up an internet browser and logging into a cloud-based system.

The next advances in facilities management will hinge on the ability for organizations to capitalize on the accelerating evolution to mobile computing in concert with cloud-based software. The growing access and affordability of these devices and availability of browser-based software applications, means more organizations can now see the vast potential on the horizon. The potential is there but what is the specific path? What tools are available now?

Here are two real world scenarios that illustrate how mobile computers and cloud-based software are being used effectively today in real-world facility management and construction situations.

Scenario #1 – Location Specific Access to Information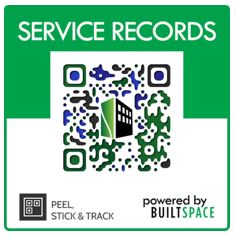 A building operator gets a comfort complaint from an occupant via phone call or email. He contacts his technician who goes to the roof-top to look at the air handlers that service the given space. Each piece of equipment has simple ID tags with branded QR (Quick Response) codes.

He scans the QR code with any smart phone or tablet, which then automatically launches a web-based application. Instantly he can see all the relevant documentation and service history related to that piece of equipment. He also has access to user manuals, schematics, set-points and other relevant documentation. If relevant, he even has read-only access to relevant data-points in the DDC system.

Because the technician has instant access to location-specific information, he can make the right decision on how to immediately resolve the issue or create the correct work flow and get the issue on the road to resolution.

Customer Service 24/7
A QR code is also a two way communication vehicle, so building operators or occupants can simply scan the same QR code to submit a service request. Management and relevant service contractors are alerted automatically and everybody knows exactly which space in the building or piece of equipment has the issue. Time and money is saved on costly diagnostics and parts runs while customers and building occupants get a quicker response to their issue.

Scenario 2 – Mobile forms for inspections and Data Collection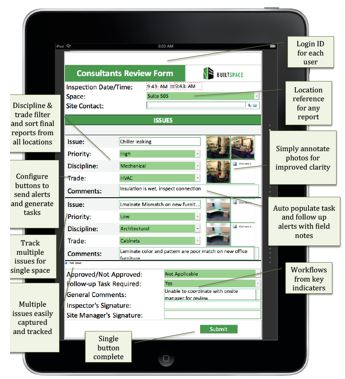 A construction manager arrives on-site armed with his tablet in order to do his inspections. His tablet can provide a checklist of everything he should be inspecting and as he sees deficiencies log them using simple drop down menus, text boxes and immediately add photographs taken from his tablet for clarity. His location is logged by accessing the virtual building space list through a drop-down menu as well. Most importantly, each deficiency is added remotely in real-time to a work-flow tracking system so all stakeholders can immediately see the status of the project.

Tracking deficiencies this way eliminates any confusion or miscommunication regarding which deficiencies need to be corrected and by whom; ultimately saving time and money. This process also saves travel time as trades can go directly to the virtual work-site to get their detailed instructions, and the project manager can see the exact status of all the deficiencies at any-time from anywhere.

The Big Picture
These two scenarios are just a couple of examples of how location specific information using cloud based software and mobile devices can create tremendous efficiencies. Operators can make better decisions and work more efficiently because they have access to specific information where and when they need it. Field personnel can also update their actions in real time in the field so information is updated in real time and there is no risk of building maintenance records being out of date or missing information. Time is not wasted, there is no risk of transcription errors as all the information goes directly into the building's database.

This is the way of the future and is possible today. How does it work in your organization today?
---
About the Author

Josh Susser is the Senior Account Manager BuiltSpace Technologies Corporation, Vancouver BC, Canada. He has over 16 years developing and marketing complex technology and web-marketing offerings. Find him on LinkedIN at http://www.linkedin.com/profile/view?id=11618122&trk=nav_responsive_tab_profile
BuiltSpace provides building information management, integration and related services to the facilities and construction industry. The company launched the industry's first integrated, collaboration FM platform in January of 2012. For more information please visit our web site at http://www.builtspace.com or blog at http://blog.builtspace.com



---


[Click Banner To Learn More]
[Home Page] [The Automator] [About] [Subscribe ] [Contact Us]