---
Project Haystack Extends Outreach with Educational Webinars

The webinar scheduled for 11AM ET, on Tue Dec 17, 2013, will include a variety of speakers presenting examples showing how the Haystack approach helps reduce project costs streamlining the work involved in data presentation, analytics and reporting.

John Petze,

Principal,

SkyFoundry
One of the key challenges in utilizing data to drive efficiency improvements is the effort involved in integrating data from a wide range of sources that utilize different formats.

Modern building automations systems, metering systems and other smart devices produce tremendous amount of data, but this data is hard to utilize across different applications because it is stored in many different formats, has inconsistent naming conventions and includes very limited data descriptors. In other words it lacks information to describe the meaning of the data. This is a concept often referred to as data semantics or meta data.

Project Haystack (www.project-haystack.org) was founded specifically to address this challenge. Project Haystack is an open source initiative to develop "tagging" conventions and taxonomies for building equipment and operational data. The community-based effort builds on an open-source methodology for defining data semantics and defines standardized data models for equipment systems and data related to energy, HVAC, lighting, and other environmental systems. A simple REST API has also been defined to facilitate exchange of Haystack data over HTTP.

Haystack data modeling techniques can be used with virtually any type of system data. It's not tied to any vendor, or communication protocol. It can be used with legacy system data and with more modern systems that allow tags to be defined in the end device. It can also be used with file data – like csv files, and Excel files. The following graphic shows how tags can be applied to the data at any step in the hierarchy from the end device to the network controller to the enterprise software application (labeled as a Haystack Server in the graphic).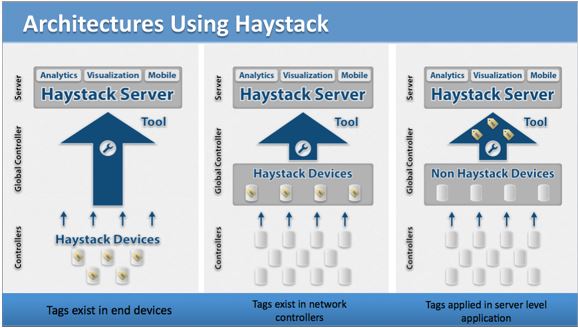 Helping To Spread the Word.

As part of the ongoing effort to help industry professionals understand project-haystack, and how it can be used to address the challenges associated with using device data across different applications, the Haystack community has started hosting educational webinars. The next session is scheduled for 11AM ET, on Tue Dec 17, 2013.

The webinar will include a variety of speakers presenting examples showing how the Haystack approach helps reduce project costs streamlining the work involved in data presentation, analytics and reporting. To register or get additional information on the webinar visit: http://project-haystack.org/forum/topic/133

A Primer:

The webinar will open with a brief introduction to Project-Haystack. Here are some excerpts from the introduction to the webinar.

So what is Haystack?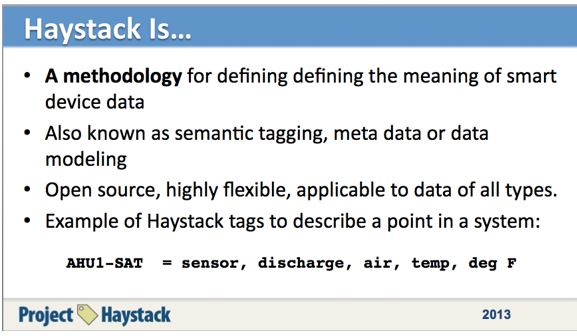 But it is more than just a methodology. Haystack is also: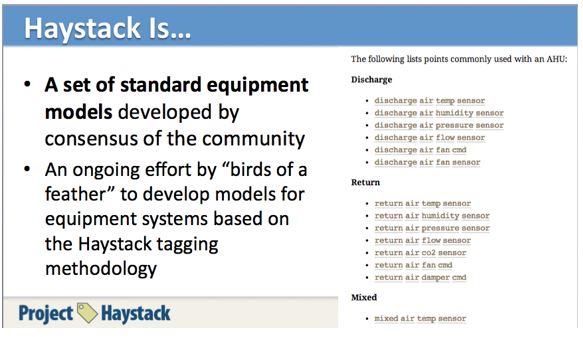 Members of the community have built on the initial project-haystack foundation and created additional complimentary applications as well…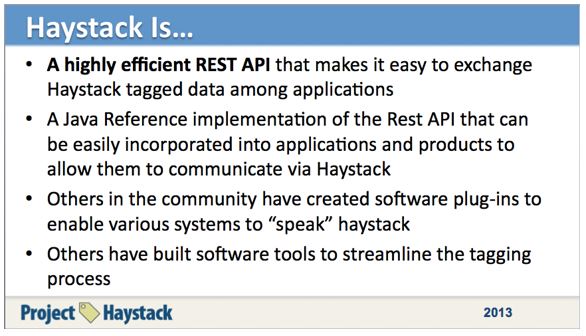 One of the available "plug-ins" is an open source software module for Niagara systems called NHaystack. An overview of NHaystack is one of the topics that will be presented in the webinar. An engineering tool that allows tags to be defined when system graphics will also be presented in the webinar, as will an overview of an effort underway to map Haystack tags to OPC data structure

Community members that work with other brands of automation systems have created Haystack interfaces with their systems as well. We hope more will provide presentations in future webinars. Haystack is open to all and provides value to all.

---
About the Author

John Petze, C.E.M., is a partner in SkyFoundry, the developers of SkySpark™, an analytics platform for building, energy and equipment data. John has over 30 years of experience in building automation, energy management and M2M, having served in senior level positions for manufacturers of hardware and software products including Tridium, Andover Controls, Cisco Systems and Teletrol. At SkyFoundry he is working to bring the next generation of information analytics to the "Internet of Things".



---


[Click Banner To Learn More]
[Home Page] [The Automator] [About] [Subscribe ] [Contact Us]