---
State of the Global Electronic Security Market in 2013 & Forecast to 2017


The measure of penetration of security products in any country is an important factor to establish; because it sets a benchmark for the latent potential that is available.





Allan McHale,

Director,

Memoori
The total value of world production of Security Products at factory prices was $23.4 billion in 2013; predicts Memoori, who have just published a new definitive resource for security market research & investment analysis - http://www.memoori.com/portfolio/the-physical-security-business-in-2013/

If we compare these figures with 2008, the world market has grown at a rate of around 4.5% over the last five years, which is very good given the poor economic trading conditions that have prevailed for much of that time.

The two major drivers have been a 12% aggregate growth in video surveillance and higher levels of demand in Asia, which has increased its share to over 39% for all physical security systems. Growth has been much more modest in North America and Western Europe; currently the developed markets of Europe, Scandinavia and North America take some 47% of the value of the business, 2% down on last year.

Memoori are forecasting a Growth Rate of 8% over the next five year period with the market reaching $32.2 billion by 2017. This could be considered optimistic but there is an enormous latent demand waiting to be exploited in the emerging markets of the world.
In Europe, Public sector budgets will be trimmed to help pay off sovereign debt. This will result in an almost certain decline in demand in the public sector across several EU countries. However the fast growing markets of Asia and other BRIC countries will continue to expand.

The security industry is in a much healthier state with a product portfolio that can deliver more attractive opportunities for clients to improve security and at the same time profit from it.

Emerging Markets

The measure of penetration of security products in any country is an important factor to establish; because it sets a benchmark for the latent potential that is available. This has a major bearing on future growth. The diagram below shows 4 major regions in the world compared on a matrix of physical security products per capita against GDP per capita estimated for 2012.

In China sales per capita was $3.34 in 2013 showing that the potential for future growth is significant. This market has forged ahead at the highest rates of growth recorded in our industry and its aggregate growth over the last five years has not slowed down. However despite the fact that its penetration has increased by almost 60% during this time it is still only one sixth of North America.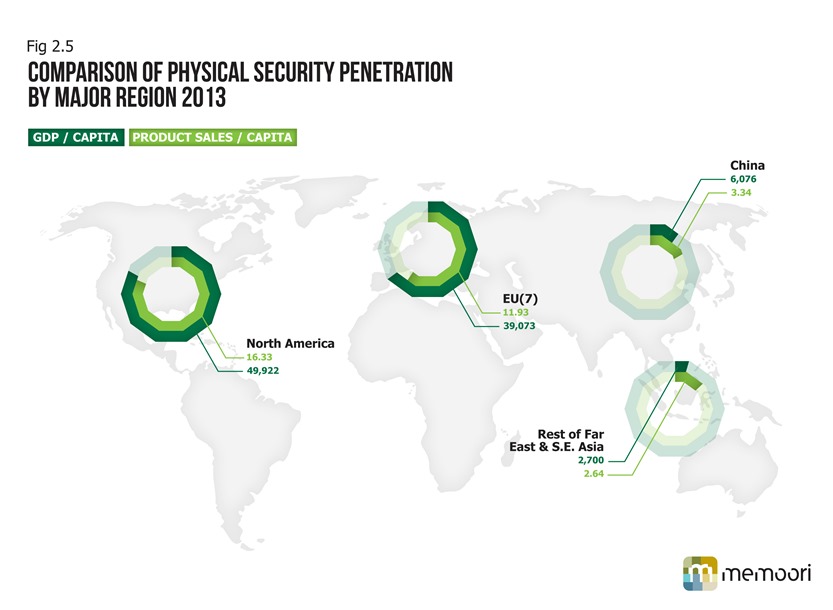 As part of the research Memoori categorizes the market into three main groupings;
Category A

which includes major global players having sales of over $1 billion in security systems


Category B

which includes companies having sales of over $100 million but less than $1 billion

Category C

which includes companies that have sales of over $1m but less than $100m.
In 2012 & 2013 the structure of the business seems to have changed; primarily by Category B company's rapid growth through innovative IP networked products delivered through organic growth. Category A company's share of the product market has declined and they have failed to correct this through their normal process of growth through acquisition.

Are major conglomerates losing interest in the security business? Well, most have made major acquisitions in their other businesses and they are cash rich. Looking forward they are in a strong position to access the future growth most of which will come from Asia and the emerging markets but only if they can offer leading edge technology products.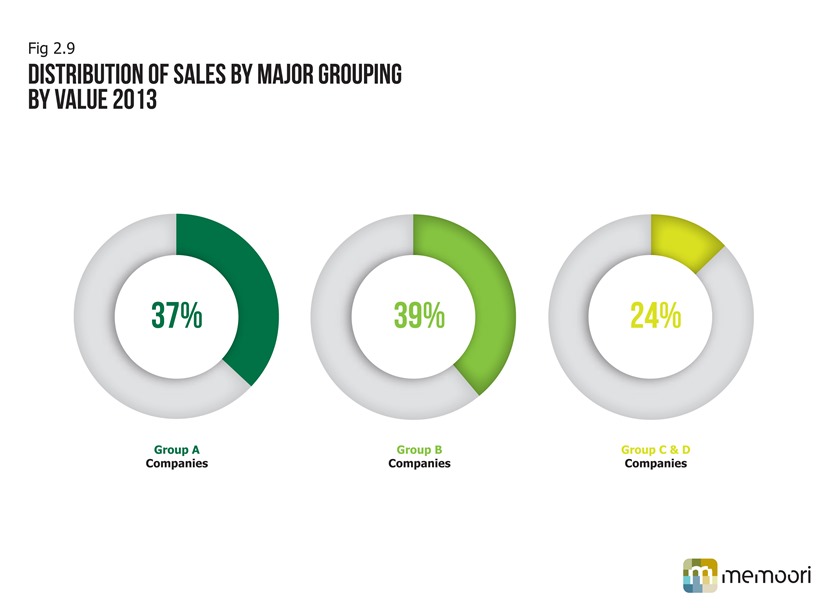 We believe that in the relative short term of the next two years they will need to take action either to acquire leading edge technology companies or sell their products business and concentrate on their systems business. Indeed, this is already happening. Ingersoll Rand, announced plans early this year to spin off its security products business. The new company will be called Allegion and will have revenues of over $2 billion.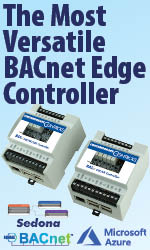 Throughout the last three years successful security companies have delivered annual growth well into double figures but this has required them to make some fundamental changes to established business practices.

Continued growth should be built on the foundation that through disruptive IP technologies and innovative business models, we can move clients security operations from a cost center to a cash generator, whilst converging with other services in the business enterprise.

Acclimatizing to this rapidly changing business environment, reshaped by technology and new competitors from outside the business, will require a clear vision of future business opportunities and skillful implementation of the appropriate strategies.

For more details, visit the report website - http://www.memoori.com/portfolio/the-physical-security-business-in-2013/


---


[Click Banner To Learn More]
[Home Page] [The Automator] [About] [Subscribe ] [Contact Us]