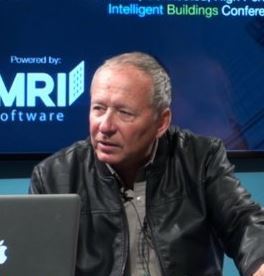 December theme, The "Edge of Change"

Deals with The edge of building emotion, changing collaborative connection communities, and their Edge-ifcation in the Era of Connection. Please join in the discussion by giving this month's articles, interviews, and reviews a quick read to help understand the Edge of Change. They will be posted or post them yourself on Twitter and LinkedIn where comments and discussions are welcome.
Or you can come to @AHRExpo 2019 Atlanta to any of our sessions and share your comments. We open in Atlanta next month with our free education sessions with "The edge of building emotion"
The Future of Building Automation Creating Our New Persona "Building Emotion" is the building emotion edge-ifcation that we will share.
As we ready ourselves for entry into 2019 it reminds us that all those things that were going to happen in 2020 is just a year away. We need to get over the edge of change and get on with our transitions to the future.
Very pleased with the collection of articles and interviews this month speaking directly to the edge of change. Here are a few quotes linked to their source,
Contributing Editor Marc Petock In 2019, we will be driven by what I refer to as the "4 D's": digital transformation, data, dialogue, and disruption.
The 'Edge of Change' is a term coined by Ken The term may have a different meaning depending on what angle you are viewing it from, but metaphorically speaking we will never reach the edge as we move towards it, but one thing is certain if we don't learn how to deal with the 'changes' during that journey … we are certain to fall off.
Our journey to the edge relies on the merging of technology and people.
What's needed is an understanding of what edge controllers can do and should be required to do.

It's easy to ask for "Smart." However, it's difficult to build and deliver smart.
Take a quick look at the graphical menu on the home page and the listing of this month's contents of this @AHRExpo preview issue.

Note that insight to several of the @AHRExpo sessions has been added in red.
Contributing Editor Brad White and his fellow panelists explore (OpenMind OpenEdge) and how the rise of truly Open Hardware and Open Software geared to the building automation market are poised to change the face of the industry.
Want to flyover how we got to Edge of Change in 3D? Click on the 3D mode, the small circle to the left once you have started your journey and fly over the events stop anywhere in the blur for connection to the thinking of the time.

This new issue is a treasure chest of great articles, columns, reviews, new products, interviews and of course the steady stream of news depicting our rapidly evolution and journey to The "Edge of Change"
Welcome our newest sponsor. Cylon Auto-Matrix is a leader in the development of building automation and controls systems for buildings. Established in 1986 and with over 240 system integrators globally, our offering delivers scalable designs and fleXible building solutions. We deliver the buildings of tomorrow, today.
Tell all our sponsors you saw their ads on the AutomatedBuildings.com website and thank them for supporting your free access to evolving Automated Building Industry information. Click on their ads and view their valuable products and services. Please review all Our Sponsors.

The news just keeps flowing thru our website, and RSS feeds daily, and of course, the only way to find what you are looking for in the vast quantity of information on our site is with our site search engine http://www.automatedbuildings.com/search/sitesearch.htm

As always lots of new products, plus be sure to check our event calendar to see the number of events we have in our future.


---

[Click Banner To Learn More]
[Home Page] [The Automator] [About] [Subscribe ] [Contact Us]