Contemporary Controls Showcases New and Enhanced Building and Industrial Automation Products at AHR 2022
Contemporary Controls is looking forward to the return of the AHR Expo in Las Vegas. Be sure to stop by C974 to see our new and updated BASautomation controllers, routers, and supervisors. Here's a preview of some of the popular products we'll be exhibiting:
BACnet Controllers
The Edge Controller series has been expanded to include the BASiot-Edge Controllers. These 12-point cloud connected BACnet controllers utilize eMMC flash for robust data storage with drag/drop programming and IoT capabilities to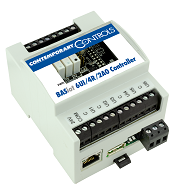 deliver BACnet client/server communication over Ethernet with cloud connection to Azure, Google Cloud, and AWS.
BAScontrolE36 Controller
The BAScontrol series has been expanded to include BAScontrolE36 Controller. It is a 36-point BACnet edge controller with a wallsetter port, dual Ethernet ports, and a BACnet MS/TP port. The BAScontrolE36 provides BACnet/IP and BACnet MS/TP client/server capability and wide-temp operation.

Original Design Manufacturing (ODM) Products
RTU38 Advanced Rooftop Controller
The RTU38 is a 38-point rooftop controller with dual Ethernet ports and an isolated MS/TP port that provides BACnet/IP and BACnet MS/TP client/server capability. A powerful CPU with a Linux OS makes this an ideal controller for OEMs who want to develop custom equipment for applications, such as economizers, demand control ventilation, variable air volume control, and multi-stage heating and cooling.
Application Ready Platforms – APPI and APTI
The APPI Series is built upon the high-speed Raspberry Pi Compute Module 3+ and includes two isolated EIA-485 serial ports suitable for BACnet MS/TP, Modbus RTU, or other serial protocols. Two non-switched Ethernet ports, each with its own MAC address, allow the platform to operate on two networks at the same time. A powerful CPU running a Linux OS makes these units accommodate the most demanding software applications. For wide-temperature operation, the APTI model offers operation from -40°C to+75°C. Both models – APPI and APTI – are FCC, FE, and EMC compliant and can be configured with an optional daughter board to provide Wi-Fi, LTE/4G, or EnOcean wireless communication.
BACnet Gateways
EnOcean to BACnet Gateway
EnOcean to BACnet Gateway allows users to easily integrate their EnOcean sensors and actuators to a BACnet/IP building automation network with features such as:
· Webpage configuration—no special tools or software required
· Webpage-based remote commissioning of EnOcean devices
Each EnOcean device appears as a virtual BACnet device and EnOcean output devices can be controlled via BACnet.
BASgateway LX Modbus to BACnet Gateway
The BASgatewayLX is used to make Modbus devices appear as individual BACnet devices, allowing for integration into control systems that utilize BACnet. Units have one TCP Ethernet port supporting Modbus TCP and BACnet/IP and an opto-isolated Modbus EIA-485 serial port for Modbus RTU or Modbus ASCII devices. Up to 100 Modbus devices and as many as 1,000 polled points can share the Modbus EIA-485 port on the BASgatewayLX. All that is needed is a device profile for each Modbus device, which can be easily downloaded from Contemporary Controls' library of common device profiles.
BACnet Supervisors
BASview3
The popular BASview3 is a stand-alone, embedded, web-based graphical interface for building automation and process automation systems. It can be accessed from any web browser – providing supervisory functionality to any BACnet/IP or Modbus TCP system. Supervisory features include animated graphic screens, programming, email alarming, scheduling, historical trending, and runtime monitoring. As an embedded device, BASview3 uses Flash memory for internal storage to maintain its ruggedness.
Economizer Supervisor
The Economizer Supervisor is a new product for controlling economizers over BACnet/IP and BACnet MS/TP. It provides centralized alarm and status reporting, trending for economizer points, and manual and scheduled remote purging.
BACnet Routers
The popular BASrouter, a BACnet multi-network router, is BTL-listed and provides enhanced diagnostic capabilities for rapid troubleshooting. The BASrouterLX is a high-performance BACnet router which includes advanced features, such as MS/TP Backbone, Backward Routing, Allowlist option for enhanced security, MS/TP slave proxy support (allowing auto-discovery of MS/TP slaves), and MS/TP frame capture and storage for use with Wireshark®. The BASrouterCX is similar to BASrouterLX but with a built-in LTE CAT1 modem and VPN support for installations at remote sites.
BACnet Thermostats
The BASstat Series of communicating thermostats are designed for BACnet/IP over Wi-Fi or BACnet MS/TP multi-stage rooftop units and analog 4-pipe fan coil units. The BACnet-compliant wired or wireless communicating thermostats ensure effortless integration into BACnet/IP (Wi-Fi) or BACnet MS/TP (EIA-485) networks. Two new modules are available:
· Modulating thermostat provides modulated heating/cooling unit for 4-pipe fan coil units
· Heat pump thermostat provides staged heating/cooling unit for single and multi-stage heat pumps
CTRLink Networking Products
For interconnecting Ethernet devices, Contemporary Controls offers its popular CTRLink networking products, such as unmanaged and diagnostic switches, media converters, Power over Ethernet (PoE) devices, IP routers with cellular and VPN capabilities, and UL864 smoke and fire switches. CTRLink devices provide convenient mounting in control panels, low-voltage power wiring, improved EMC compliance, and reliability. All CTRLink product enclosures are metal and intended for direct panel, rack, or DIN-rail mounting.
UL864 Smoke and Fire
The UL864 Smoke and Fire unmanaged and managed switches are 10th edition fire-protection signaling systems that comply with the requirements of Underwriters Laboratories (UL). Switches are available with 10/100 Mbps twisted-pair copper or fiber optic ports.
Secure Remote Access Options
With Contemporary Controls' CTRLink Skorpion EIPR-V/EIGR-V/EIGR-C IP routers, troubleshooting and programming BMS systems at remote locations can be done securely over VPN. RemoteVPN service is based on OpenVPN®, a well-supported open-source VPN technology. Two additional VPN options – Self-HostedVPN and BridgeVPN – allow the user to setup their own VPN server easily without any subscription fees. In addition to OpenVPN PC clients for Windows machines, OpenVPN clients are available for iOS and Android mobile devices for greater flexibility in accessing sites remotely.
AHR Expo Educational Sessions
Don't miss Contemporary Controls' new product and technology presentation entitled Cloud-Connected BACnet Controllers with Drag/Drop Programming and IoT Capabilities.
Hosted by Bennet Levine, the Research & Development manager at Contemporary Controls on Tuesday, February 1, from 4:45 PM - 5:05 PM in Theater A - N253.
The BASiot-Edge is our new rugged edge controller with 12-points of I/O and easy to use IoT functionality with many other features usually found on supervisory devices. During the presentation you will learn about its ability to communicate to AWS, GCP and Azure, its drag and drop Sedona component-based programming, BACnet/IP and MS/TP ports and their ability to read/write points from other BACnet devices, the dashboard graphic features, email alarms, scheduling, and much more.

For more details about Contemporary Controls' booth at AHR 2022, check out Contemporary Controls - 2022 AHR Expo (mapyourshow.com).