---
---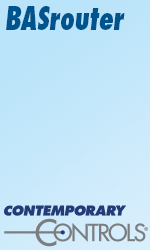 Ken Sinclair: AHR 2021 was a victim of the pandemic, so it's been a couple of years since we've had this venue and I know everyone is excited to get back to having big events like this. From your perspective, what have been the big developments in the industry since 2020?
Brad White: Yes, I'm very excited to have AHR back on the schedule. So many things have changed of course since 2020. But the most remarkable change we've seen with our clients is the conversation around carbon emissions from their buildings. Reducing carbon emissions is now at the top of most of our clients' agendas, ahead of reducing energy costs. This seems to be driven by a combination of increasing government regulation of carbon and the deadline of ubiquitous 2030 corporate carbon reduction targets looming nearer. The conversation has really shifted from trying to get clients ready for a future transition to low carbon, to "this is happening now, what does the transition plan for my building look like?". This recent post from James Dice of Nexus nicely sums up my recent experiences.
In many cases, the building owners we're working with have set aggressive targets to reduce emissions in their existing buildings by 50%, 80%, even 100% in the 2030-2035 window. We've been working closely with them to help them define the most practical and cost-effective path for them to reach these targets, then seeing these projects through design, construction and commissioning. As you can imagine, we're learning a lot of valuable lessons along the way, including how smart building technologies and data play a crucial role in the success of these projects. We're joining up with some other practitioners in the area of low carbon buildings, some who come at it with a different perspective than we have, to discuss all of this and more in our session on Retrofitting to Net Zero. I'm really looking forward to learning a thing or two myself in this session from my fellow panelists.
Ken Sinclair: What are some of the technologies or approaches to getting to net zero carbon you'll be covering?
Brad White: We'll be looking a pretty wide range of approaches including the role of efficiency, heat recovery, electrification of heating systems with heat pumps, Passive House, to name a few. Most importantly, we'll be getting into how these various approaches interact and complement each other. The best solution or pathway looks different for each building depending on how it was designed and built, age of its systems, how the space is used, etc.

Ken Sinclair: The sessions on open controls continue to be extremely popular, what can attendees expect to hear this year on this topic that's new?
Brad White: This is a topic that really seems to have struck a nerve with folks trying to put their finger on one of the things that's been holding the building automation industry back from the kind of innovation we see in other related sectors. I think it resonates because everyone in the industry seems to have a story about how their life has been made more difficult by proprietary controls. People are excited to talk about a world in which we can finally solve some of those problems through open source and open ecosystems.
We'll dive into where "Open" technologies are already establishing a firm foothold in the market. We're seeing a huge number of open hardware and software in new products, especially once we're out of the physical layer of the controls system (controllers, actuators, sensors, etc.) and dealing with applications like data acquisition, visualization, analytics, optimization, to name a few.
The session will also address the topic of open-source hardware and software for controllers themselves. I'm looking forward to discussing how much closer we are to the holy grail of a commercially viable software agnostic control system; one that can run anyone's software on it.
I recommend this excellent episode of the Nexus Podcast as a good primer for anyone interested in this topic. I warn you, that may send you down a rabbit hole on other Nexus podcasts on APIs, Open Controls and related topics.
Ken Sinclair: Can you give us a couple of examples of where you're seeing these open approaches showing up in your work?
Brad White: We're seeing Volttron continue to gain traction in the market, offering an open-source platform for enabling a communication with BACnet enabled BAS. Applications include everything from simple data acquisition, to more advanced services like automated demand response and supervisory level optimization for overriding controller-based sequences of operation.
Aside from that, virtually every new "smart building" software these days comes with an API. There is still much work to be done though in improving the quality and consistency in these APIs in terms of the level of "openness" they provide. We're also yet to really see this impact the traditional controls manufacturers, who still keep their programs and tools pretty locked down and proprietary. We are seeing some cracks in this though with newer companies like 75F publishing APIs to make the data generated from their control systems more easily accessible.
On the open hardware side of things, Raspberry Pi devices are starting to crop up all over the place powering all manner of IOT, data acquisition, and analytics solutions. That's along with the venerable BASPi expansion boards from Contemporary Controls that turn your Raspberry Pi into a full fledged BACnet controller complete with open-source Sedona programming tools. Last but not least, there is also Project Sandstar from Anka Labs. Sandstart is an open source initiative that ultimately aims to decouple the BAS hardware and software, moving us away from the proprietary and closely coupled hardware and software that is offered by every manufacturer today, to a model more like the IT industry where users are free to choose a combination of best in class hardware and software that best meets their needs.
Ken Sinclair: Sounds like these will eb exciting sessions, will they be in person events or hybrid?
Brad White: These are designed primarily as in person events for attendees at AHR. That said, the good folks at Cochrane Supply have stepped up to put together a remote setup to allow me, and possibly some of the other panelists, to participate remotely. The world hasn't quite returned to normal yet, but I look forward to being there in person in 2023!
---


[Click Banner To Learn More]
[Home Page] [The Automator] [About] [Subscribe ] [Contact Us]