Water leaks can originate from many sources such as air conditioning units, cold-water chillers, water supply and return lines, clogged drains, damaged skylights or windows, construction errors, or even condensation drips.

Cam Rogers, Manager
Sales Channel & Business Development
RLE Technologies
---
When it comes to minimizing business interruptions, few companies give much thought to water as a culprit. In reality, according to one study, water damage ranked second behind power outage as the leading causes of business outage, accounting for 27% of the causes. In addition, anecdotal evidence suggests that there may be insurance cost savings--both immediate and long term--from an investment in water leak detection technologies.












While water leak detection technologies have been around for years, new innovations such as the use of non-conductive polymer cables provide significant advantages and tremendous cost benefits, thus allowing more mainstream adoption, especially among critical facilities with sensitive electronic equipment. We will examine the various emerging technologies in water leak detection and highlight the typical requirements one should consider in evaluating these solutions.
Losses Are No Drop In a Bucket
Water plays a significant role in contributing to business outages. According to Contingency Planning Research, water damage causes 27% of the outages. Moreover, downtime is costly, ranging from about $1M to $2.8M per hour depending on the industry, according to Ontrack International. Finally, indirect evidence from insurance providers shows that water is accounting for a higher portion of the costs. For example, insurers in California paid $430M in water-related claims in 2001 versus $206M in 1997. Water-related claims account for 24% of all homeowners' claims in 1997, but grew to 32% of all claims in 2001. While this information includes floods and other catastrophic damages, water leak prevention could have addressed a large portion of these. Thus, businesses are starting to look to water leak detection solutions in protecting their mission-critical equipment and ensuring greater uptime.
Traditional Approaches to Water Leak Detection
Traditionally, one of the most common technologies for water leak monitoring is a spot detector. Spot detectors sense water leaks at a single point. They typically use a probe to sense the presence of water. Also, this probe is then connected to a control module that provides a visual indicator and/or audible annunciation. It is ideal for drip pans, floor drains, and confined areas where water converges at a single location. The spot detector is then connected to a control module that provides alarming, visual annunciation, and dry contact output for integration with other systems. In some cases, spot detectors are packaged together for detecting water in a larger area. For example, one technology strings together a series of spot detectors connected by one-foot length cables.
Spot detectors are often used because they are the most economical and familiar; however, they have one major drawback. They are most effective in an area where the liquid is contained, such as the cement dam under an air conditioning unit. When used in an open floor area, the floor must be analyzed for low points to determine the best place(s) to put the spot detector(s). If the liquid flows one foot away and does not make contact with the probe, it won't be detected.
Another common approach for monitoring water leaks is hydroscopic tape-based systems. The tape is installed around equipment or infrastructure to be monitored by using an adhesive. Once the tape becomes wet, it triggers an alarm. Unfortunately, moisture inside the cloth weaves is a frequent source of false alarms and also takes a long time to dry following the detection of a real leak.
New Technologies and Product Alternatives
A new class of "continuous run" sensing systems has recently emerged, primarily using cable-based intelligent sensors. These solutions allow for more comprehensive protection by supporting detection of multiple leaks, covering larger areas, and better pinpointing the exact location of a leak.
One technology being deployed is based on Time Domain Reflectrometry (TDR), which measures the signal loss through a detuned resonant circuit. It can detect more than one leak on the cable and can be instructed to ignore a leak until it can be repaired; however, the first leak has to be small relative to subsequent leaks in order for the latter to be properly detected. TDR-based solutions available on the market today require connectors to be installed in the field and need up to 20" of liquid to be in contact with the cable in order to trigger an alarm.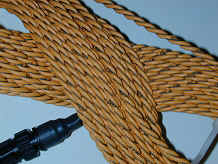 Another technology, from companies such as RLE Technologies (http://www.rletech.com/products/waterdetection.html) and Tyco, uses an intelligent cable sensor, which can either use conductive and non-conductive sensing wires. Non-conductive cables are less prone to false alarms from the cable coming in contact with metallic surfaces such as metal rods or grounding planes, thus creating a short-circuit. In addition, this technology can detect any conductive fluid, not just water.
With the intelligent cable sensor, businesses can easily detect single or multiple water leaks in a specific area or areas in conjunction with a zone control panel. Companies typically divide a visible area into several zones and monitor each zone using a multi-zone control panel. Then, the sensing cable is placed on the floor or the sub-floor around the potential leak sources, with each cable monitoring one zone. This allows each zone's sensitivity to be adjusted. If water or other conductive liquids contact the cable anywhere along its length, the control panel annunciates the water and in which zone the leak is located.
Also, for larger areas, businesses can pinpoint the exact location of the water leak using one continuous length of the sensing cable in conjunction with a "distance read" control panel. Typically, a single cable sensor can be used for up to several thousand feet and is installed throughout the floor or sub-floor around possible water sources. When a leak occurs, the control head annunciates this information and provides a distance measurement within a few feet. This information is cross-referenced with the cable route map that indicates the corresponding location of the leak. The "distance read" system is ideal for larger areas where it is not possible to view the cable, or any water that may come in contact with it, such as large raised-floor areas. Learn more about zone-based and "distance read" systems. (http://www.rletech.com/products/ldoverview.html)
Common and Emerging Applications
Water leaks can originate from many sources such as air conditioning units, cold-water chillers, water supply and return lines, clogged drains, damaged skylights or windows, construction errors, or even condensation drips. Common usage are areas where mission-critical equipment is being maintained, including data rooms, data centers, clean rooms, utility corridors, laboratories, telecommunication facilities, storage areas, elevator shafts, drip pans under water-cooled equipment, and many more. With water-related claims rising and water a significant cause of business outages, data centers have become one of the first to adopt leak detection technology in protecting their mission-critical equipment.
Though the most common application for water leak detection is under raised floors, companies now understand that water can come from a roof that leaks or even additional floors located above the critical equipment of concern. If the water leak detection cable is under the equipment, the equipment has already been soaked prior to the water contacting the sensor cable. Thus, it is not unusual for water leak detection cable to be installed under the raised floor as well as in the ceiling above equipment. For example, a major pharmaceutical company had a need to protect their equipment located at a data center that was in the middle of the building with floors above and below. The solution was to install water leak sensing cable in the ceiling above the data room and suspend the cable from the water pipes of concern, as well as under the raised floor.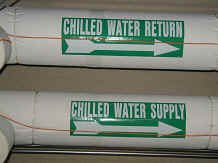 Also, facilities and equipment that use water-cooled technology have started to add intelligent cable sensors to provide early warning of leaks that could potentially cause costly equipment damage and downtime. The cable is installed around the supply and return water lines to continuously monitor for leaks. For example, a large government facility needed to detect any water in their data center. Because cold-water chillers are being used for environmental control, there is a real possibility of leaks that could damage the data facility and cause expensive business interruptions. Thus, the government facility installed intelligent cable sensors using a distance read system and serpentined the water leak detection cable around critical equipment. As a result, they are able to pinpoint the exact location of a leak when it occurs and protect the equipment by triggering an alarm before water reaches the equipment.
In a third example, a new prison was being built and the concern was that because the facility is electronically controlled, any water leaks could potentially cause serious problems including malfunctioning of the surveillance and/or security systems. The management made a decision to install multiple "distance read" systems, along with more than 9000 feet of sensing cable in the utility corridors that run behind the jail cells. As a result, they were able to protect the sensitive electronic control equipment from any potential water damage.
Beyond these customer examples, manufacturers of equipment that incorporate water-cooled technologies are also adding the intelligent cable sensor to their solution. These vendors incorporate water or fluid detection technology directly inside their machines to protect against water damage to sensitive electronic and/or mechanical components. For example, a manufacturer of laser-etching equipment utilizes a water-cooling system to keep temperatures inside the machine within acceptable parameters. If any of the couplings or connections in the piping used for water-cooling fails, there is a very real possibility of damaging the entire laser system. Small sections of water leak sensing cable were strategically placed within the laser to identify any cooling system failures and provide annunciation as well as alarm notification if any water is detected.
Companies are also starting to look at water leak detection to address two other problems: (A) toxic mold (B) high insurance costs. First, new regulations concerning toxic mold increases the liability for building owners. It takes only a few hours for mold to start to develop. Thus, as the concern for toxic mold increases, the need to detect the primary cause of the mold -- i.e. water --will also increase. Leak detection solutions can be useful in monitoring any area where condensation can build up and cause mold. Second, anecdotal evidence suggests that insurance companies are starting to realize the benefits of having water detection systems in place and have begun to offer incentives to those businesses that install such systems. Given the large amount of water-based claims, water leak detection systems can help insurance companies lower their risk and exposure to business interruptions and outages caused by water damage.
Evaluating Leak Detection Solutions
When evaluating water leak detection solutions, businesses and equipment manufacturers should consider the following factors in assessing their needs and determining the best solution available on the market for their particular application. Download the white paper "Choosing the Right Water Detection System" for more information. (http://www.rletech.com/pdf/ldconfigguideweb.pdf ).
Breadth of Application: Where is the leak detection being applied: specific location, in one area, or several areas? Understand what area you are monitoring in order to determine the best solution. Select the cable or spot detector that is best designed to monitor your fluid leaks.

Adjustable Sensitivity: How much liquid is required before an alarm can occur? How easy is it to adjust the sensor's sensitivity? Look for a system that will alarm with only small amounts of water. Adjustable sensitivity is ideal and recommended to help eliminate false alarms that may occur from high humidity or slight condensation drips.

Quick Reset: What is required to reset the cable back to normal after an alarm condition has occurred? How long does it take to dry the cable? For cables, look for a solution that dries quickly.

Easy to Install: How costly is it to install? For cables, look for a solution that supports different cable lengths without using a large number of connectors. Also, the cable should be easy to install, resist kinks, and lie flat after installation without "recoiling".

Highly Scalable: What is the maximum cable length that the solution covers? How many sensors does the control panel support? Look for a solution that supports multiple sensors and cable lengths.

Integration Friendly: How easy is it to integrate the water leak detection system into a building management system (BMS) and/or a network management system (NMS)? Look for a solution that provides easy integration with other monitoring and control systems that is offered by a company with expertise in integrating water leak detection as well as other monitoring devices into such systems.
---
About the Author
Cam Rogers is currently the Sales Channel and Business Development Manager at RLE Technologies. Cam has extensive experience in marketing and selling various types of facilities technology, including leak detection as well as communications and site monitoring solutions.
---

[Click Banner To Learn More]
[Home Page] [The Automator] [About] [Subscribe ] [Contact Us]