---

EMAIL INTERVIEW Randy Kondor & Ken Sinclair
Randy Kondor, Vice President of Education, OPC Foundation & President OPC Training Institute
Mr. Kondor graduated with a B.Sc. from Computer Engineering in 1992, and started his career in Software Development. While at Matrikon (1997-2007), Kondor was responsible for the entire OPC business including Development, QA, Technical Support, Sales, etc. Kondor has been a guest speaker in various industry conferences and has been published in numerous magazines around the world. In 2007, Kondor left Matrikon and started the OPC Training Institute where he serves as the President. In addition, Kondor is currently serving as Vice President of Education at the OPC Foundation and is working to bring the OPC message to all industrial operations. "
---
What is OPC?
OPC is a communication standard that enables controllers and PCs to communicate with each other to exchange automation data.











Sinclair: What is OPC?
Kondor: OPC is a communication standard that enables controllers and PCs to communicate with each other to exchange automation data. OPC is built on Microsoft's Windows platform and uses COM/DCOM as its communication infrastructure. OPC enables PLCs and related automation controllers to communicate with any software application regardless of the vendors involved. This enables companies to integrate a best-of-breed solution by purchasing hardware/software components based on the task at hand rather than based on a legacy install base. It also enables vendors to focus on their own business domain knowing that the rest of the solution (either software or hardware) can be easily integrated onsite.
Sinclair: What applications use OPC?
Kondor: The Building Automation industry uses OPC in a variety of applications including:

Facility management in large hotels and conference centers

HVAC and lighting controls in high-rises

Chiller optimization

District heating and cooling

Distributed control where one office controls various buildings remotely

In these applications (and many others) OPC presents a standard interface to bind all software and hardware components together. This tight integration enables people to operate a multi-vendor solution as if it came from a single vendor.
Sinclair: What does OPC do for Building Automation?
Kondor: OPC enables Building Automation suppliers to combine their hardware/software with existing controls without having to completely swap out the current installations. Here are a few examples:

Facilities that want to upgrade their current controls can purchase the new software with current graphical capabilities and updated calculations, but they don't need to replace their installed hardware controllers. OPC enables their old hardware to interface with new software applications. OPC translates the proprietary hardware protocol to a standard communication stream that is understood by most new software applications. Thus, companies do not need to worry about the integration between the different vendors; they only need to ensure that everyone can communicate via OPC.

Buildings that are automating new additions can incorporate their new controls with existing HVAC controls. For instance, new controllers that support an OPC connection can easily link with central control software. The software will incorporate data from the new controllers as if the data came from the original data source. The software and the people that operate it will not know the difference between the old and new controllers!

Companies that want to optimize their existing control can get existing software applications to communicate with each other via OPC. Most HMI (Human/Machine Interface) applications are OPC compliant. Consequently, they can pass data either to each other or to a master control application that can take multiple factors into account.

There are many more uses for OPC, but the general idea is that OPC can be used as the glue to bind hardware and software applications from different vendors.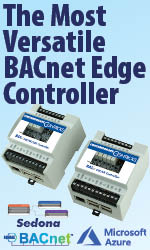 Sinclair: How can OPC help software vendors?
Kondor: Software vendors can now focus on what they do best: write software. They do not need to worry about the hardware to which they will connect in the future. This is because OPC translates any hardware communication protocol to a standard-based communication platform that new software applications can easily understand. Since the communication is bidirectional, software applications can be used both for monitoring and control purposes. This enables the software vendors to connect their applications any hardware platform that supports OPC. OPC support is currently provided by many hardware vendors such as ABB, Barber Coleman, Honeywell, Invensys, Rockwell, Schneider, Siemens, Trane, etc.
Sinclair: What can OPC do for hardware vendors?
Kondor: There is no shortage of controllers for a variety of specialized applications. Lighting controls have their market leaders, as do chillers, furnaces, and other large equipment. OPC can help hardware vendors by enabling them to connect their controllers to other vendors' software applications. This enables hardware vendors to concentrate on creating the best product in their business domain and not to worry about visualization or analysis applications because integrators can easily use OPC to unite the full solution onsite.
Sinclair: How can OPC help System Integrators?
Kondor: Today's sophisticated end-users frequently choose multi-vendor solutions since a single vendor is seldom the best at fulfilling every technical and business requirement. Because a hybrid solution involves two or more vendors, end-users typically use System Integrators (SIs) to put everything together. These SIs may be from the end-user or from a third party company. SIs with OPC experience have an easier time in the integration process. They use OPC as the standard interface between all the parts; so once they understand how to use OPC from one vendor, they are able to use the experience with other vendors because OPC presents a standard and consistent interface. Of course, this experience easily transfers between projects. Thus, OPC enables SIs to reduce their project time and potential risk.
---


[Click Banner To Learn More]
[Home Page] [The Automator] [About] [Subscribe ] [Contact Us]