---
EMAIL INTERVIEW Marc Petock & Ken Sinclair
Marc Petock, Director, Global Marketing & Communications
Tridium, Inc.
---
The 2008 Niagara Summit
The 2008 Niagara Summit is an open exchange conference that focuses on interoperability, integration and connecting diverse systems and smart devices.











Sinclair: It's that time again when you host the Niagara Summit. Tell me about the 2008 Niagara Summit.
Petock: Ken this is our third Summit and by far is going to be the largest. The Niagara Summit is a 3-day gathering of industry professionals and practitioners deploying automation and device-to-enterprise solutions built around open, interoperability, integration and connectivity. The Summit is an opportunity to hear from industry leaders, network, exchange ideas and discover the latest technology solutions that are delivering:

Performance efficiencies

Lower operating expenses

Reduced Energy Costs

Real-time control and manageability

Increases in building value

Better comfort and security

Sustainability

Pervasive device connectivity solutions

And much more
Sinclair: What will attendees experience at this year's Summit?
Petock: The 2008 Niagara Summit is all about "Carrying the Vision Forward" from the enabling capabilities of NiagaraAX, oBIX and the soon to be released Sedona Framework, to wireless, M2M, industrial, energy and residential applications, attendees will encounter the ultimate educational experience, in-depth presentations and peer brainstorming that provides thought provoking ideas and visionary insight for device-to-enterprise applications and automation infrastructure.

The Summit this year focuses on both the business value and technical value automation infrastructure technology and device-to-enterprise integration solutions are delivering to the marketplace. A number of internationally recognized experts will share their application solutions and insights on what is being delivered today. It also explores what is coming around the corner.

There will be presentations, keynotes, workshops, sessions and relevant exhibits from leading suppliers. We've designed the event around three tracks--- Applications, Business and Developers. Each attendee can choose to attend all the sessions in one track, or interchange within the three. In addition, Tridium will be previewing Sedona, the industry's first, open source software development framework that provides a complete platform for developing, connecting and managing low level embedded devices.
Sinclair: When and where will this take place?
Petock: This year's Summit takes place on May 4-May 6 at the Saddlebrook Resort, in West Chapel (Tampa), Florida.
Sinclair: Who should attend the Niagara Summit?
Petock: It is open to anyone but Building Owners, Engineers, Developers, System Integrators, Facility Managers, IT Professionals, Building Managers, Consultants, Property Directors, Manufacturers, Environmental Executives and Resellers should make it a must a attend.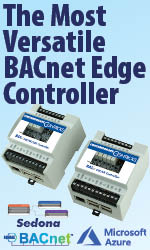 Sinclair: At previous Summits, you have had exhibitors and sponsors as part of the event. Are you planning the same this year?
Petock: We sure are. We are extremely excited to have several companies and organizations participating as sponsors and exhibitors this year. As of this interview, the following companies are participating: Constellation Energy, Honeywell, Lynxspring, CSI3, Distech Controls, Gemini Integration, Siemens, Loytec Americas, Reliable Controls, Building LogiX, Kele, SysMiK Gmbh Dresden, Viconics, Wattstopper/Legrand, Atkinson Electronics, Contemporary Controls, E-MON, ONICON, Fieldserver Technologies, Architectural Energy, Eagle Technology and HID. In addition to these fine companies, many industry's publications and organizations are supporting the event including Automated Buildings, Mission Critical, Security Magazine, Engineered Systems, M2M Magazine, Today's Facility Manager, Remote Site & Equipment Management, Sustainable Facility, START-IT, CABA, Realcomm, oBIX and CGNA.
Sinclair: If a company wanted to participate as a sponsor or exhibitor, do you have space available and where would they go to find out more?
Petock: Yes, we have a few remaining sponsorships and exhibit opportunities available. All this information can be found at: http://www.niagarasummit.com/To_Exhibitors/Prospectus.asp.
Sinclair: Where can our readers go for more information on the 2008 Niagara Summit?
Petock: Full conference details and registration information can be found at: www.niagarasummit.com.
---

[Click Banner To Learn More]
[Home Page] [The Automator] [About] [Subscribe ] [Contact Us]