---
Improving Building Safety and Extending Automation

with Wireless Emergency Lighting Controls


Jeremy Ludyjan LC,
Senior Director,
Field Marketing,
Fulham Co., Inc.




When considering all the systems you can automate in any building; emergency lighting does not usually top the list. However, by installing and connecting smart emergency luminaires, you can create an ecosystem that not only simplifies emergency light testing and management but can control a variety of building systems and make buildings safer at the same time.

The new generation of emergency lights use LED power supplies, which themselves contain microprocessors with embedded programming capability. That makes these emergency LED lights inherently "smart" since they can be programmed for various functions, such as light intensity or power consumption. Most importantly for building managers, they can be programmed to eliminate manual testing. New LED emergency luminaires have red and green indicator lights to show readiness, and they can be programmed for automated testing to make an inspection to comply with safety regulations much easier.

These emergency luminaires also are ideal endpoints for a building management ecosystem since they are strategically installed throughout any building. All you need to do is connect them together.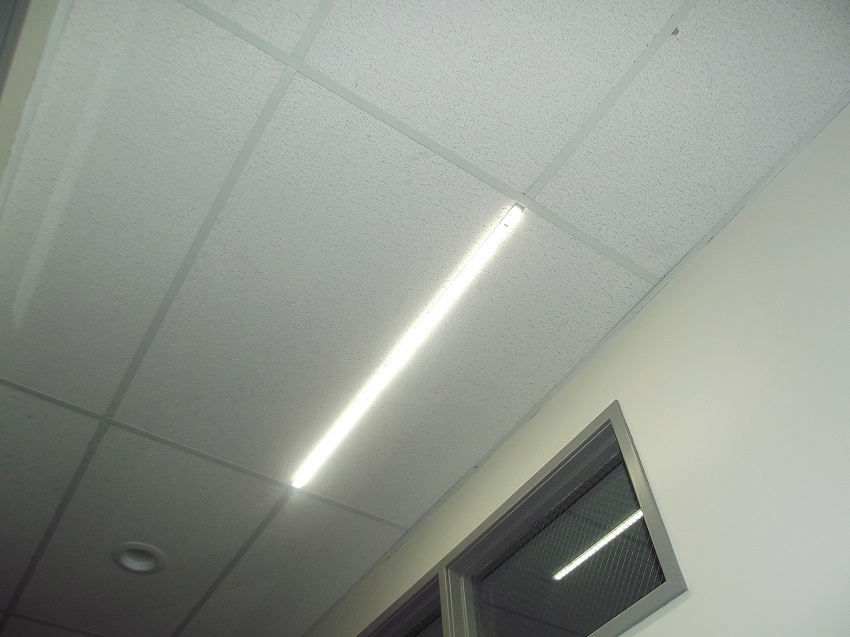 Connectivity Brings Intelligence

To make these emergency lights intelligent rather than just smart, you have to take the programmable capability of each luminaire and connect them into a single infrastructure so you can program and monitor LED emergency lighting. You have two options to connect luminaires: wired or wireless. Wired connections are impractical except with new construction; it's not cost-effective to retrofit the necessary cable. Wireless connections, however, is easy to add.
More LED luminaire manufacturers are starting to include Bluetooth mesh wireless connectivity in luminaires. Bluetooth mesh is capable of handling various types of data traffic including BACnet and IP data to power the Internet of Things (IoT). The beauty of Bluetooth mesh is it is robust and highly scalable.
Bluetooth mesh is a broadcast network, so each Bluetooth mesh device sends the same data to all other devices at the same time. As a result, there is no single point of failure; nodes can be added or removed as needed and the data reroutes itself automatically. More importantly, Bluetooth is a well-established, open standard, and it is manufacturer-independent so any vendor can create compatible devices.
Connecting emergency luminaires together using a wireless platform like Bluetooth mesh creates a scalable lighting control system. It makes it easier to perform self-testing, diagnostics, and full-cycle testing as part of safety compliance. It also lets you access emergency lights from a central console. Since Bluetooth is a two-way communications standard, you can issue software updates and commissioning commands as well. You even can perform real-time monitoring and detect when a light or battery is about to fail.

Smarter Emergency Response
Connecting emergency luminaires not only simplifies testing and management of emergency lighting, but it also can make buildings safer. With on-board sensors you can do more than monitor emergency lighting hardware, you can program and control other systems to respond in an emergency.
The emergency lighting sensors can be installed or programmed to detect multiple hazards, including fire, smoke, noxious gases, or even the sound of a gunshot. Sensor data is continually being sent over the wireless mesh network to a central system that applies machine learning to analyze incoming information. Depending on the emergency, the system can be programmed to issue the appropriate control commands.

For example, once a hazard is detected, the emergency lighting system can be programmed to sound the fire alarm, activate sprinklers, lock fire doors, alert the fire department, etc. Since emergency luminaires are located throughout the building, the ecosystem also can detect the location of the fire so it can activate the right lights to illuminate the path to safety. The same sensors can be programmed to detect room occupancy to determine if there are still people in the building.

Since the data is being transmitted via Bluetooth mesh, it is accessible from any handheld device, or it can even be accessed via the web. The same sensor data used to activate building safety systems can be shared with first responders to show the location of the hazard and any potential victims or occupants who may be trapped.

From Building Safety to Building Controls
Now consider what you can do if you expand the emergency lighting control ecosystem to manage other building systems.
Since emergency lights are located at exit points, they can be used to manage building access and security. Employees can be issued badges that serve as wireless access keys, with the sensors using Bluetooth tagging to identify badges and unlock doors. Visitors even can be issued digital passes on their smartphones to provide an interactive map of the building and combining machine learning and Bluetooth tagging to authorize building access.

The same ecosystem can be used for environmental controls; using sensors programmed to monitor temperature, data can be sent to issue commands to control HVAC. By measuring ambient lighting, the same sensors can trigger instructions to dim the lights or raise and lower the window shades. Since the sensors are already being programmed to detect occupancy as part of building safety, they also can be programmed to turn off lights and HVAC in unoccupied rooms. Bluetooth tagging also makes it easier to keep track of vital equipment, which can be ideal for hospitals or clinics. Since the entire infrastructure is powered using Bluetooth mesh, it can be accessed from any Bluetooth-enabled device such as a smartphone or tablet, as well as a web console.

A wireless infrastructure using emergency luminaire endpoints and Bluetooth mesh can be the ideal solution to building automation. The Bluetooth mesh ecosystem can handle any kind of data traffic, such as BAS protocols, DALI (Digital Addressable Lighting Interface), and IoT, and with machine learning, you can create an entire intelligent building ecosystem. Where emergency lighting was once just another building system that had to be maintained, it may now be the foundation for wireless building controls and analytics ushering in a new kind of building automation system.


---
About the Author
Jeremy Ludyjan LC, is Senior Director, Field Marketing, for Fulham, a manufacturer of innovative and energy-efficient lighting sub-systems and components for lighting manufacturers worldwide.
---

[Click Banner To Learn More]
[Home Page] [The Automator] [About] [Subscribe ] [Contact Us]