Don Dennis, P.Eng., CFM
President
FmT Consultants Ltd.

Integrated FMIS are being implemented by many large organizations in order to more effectively plan, operate and maintain their facilities and capital assets.
---
Abstract
Facilities Management (FM) Departments are implementing technology in order to more effectively manage their facilities and physical infrastructure. This technology consists of both automated building systems and facility management information systems (FMIS). This article will provide an overview of the current state of FMIS technology.
---
Due to the economic downturn in the 1990's and the continuing need to reduce operating costs, organizations have realized that the installation of building automation systems will reduce costs and improve the performance of building systems. In addition, they realize that FMIS are also required to provide facility records information and support systems for planning and management purposes. FMIS technology has developed rapidly since the early 1990's and many FM departments have implemented component systems for use by specific work units (e.g., a maintenance management system for the Operations and Maintenance). However, they realize the limitations of these standalone systems and the industry trend is now for the development of an integrated FMIS that is comprised of several component systems and satisfies department wide needs.












Since 1993, our firm has provided a management consulting service specializing in facility management and FMIS technology. We have worked with many organizations such as the University of Saskatchewan, the City of Edmonton, the Calgary Health Region and the University of Calgary on the development of an integrated FMIS.
Conceptual Model
In our experience, most FM managers are aware of the FMIS capabilities and benefits but do not have the time or expertise to properly investigate and implement these systems. Also, few FM departments have a long term strategy for information systems development. Therefore, they often rely upon a central Information Technology (IT) group to select and implement these systems. However, the IT group is usually limited because they do not fully understand the business of the FM department and cannot obtain a clear definition of needs from the FM staff. Therefore, our approach to this situation is to first complete a review of the existing systems. The outcomes of this review are:
a gap analysis of the current and optimal state of development of each existing system;

a model of the existing systems and IT infrastructure;

a model and recommendations for the development of an integrated FMIS;

specific recommendations for each existing component system.
This review provides the FM management and staff with a better understanding of their system needs and priorities. A business case can then be prepared for the long term development of an integrated FMIS. The generic conceptual FMIS model used in these reviews is:
Figure 1 Conceptual FMIS Model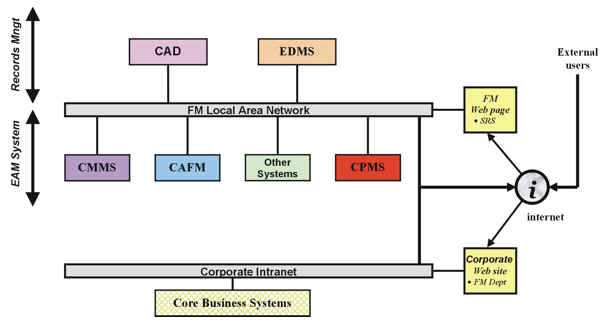 The major components of the FMIS are:
the IT infrastructure consisting of the intranet for the organization, a local area network in the FM department, internet access and related hardware;

a computer assisted design (CAD) system for drawing management o an electronic document management system (EDMS) for accessing and managing records information in an electronic format;

a computerized maintenance management system (CMMS);

a computer aided facility management (CAFM) system for space management;

other specialized applications such as key management, cable management, fleet management, custodial and project management systems;

a capital planning and management system (CPMS) for tracking capital renewal and deferred maintenance requirements;

a web based service request system (SRS) for on-line submissions of service requests and status queries by customers;

an interface to the core business systems of the organization;

a website for the organization and linked web page for the FM department.
The CAD and EDMS are mainly used for managing the electronic records information that is developed during the initial construction and renovation of facilities. The enterprise asset management (EAM) component systems are used for the on-going operation and maintenance of the facilities. Therefore, the FMIS is comprised of the records management and EAM component systems, plus the links to the core business systems.
Detailed Model
A detailed system model is completed for each specific application in the FMIS review. As an example, the following model was prepared for one organization:
Figure 2 FMIS Model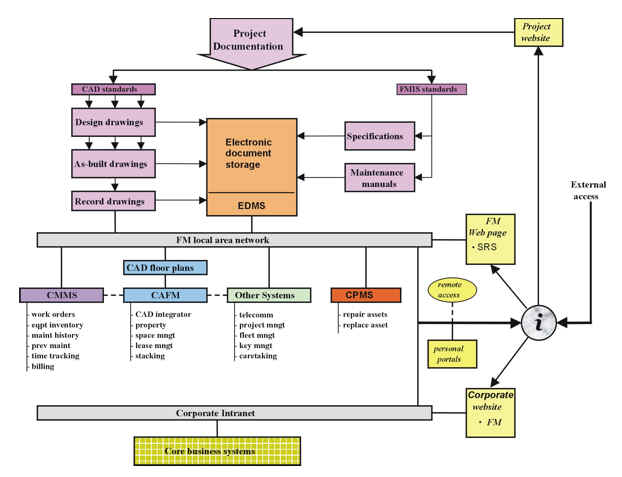 System Integration
The integration of the component systems is an on-going requirement for FMIS development. Software products with modules that can provide all or most of these capabilities or that have created interfaces to other industry leading products are being developed in response to this need. Whenever possible, data is shared and is not duplicated. The best example of this is the location data (site, building, floor, room) that is managed in the CAFM system and is shared by the SRS, CMMS, caretaking, key management and telecommunications systems. This reduces data entry and allows all location based information to be validated upon entry. In this case of the above organization, an Oracle database was selected and installed on a separate server so that a common database for all assets could be created for shared use by the various applications. This also supported the use of a data linking and embedding system that accessed data in both the asset database and the core business systems to provide integrated analysis and reports that were previously not available.
Future Trends
The building industry is recognizing the benefits of an integrated FMIS and the trends are:
the increased availability of industry specific software packages that can provide for a wide range of FM requirements;

data on assets such as buildings and equipment is being viewed as corporate information that is best managed by the FM department;

use of more powerful database management systems;

increasing interest in web based access to the FMIS for improved access to information by the FM staff and others in the organization;

more emphasis on business process re-engineering and staff training in order to maximize the use and benefits of the system;

future interfaces with building automation systems in order to achieve further operating efficiencies.
Summary
Integrated FMIS are being implemented by many large organizations in order to more effectively plan, operate and maintain their facilities and capital assets. FMIS data is being increasingly used for analysis and reports on a corporate wide basis. Organizations will continue to implement FMIS technology and building automation systems on a parallel basis. In the future, they will be seeking opportunities for further enhancements through interfaces between these two technologies.
---
About the Author
Don Dennis, P.Eng., CFM is a Professional Engineer with over 25 years of experience in the building industry, including 13 years as a facility/infrastructure manager in physical plant departments. He worked for 10 years at a senior management level prior to founding this consulting practice in 1993. He has received his Certified Facility Manager designation from IFMA, Real Property Administrator designation from BOMA , and is a Past President of the Southern Alberta Chapter of ASHRAE.
---


[Click Banner To Learn More]
[Home Page] [The Automator] [About] [Subscribe ] [Contact Us]