Robert Hodgson
RHconsulting@telus.net

What you soon realized is that the "usual" was what we would consider in America a total Energy Management package already built into the strategy of how they would control the buildings.
---
Life is good! I have had the privilege to work in 4 different countries in my career as a Building Automation Systems Consultant and Trainer. Most of those 23 years in the industry have been in the United States and Canada but this past year I took on a project in Great Britain that has allowed me to experience a different perspective of our industry. The UK experience will in coming years I am sure play a part in the way that I do business and educate clients or customers on the best ways to engineer their systems to meet the building automation and energy management commitments that they have.












Energy management and digital control systems were the areas that I started in when I graduated from technical college. My first employment involved the collection and analysis of energy audits from a University campus with 42 buildings that was embarking on a program to convert all of its buildings and central heating and cooling plants from pneumatic/electric to digital control. Later as the project moved forward I became involved in the installation and maintenance of the hardware and database on the campus BMS system over a period of 8 years. Working on that first project was a great experience and many of the lessons learned from that experience I used in my later employment with other institutions and corporations as well as in my own consulting business and the projects that I became involved with in the UK.
The UK and in particular the area around London is presently undergoing a renovation and construction boom of sorts. The immediate first impression that I had when I first arrived in central London was the number of construction projects and the number of cranes on the skyline (38 that I counted crossing the Waterloo bridge). There are construction projects of every type and description most of which are large renovation projects to modernize buildings in central London. The projects that I was consulting on among others included a new installation at a large pharmaceutical company that required a validation of data and performance procedure and a renovation project at a defense facility that required total building automation systems redundancy.
What struck me about the people working on these projects was their high degree of knowledge. Most of them had excellent knowledge and engineering skills in digital electronics and HVAC, they also were very good at adapting or integrating one system to another. One of the individuals that I worked with had built his own web based software to communicate with an older control system which was still being widely used in the field but was no longer being supported by the original company. This of course was satisfying the clients but he was also developing other features that would transition nicely into the newer systems as well. He is not however the exception to the rule, in fact I would say that he is typical of the caliber of people in the industry here.
In the UK they have had to be very adaptive for a number of reasons not the least of which is the bottom line, the industry here is driven by very tight margins of profit. My experience in the US and Canada expected margins of profit at least 2 to 3 times higher than they are here in the UK and what that has translated to here is a very keen eye on the bottom line. So the industry here has had to be cost efficient and as I said before very adaptive when it comes to solving engineering problems.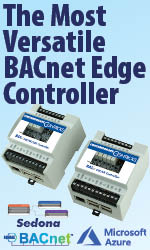 Energy conservation here is almost a way of life. When I originally asked about what Energy Management techniques they where employing on some of the projects I was usually given a politely puzzled look and then a quick explanation that there was nothing "special" as to how the building was to be controlled and that the "usual" types of strategies would be put into place. What you soon realized is that the "usual" was what we would consider in America a total Energy Management package already built into the strategy of how they would control the buildings. In other words Energy Management was a way of life, it really was nothing "special" to them.
If you are interested in working in the UK I would recommend that you look at a couple of websites that will help you to obtain information on work visas, taxation and accommodations. I found the websites for the British High Commission and the Department of Inland Revenue very helpful. There is a whole host of useful websites for securing accommodation and the length of project that you work on will ultimately determine the best type of accommodation for you. I have thoroughly enjoyed my involvement here and it has definitely helped to broaden my knowledge and skills in the Building Automation Industry. I highly recommend the experience to anyone.
---
About the Author
Robert Hodgson has over 23 years in the Building Automation/HVAC industry. He graduated with a Bachelor of Science from University of Alberta and Diploma in Air conditioning and Refrigeration at the Northern Alberta Institute of Technology. He also has a Journeyman Trades certificate in Instrumentation. Currently he is a private consultant and project engineer working on various projects primarily in the United States and Canada. He can be reached at: RHconsulting@telus.net.
---


[Click Banner To Learn More]
[Home Page] [The Automator] [About] [Subscribe ] [Contact Us]