---

EMAIL INTERVIEW Ron Caffrey & Ken Sinclair
Ron Caffrey, Partner BCS Partners
rcaffrey@tampabay.rr.com
Ron Caffrey is a Partner in BCS Partners, consultants and authors of the bi-annual report on the Building Automation Industry. Ron had a 40 year career with Johnson Controls, the last 20 years as V.P. Marketing for the Controls Group. His past industry contributions include: Director of ASHRAE; Founding Chair of the Intelligent Buildings Institute; Co-Founder of the Advanced Building Consortium (ABSIC) at Carnegie-Mellon University
---
New Marketing Focus Recommended
With all the attention to energy conservation, air quality, occupant productivity and green buildings, why do you feel the market won't grow at a faster rate?











Sinclair: I understand BCS Partners latest assessment of the market for Building Automation Systems in North America is continuing to predict modest growth in the area of 5% for 2008. With all the attention to energy conservation, air quality, occupant productivity and green buildings, why do you feel the market won't grow at a faster rate?
Caffrey: There are several structural reasons such as the continuing reduction in cost of electronic components and the increased use of wireless devices which lower the overall cost of an installed system but to me the key factor is insufficient marketing attention to the smaller building market.
Sinclair: It seems to me the manufacturers are advertising and participating in trade shows and conferences quite heavily…what do you mean?
Caffrey: The focus of their marketing efforts is in two categories…neither one being effective in the smaller building market. First, their advertising is almost exclusively focused on the advantages of their hardware. Small building owners are going to be influenced by and buy from local contractors who will sell them on savings, performance and reliability, not widgets which will be beyond their ability to understand or appreciate. Second, the conferences manufacturers support are preaching to the choir. Building owners who have the interest and financial ability to attend these sessions are already committed to some level of building automation.
Sinclair: I understand CABA is involved in a major effort with its building automation members to promote wider understanding of the value of building automation systems; isn't this what you are saying needs to be done?
Caffrey: From what I've seen and heard so far the product of the study will be worthwhile documentation of successful large installations and formulas predicting the return on investment for building automation costs but again, how will this get to the owners and specifiers of smaller buildings.
Sinclair: So what do you think is the answer?
Caffrey: I suggest the formation of an industry wide consortium of Building Automation System manufacturers dedicated to marketing the need/advantages of BAS systems to smaller building owners and specifiers. While the manufacturers can not be expected to eliminate product advertising, a substantial portion of the marketing budget would be re-directed to industry promotion. This would involve use of all the marketing tools…advertising in targeted publications, generic brochures, power point programs for dealers to use at local meetings, pr releases to be offered to local media by local dealers for examples.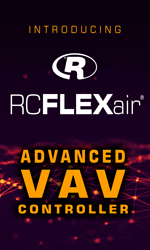 Sinclair: Such an industry promotional effort seems pretty revolutionary…do you think manufacturers would buy into such an idea?
Caffrey: I have no illusion that it would be an easy sell. Industry promotional funds are common in other industries. A consortium is not unheard of in our industry. BCS Partners administered one in which the manufacturers shared shipments statistics for many years. The question is will a majority of the players have the vision and courage to try it?
Sinclair: Interesting…what do you suggest as the next step?
Caffrey: My partner, Terry McMahon and I would host a meeting at the ASHRAE show in New York to further explain the concept and moderate the sharing of questions and ideas. We'd be happy to do it on a pro-bono basis with a charge for attendance that would cover a meeting room, a dinner and our travel expenses.

There may be other ways but we know from our previous consortium experience such meetings have been judged valuable by attendees who share industry insights with no fear of anti-trust implications with us present.

Anyone interested in pursuing this further, please contact me; Ron Caffrey; rcaffrey@tampabay.rr.com; 727-528-9684
---

[Click Banner To Learn More]
[Home Page] [The Automator] [About] [Subscribe ] [Contact Us]