---

EMAIL INTERVIEW Nathan Rothman and Ken Sinclair
Nathan F. Rothman , President,
Optimum Energy, LLC
Nathan F. Rothman, B.E.P., CSDP, has spent the last 20 years as the president of a privately held company, whose shareholders comprised executives of Fortune 500 companies, a U.S. top ten bank and other international financial funds and merchant banks. The firm structured, financed, built and managed "green field" manufacturing plants for its clients around the world. Prior to that Nathan founded and was the president of Valiant Yacht Corporation. The Valiant 40 was awarded the "product of the decade" by the pleasure boat industry. Nathan is an alumnus of Northwestern University and Illinois Institute of Technology.
---
Converting Engineered Services into a Deliverable Product
In the pursuit of clean technologies for industry I came across Tom Hartman and his work and immediately saw an opportunity. The concept was obvious to me. Take what was an engineered service and convert it to a deliverable product.











Sinclair: As the founder and President of Optimum Energy and someone who is new to this industry, could you share with our readers a little of your background and how you migrated to this industry.
Rothman: Prior to starting Optimum, I was the President of a company that built "greenfield" process manufacturing plants, primarily in Asia. Over a 12 year period we built some 18 facilities: mini steel mills, ductile iron pipe plants, steel foundries, textile mills, food processing plants. Throughout my tenure with that company I worked to make the plants as efficient as possible and as environmentally clean as possible. In the pursuit of clean technologies for industry I came across Tom Hartman and his work and immediately saw an opportunity. The concept was obvious to me. Take what was an engineered service and convert it to a deliverable product.
Sinclair: So you jumped right in?
Rothman: Well, I researched the opportunity, visited several buildings where the technology had been employed, and was pleased to find that the technologies really produced dramatic efficiencies.

I spoke with building operators and owners and compared it with the manufacturing sector. Interestingly, the manufacturing sector is driven by new technologies which enable producers to remain competitive throughout the world; that drive appeared to be missing in the building operations sector, but I think the invigorated "green movement" is beginning to change that as people look for new technologies to reduce negative effects on the climate.
Sinclair: When you say Optimum delivers a product could you describe for our readers what you mean?
Rothman: We have licensed Tom Hartman's technologies which are based on control sequences that enable all the components of an HVAC plant to operate holistically based on power relations between the components. These control strategies were being implemented in a one-off mode, with contractors programming the sequences into the existing building automation systems. This type of installation usually took several weeks of work, and often involved different technicians and produced inconsistent results. I contacted a friend, Jim Hanna, who had spent considerable time in the enterprise software industry. I convinced him to join me and we began to work toward converting the technology into applications that would reside in a manufacturer and protocol agnostic controller, that could be implemented on a "plug and play" basis. The goal was to produce a standard engineered product, an end-to-end, turnkey solution that would eliminate errors, and provide for quicker and consistent installations while being scalable. The product was engineered from the ground up for remote network support, maintenance, measurement and verification.

Currently, the controller Is configured at our facilities for the specifics of the customer's site and then sent to location. Installation is usually accomplished within half a day and then we're live. We perform a thorough commissioning to insure the entire facility is operating as designed, then the on-line monitoring provides us and the building personnel continual feedback on the operation of the plant.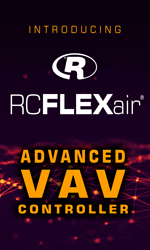 Sinclair: Optimum claims pretty remarkable results. How do you assure the customer of the results and what's the process.
Rothman: We typically realize average annualized operating efficiencies of .5kW/ton or lower for most centrifugal chiller plants. When we say chiller plants we mean the entire plant: chillers, cooling tower fans, condenser pumps, and primary distribution pumps. Regarding the assurance of performance, we have data from the different plants at which we've implemented the technology to support our claims and we'll guarantee the results.

The process begins with an assessment of the customer's plant and a determination of the existing operating efficiency as measured in kilowatts per ton (kW/ton). Our engineers develop a plan for the owner, a sort of road map to achieving the goal. The owner's engineers make whatever corrections and changes are necessary to convert the plant to an all variable speed, all variable flow plant. Our controller is connected via Ethernet to the existing BAS; the plant is commissioned and from that point onward the owner, his facility manager and service contractor can see through their web browsers the operating efficiencies of the plant in kW/ton, the reductions in greenhouse gases and operating and trend data for all of the equipment, alarms etc.

Additionally, Optimum is continuously measuring and verifying the operation of the plant. I know most BAS can provide data on operations of the facility, but this capability is not widely used. I think we're taking it a little further in that we provide information to the different operating positions within an organization. We provide the owner and his representative with predictive and preventive maintenance reports, operating trends, efficiencies and alarms for the month, in a concise monthly report.

Here's why this is important. In manufacturing we knew where we were all of the time. When melting 30 tons of iron and steel you know exactly what's going on in that furnace at all times- the amount of each of the various elements, temperature, etc. That's a key part of the financial manufacturing equation.

The same is true for HVAC plants. By monitoring the facilities live over the web we can tell exactly what's going on in a building within a few minutes of it happening. The kW/ton measurement provides the customer with verification, independent of weather, occupancy or other variables that the plant is operating at optimum efficiency. It enables Optimum to demonstrate the savings and operational efficiencies. The purchase of any of our products includes monitoring services.
Sinclair: What is the go-to-market strategy for Optimum?
Rothman: We take a collaborative approach to the market. We're brand agnostic so we are interested in providing the technology to owners through engineering firms and contractors. As you know, in an all variable speed, variable flow plant, VFD's need to be incorporated on all of the rotating equipment. Optimum isn't involved in the selection or installation of VFD's or any other mechanical or electrical changes other than to provide the requirements and general specifications.
Sinclair: What else is Optimum working on?
Rothman: We have a number of other products under development. Tom Hartman's technologies work and we're eager to bring them to market in a way that insures success for all. We are currently working on a packaged unit, an airside control product and incorporating demand response into our controller.

Thanks for the opportunity to share with your readers a little of what we're up to at Optimum Energy.
---


[Click Banner To Learn More]
[Home Page] [The Automator] [About] [Subscribe ] [Contact Us]