---

EMAIL INTERVIEW Anto Budiardjo & Ken Sinclair
Anto Budiardjo is President & CEO of Clasma Events Inc., the organizer of BuilConn held annually in North America, Europe and Asia as part of Clasmaís ConnectivityWeek (www.ConnectivityWeek.com). ConnectivityWeek is a collection of conferences and tradeshows related to smart connected devices, regularly made up BuilConn (www.builconn.com), M2M Expo (www.m2mexpo.com), GridWise Expo (www.gridwiseexpo.com) and DRExpo (www.dr-expo.com)
Please send comments and questions to antob@clasma.com.
---
Is 2009 the year of significant change?
It has the markings of it Ken, the perfect storm is forming. I donít think 2009 will be business as usual.











Sinclair: What was your take on 2008?
Budiardjo: In summary, 2008 was a great year. Our events were all very strong, growing by up to 50%. While some of the news may not be good (the economy), itís clear that 2008 has set things up nicely for 2009/10 to be a very strong period for energy and buildings.
Sinclair: What specifically can you point to?
Budiardjo: Energy is now front of mind, the role of buildings in the carbon debate is better understood and is strong. Obviously Obamaís victory will be great as he has managed to motivate a lot of people to care (specially the young). A lot is expected of Obama to position energy and buildings as part of the infrastructure build-up he promises, which is in turn going to be good on the economy. This is a great time to be in the USA.
Sinclair: So, what are your plans for 2009?
Budiardjo: First off, the B2G Summit in Chicago will be interesting, to continue the significant amount of discussion about how the Smart Grid can impact buildings and vice versa. While this is a short half day event, it will be important for BAS/HVAC folks to attend. Itís on the Wednesday of AHR see www.B2G-Summit.com.
Sinclair: You are doing something on the economics of Smart Grid, can you tell me more?
Budiardjo: We are creating a new event called GridEcon, planned for mid-March in Chicago. It will focus on the economics of smart grid, including dynamic pricing, investments, business models and opportunities and carbon. We will also cover how Smart Grid will help job creation and economic development around North America. For this, see www.GridEcon.com
Sinclair: And the big event of the year BuilConn and ConnectivityWeek?
Budiardjo: ConnectivityWeek will be back in Santa Clara June 8-11, 2009 and will build upon the huge success of 2008. We expect around 1,000 people. The BuilConn part will focus on energy, the role of IT in green buildings and where buildings are generally going in the future world of the 21st century.
Sinclair: Are you adding new subjects at ConnectivityWeek?
Budiardjo: Yes, on Infrastructure Connectivity where we will talk about electric vehicles, connected cities, we also have a new partnership with OPC and OASIS on the industrial and enterprise areas. Past subjects such as DR, Smart Grid, M2M, ZigBee, Homes, Industrial will also be covered.
Sinclair: And the web site for more info?
Budiardjo: www.ConnectivityWeek.com
Sinclair: How about GridWeek?
Budiardjo: GridWeek is scheduled for September 21-24. Itís clear to many that GridWeek is the event for Smart Grid. By September we would expect a great deal of progress from Obamaís plans for infrastructure build-up. So that will be a most interesting event. For info, go to www.GridWeek.com.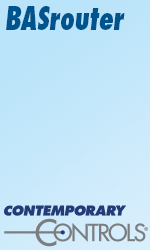 Sinclair: Is Grid-Interop happening again in 2009?
Budiardjo: Of course Ken, in 2008, Grid-Interop was a huge success also. As you know, itís focused on interoperability of standards and information exchange within the utility space and with energy consuming segments including buildings, so important for Buildings people. For more info see www.Grid-Interop.com, we have not finalized a venue, but it is likely to be in Texas in late November.
Sinclair: How about DR-Expo?
Budiardjo: We are planning to continue the stand-alone DR-Expo, probably around October in the North East of the US, keep up to date by visiting www.DR-Expo.com
Sinclair: Looks like a busy year for you next year!
Budiardjo: Yes, as I mentioned before, we think 2009 will be a critical year for energy in the US, and for the role of buildings also. So weíre excited to be organizing these events on a topic that will get a lot of attention in the coming months.
Sinclair: Is 2009 the year of significant change?
Budiardjo: It has the markings of it Ken, the perfect storm is forming. I donít think 2009 will be business as usual. In fact you can read more about that in my article this month 2009, Not Business As Usual!
Sinclair: Good luck!
Budiardjo: Thanks Ken, Happy New year to you and all your readers.
---

[Click Banner To Learn More]
[Home Page] [The Automator] [About] [Subscribe ] [Contact Us]