---
Wireless for Controls: An Update

Kurt Roth, Ph.D., Associate Member ASHRAE;
Louis Quartararo, P.E.
James Brodrick, Ph.D., Member ASHRAE
The following article was published in ASHRAE Journal, August 2008. ©Copyright 2008 American Society of Heating, Refrigerating and Air-Conditioning Engineers, Inc. It is presented for educational purposes only. This article may not be copied and/or distributed electronically or in paper form without permission of ASHRAE.











Wireless systems in commercial buildings offer the potential to reduce the installed cost of communicating sensed data by supplanting or augmenting wired infrastructure with digital radio-based communications. A generic wireless data transmission system includes transmitters and receivers, and a translator to allow the wireless receiver to communicate with a control network. It may also use repeaters to increase the range of wireless signals.
Basic wireless systems include wire replacement systems, where the sensor, transmitter and receiver use line power but communicate wirelessly, and fully wireless schemes (i.e., having all battery-powered components).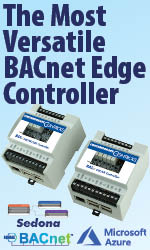 More sophisticated wireless systems use mesh networks, where some or all nodes can serve as transmitters and receivers and as routers that can relay messages from their neighbors.
For pdf of complete article follow link below
http://www.tiaxllc.com/publications/wireless_for_controls.pdf
We are extremely pleased that articles from our magazine were used as as a reference please note the dates on these article as it confirms that our web site contains very current information about future trends
References
1. Zebrick, G. 2004. "ZigBee or not ZigBee." automatedbuildings.com. http://tinyurl.com/5ojlys (or www.automatedbuildings.com/news/dec04/articles/kele/zebrick.htm).
14. Zebrick, G. 2003. "Practical considerations for using wireless I/O technology." automatedbuildings.com. http://tinyurl.com/6nrhvq (or http://www.automatedbuildings.com/news/jul03/articles/kele/kele.htm).
---

[Click Banner To Learn More]
[Home Page] [The Automator] [About] [Subscribe ] [Contact Us]