---
KNX PROVIDES ALL ROUND
ENERGY MANAGEMENT SOLUTIONS

Voltimum (subscription) - London,England,UK
KNX has also worked closely with management-level protocols such as BACnet to enable a close co-operation between these two standards when the project ...











Responsibility for the energy used in buildings has come to the top of the agenda for commercial building managers and owners. This is in part the result of the certification that came into force from April 2008 – Energy Performance Certificates (EPCs) and Display Energy Certificates (DECs). The pressure is on to make continuous energy savings through effective building management. Systems that track the energy performance of a building in real time can identify all areas where there is need for improvement, allowing the owner (occupier) to take steps to further improve energy efficiency. How to find the best building management system and how to find the most effective long-term solution to controlling energy usage, is the challenge. In short, what is the most effective way of achieving A-rated commercial buildings on a continuous basis?
The KNX Standard (formerly EIB) is a system for building and home-automated control that is fully compliant with EN50090, the European Standard for Building and Home electronic Systems. Major commercial building owners are rapidly accepting it as the best available technology to achieve maximum energy efficiency. It has a number of advantages over alternative solutions. For example, at a time when BEMS are expected to be even more widely employed, it has the ability to be integrated with any type of BEM thanks to its open protocol OPC Gateway. Once this integration has been achieved, the other advantages of KNX come into play to bring local and zonal control to every area of a building.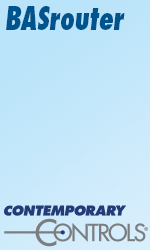 The over-riding advantage of KNX is that it provides a holistic approach to efficient energy usage. It is not limited to lighting or heating or metering or appliances or A/V any other specific function - the KNX platform has been adopted by many and highly respected major manufacturers with their vast choice of products covering all these product lines. In the longer term, this is also important to building owners, as any installation is future proofed. Choose a proprietary protocol from a single manufacturer or integrator and you are beholden to that company and its technology and this could be problematic during the life cycle of a development. With KNX, in the event of a certain product no longer being available, there will be an alternative to replace it.
To read the complete article follow this link
http://www.voltimum.co.uk/news/11150/infopro.tradeassoc.latest/KNX-PROVIDES-ALL-ROUND-ENERGY-MANAGEMENT-SOLUTIONS.html
---

[Click Banner To Learn More]
[Home Page] [The Automator] [About] [Subscribe ] [Contact Us]