---
Control Trend's Most Impactful Videos of the Year

It's the start of awards season – the Oscars, the Golden Globes and most importantly, the ControlTrends Awards!

Founder, Owner, Publisher AutomatedBuildings.com
End of January AutomatedBuildings.com is going to be part of the 2016 ControlTrends Awards CTA awards in Las Vegas, Sunday night January 29, 2017, from 6:30 PM to 9:30 PM, at the Hard Rock Cafe, on the Las Vegas Strip -- the epicenter of Las Vegas excitement and entertainment.
This is just before our Monday and Tuesday five free AHRExpo education sessions. Here is Insight / Introduction of the Speakers
Control Trends has been the pioneered in video presentation for our industry so it is only fitting that they feature the video that have had the greatest impact on our industry and provide an award.

The event has turned very "Hollywood", see this pitch by one of our advertisers Contemporary Controls.
It's the start of awards season – the Oscars, the Golden Globes and most importantly, the ControlTrends Awards! The nomination process is now open for ControlTrends Awards and Contemporary Controls is pleased to be included in many categories. But our biggest honor is having our "Understanding BACnet Series" included in the nominations for "ControlTrends Most Impactful Video of the Year".
Contemporary Controls has always been committed to improving the innovation and technological advances of the industry by providing as much free educational material as possible. The Understanding BACnet Series is an 8-part educational video series that is intended for those who are encountering BACnet for the first time or those who simply wish to review basic BACnet concepts. With over 59,000 views on YouTube, it is our most popular video.

Here is a complete list of the finalists and links to their Video.

EasyIO, The Rules Have Changed: https://youtu.be/rzrWgp5Wb_E

Belimo: " Why Choose the Belimo Energy Valve?" https://youtu.be/4w81ClIeqlI
Five functions in one valve -- including energy monitoring.
Measuring, controlling, balancing and shutting with a single valve -- and it doesn't stop there: As its fifth function, the new Belimo Energy Valve™ now also shows you where energy is being consumed. This means this characterised control valve with electronic flow setting offers you all the fundamentals required for optimising the consumption of your systems, for improved energy efficiency and for lowering operating costs..

Johnson Controls: "Johnson Controls, A New Evolution" https://youtu.be/yE4Ri3EGYZE
When Warren S. Johnson invented the electric thermostat 130 years ago, he created something far bigger. Today Johnson Controls is again on the threshold of a new evolution.

J2 Innovations:" Introducing FIN 4.0″ https://youtu.be/6ZWg1z578sI

DG Logik: "Facility Dashboards with Project Assist 2.0" https://youtu.be/1X8UibCjLVk
This video overviews how easily one can create a facility dashboard via a drag and drop HTML5 experience, using Project Assist 2.0 for Facilities.

Contemporary Controls: "Understanding BACnet Series" https://youtu.be/oevGXrkxEos
"Briefly, What is BACnet?" is the first in our Understanding BACnet Series. The series is an overview intended for those who are encountering BACnet for the first time or those who simply wish to review basic BACnet concepts.
BACnet is a communications protocol for Building Automation and Control Networks. One of its primary appeals is that it provides "interoperability" among different vendor's equipment. This frees the building owner from dependence on one vendor when the time comes for system expansion.
This video introduces the viewer to BACnet modeling — so that devices are "network viewable" — and discusses how the object-oriented structure uses Objects, Properties and Services.
Alerton: "Welcome to Alerton"https://youtu.be/cQ6obJGWJWs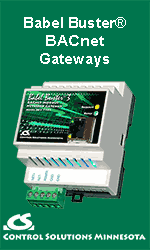 An introduction to Alerton and an Alerton Building
Schneider Electric:" MG350 Smart Actuator" https://youtu.be/z9XvCON_DkY
Johnson Controls:" Johnson Controls Smart Connected Chillers" https://youtu.be/DRs2-qpEhO0
Johnson Controls Smart Connected Chillers in collaboration with Microsoft using Azure IoT Suite. To build a solution that connects data streams from equipment to the cloud allowing unprecedented insights into operations. Changing the way we deliver service.
Lynxspring: " Introduction to the Lynxspring Onyxx BH311 BACnet to Haystack Data Pump"
ACI: "Who is ACI? The Story of Automation Components, Inc." www.youtube.com/watch?v=MO1fcVZIdmo
Siemens:" Ingenuity is shaping America's energy future" https://youtu.be/k9VCAWdAP38?list=PL75385CF5B8B1E90A
America needs affordable, reliable and clean electricity. Businesses demand inexpensive power sources to be competitive. Communities, households and individuals rely on electricity to make the conveniences of modern life possible.
KMC Controls: "KMC+DELL Customer Beginnings" https://youtu.be/N6MvW3qi0MI

KMC Commander is a complete IoT platform for building automation that forms an end-to-end solution, from sensors and controllers (edge devices) to cloud-based remote management applications. Remote visualization and control are enabled via a cloud-hosted, mobile application based architecture with secure data access. The solution features embedded processing and security technology from Intel®, engineering and design collaboration with Dell OEM, and tagging and visualization software framework from J2 Innovations.
For the finalists in all categories follow the link below

http://controltrends.org/controltalk-now-2/12/controltalk-now-smart-buildings-videocastpodcast-for-week-ending-dec-12-2016/
---

[Click Banner To Learn More]
[Home Page] [The Automator] [About] [Subscribe ] [Contact Us]