---
iSMA-B-MAC36NL named the
Most Innovative Building Automation product
in the AHR Awards 2022




Pawel Szarmanski

is

Solution Marketing Manager at iSMA CONTROLLI

where he develops and shares vision of product strategies
The winners of the AHR Innovation Awards have been announced. In the Building Automation category, iSMA-B-MAC36NL - Hybrid IoT Controller powered by Niagara Framework was selected as the most innovative product. iSMA-B-MAC36NL is a part of the Small and Medium BMS Solution of iSMA CONTROLLI S.p.A.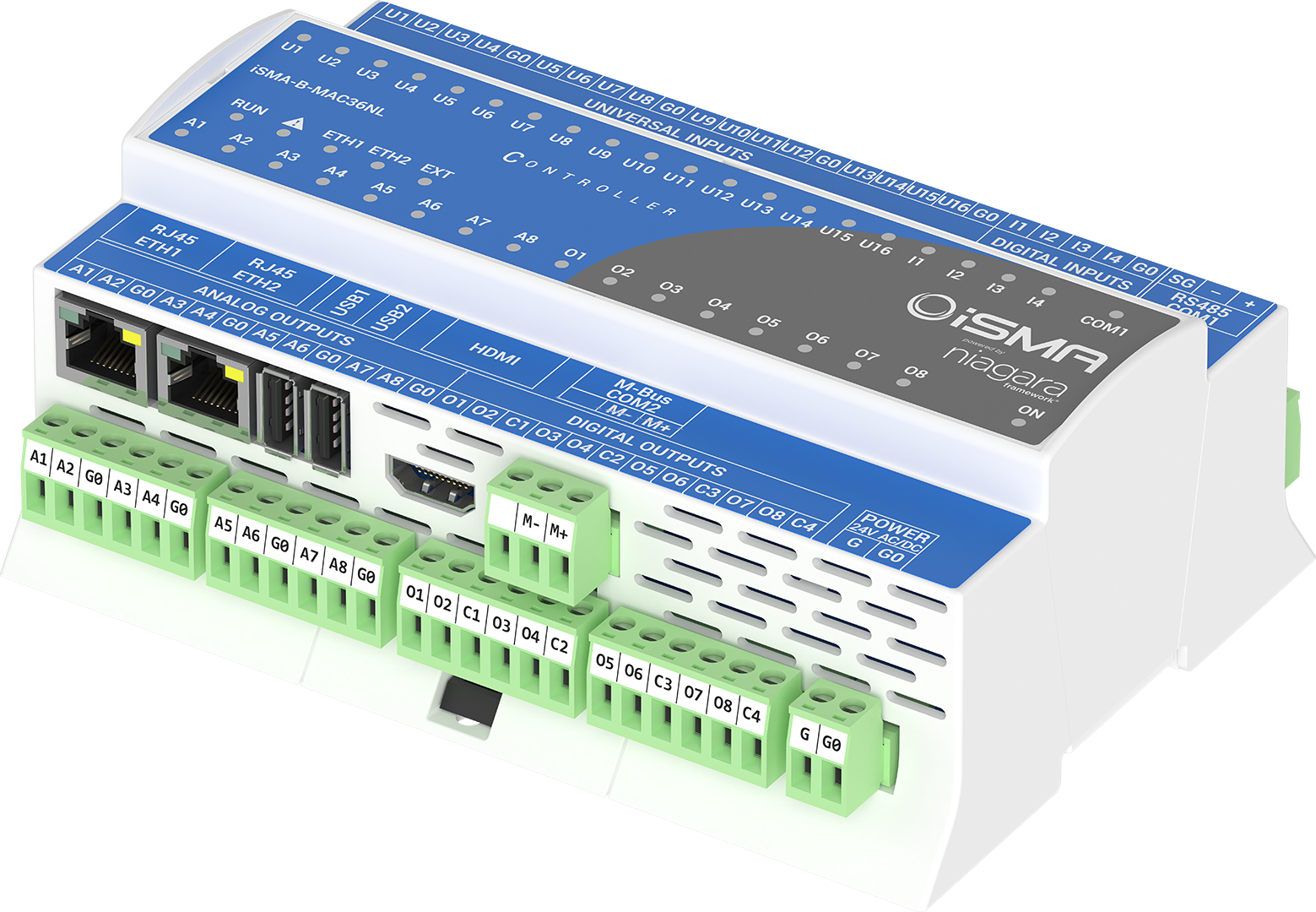 iSMA-B-MAC36NL
The iSMA-B-MAC36NL Master Application Controller family provides an all-in-one solution for mini-BMS. Created visualization can be displayed and controlled via HDMI output and 2 USB ports that enable connection of a mouse/keyboard or dedicated touch for the HMI panel. No PC, additional licenses, or additional costs are required. As MAC controllers are based on the Niagara Framework, it enables the integration of almost any existing protocol on the building network. The onboard M-Bus port, 2 ethernet ports, and the RS485 port can be integrated with just one device. Finally, the controller has onboard dip and rotary switches that can be used as a part of the application. All of the features of the controller are managed by dedicated modules in Niagara Framework to accelerate the installation process and thus reduce labour costs.
Pawel Szarmanski, iSMA CONTROLLI Solution Marketing Manager describes the iSMA-B-MAC36NL in the AHR Expo Innovation Awards 2022 Interview
Together with HDMI or Android HMI panels, Hybrid IoT Controller creates one of the most comprehensive solutions for Small and Medium-Sized Buildings. Possibilities of the iSMA-B-MAC36NL Controller can be extended by Multiprotocol I/O Modules from iSMA-B-MIX and iSMA-B-MINI Series. Multiprotocol I/O is a group of 18 types of I/O Modules that can work either on RS485 or IP network, supporting BACnet MS/TP, Modbus RTU/ASCII and BACnet IP and Modbus TCP/IP.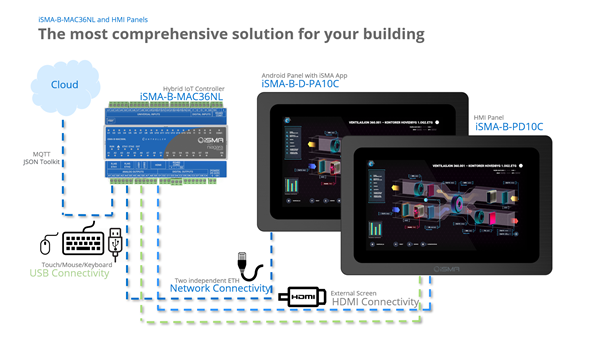 To enhance the commissioning process, Multiprotocol I/O Modules come already pre-configured with default Modbus RTU protocol, 115200 baud rate, and Modbus Server address: 1 and 10K3A1(Type 2) temperature sensor.
Within a matter of seconds, the default protocol can be changed to BACnet MS/TP or BACnet Slave with DIP Switch and the Server address configured with rotary switches is then used as a BACnet ID with prefix 826!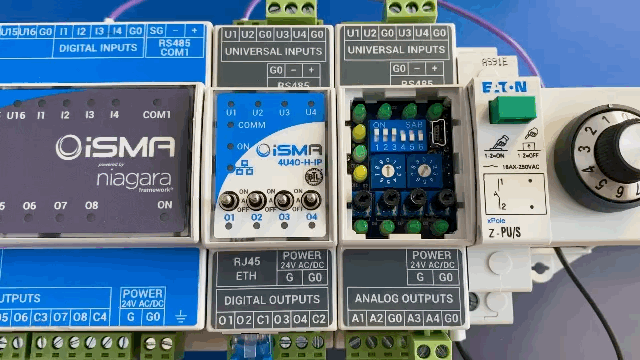 About iSMA CONTROLLI
iSMA CONTROLLI is a joint group of Controlli S.p.A. (established in 1936), a leading Italian manufacturer of valves and actuators for residential and commercial HVAC applications, and Global Control 5 S.A. (established in 2015), a Polish fast-growing company that operates in the development, design and manufacturing of advanced solutions in building automation under the "iSMA" brand.
iSMA CONTROLLI creates and delivers premium intelligent building automation technology starting from valves and actuators, IoT-enabled solutions through edge devices, ready for cloud connectivity, and integrated with management and analytical applications using artificial intelligence in the cloud to create a complete end-to-end solution.
Meet the iSMA CONTROLLI products during the AHR EXPO in Las Vegas, in February 2022 at iSMA CONTROLLI S.p.A. booth - C969 (Central Hall).
About the author: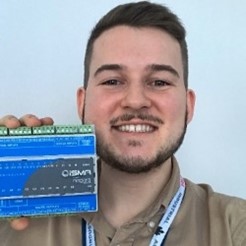 Pawel Szarmanski is Solution Marketing Manager at iSMA CONTROLLI where he develops and shares vision of product strategies for Niagara Framework environment. Focused on understanding user's needs, he always goes for the most effective solutions.
___________________________________________________________________________________________
Nowadays, the onlinespace, both business and private, is our most important channel of communication with the world. Follow us:
https://www.linkedin.com/company/ismacontrollispa
https://www.youtube.com/c/iSMACONTROLLI/videos
https://www.facebook.com/iSMACONTROLLI
https://www.instagram.com/ismacontrolli/
---


[Click Banner To Learn More]
[Home Page] [The Automator] [About] [Subscribe ] [Contact Us]