---
SkyFoundry Increases Capabilities of Greenhouse Gas (GhG) App

By Ross Schwalm, IoT and Data Enthusiast, SkyFoundry
https://www.skyfoundry.com/

Earlier in 2021, SkyFoundry introduced the all new GhG App as a standard SkySpark feature. The GhG App integrates with online data resources to make it easy to quickly configure location-specific emission factors to accurately turn energy consumption data into GhG equivalents, which are then available for use in visualizations, reports, KPI's and analytics. The App presents GhG performance in a wide range of engineering and "societal" metrics, i.e., miles driven, trees planted, smartphones charged, and many more.

We received quick and positive response to the GhG App and now, after input from energy and sustainability professionals, we are excited to announce a new release of the App that captures that valuable input from our worldwide user community.

Key new features include:

• GhG values calculated and visualized with the same resolution as your meter data, whether that is 15-minute interval data or more frequent meter readings. This is especially important as more and more facilities adopt use of multi-source energy including renewable resources.
• GhG Emissions can now be visualized as the total for each emission source or meter in addition to each site providing more flexibility to analyze emission data.
• Users can now select a baseline of previous month or previous year to analyze emission performance.
• A new built-in view makes it easy to display equivalent emission values of the supported societal metrics in a card format.
• New chart customization options supported in all GhG charts.
• A number of predefined emission factor models have been added to the Greenhouse Gas Service based on published data from the UK Government and British Columbia Provincial Government.

A variety of charting options are provided for quick and easy chart customization.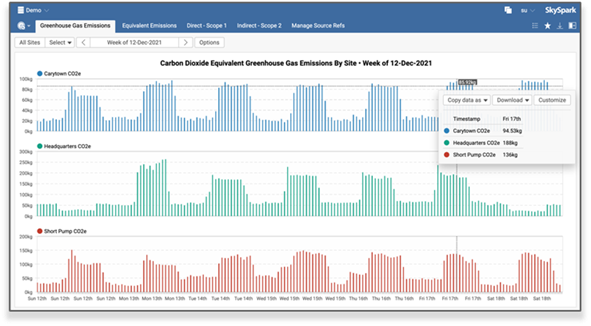 The following view shows a multi-axis chart using different chart types.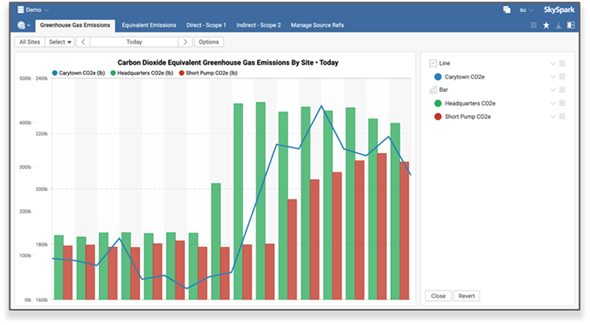 The release of the GhG App—and these additional features—corresponds to increased interest and support by corporations and governments alike for sustainability and Environmental Social and Governance or "ESG"-related policies. As this movement progresses across all segments of the commercial real estate industry, the GhG App provides building owners and operators an important tool to respond to new requirements, as well as the ability to evolve with changing demands.
For a more detailed review of the SkySpark GhG App, check out: https://skyfoundry.com/file/459/Tracking-and-Reporting-Greenhouse-Gas-Performance---the-SkySpark-GhG-App.pdf
SkyFoundry will participate in the 2022 Las Vegas AHR Expo Educational Sessions presented by Automated Buildings. Find details here: http://automatedbuildings.com/news/oct21/reviews/210925125701ahr.html
Ross Schwalm is an IoT and Data Enthusiast at SkyFoundry, developers of SkySpark™, an analytics platform for building, energy, and equipment data. Ross has over 15 years of experience focusing on IoT, cybersecurity, and mobile technologies while working in different roles, including consulting, sales engineering, business development, product management, and policy support. At SkyFoundry he is working to bring the next generation of information analytics to the "Internet of Things."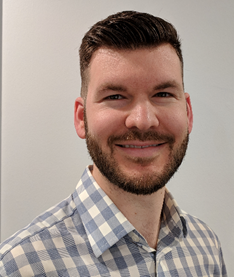 ---


[Click Banner To Learn More]
[Home Page] [The Automator] [About] [Subscribe ] [Contact Us]