---
"The plant will continuously pump hot water, keeping it circulating throughout the network like a powerful beating heart with sufficient electricity and heat to serve the multitude of buildings that will want to connect."
Europe has ambitious plans to meet EU 2050 energy and climate objectives. In Northern Italy, the practice of district heating is one way that regions have put 'Circular Economy' concepts into practice and curbed their fossil fuel use. Mountain towns in the Piedmont region of Italy run central energy plants that deliver thermal energy to businesses and residents via highly insulated underground piping networks. High-efficiency CHP (combined heat and power) plants that tap into local natural gas for energy production have been particularly successful in this region that borders Switzerland and France. To reduce dependence on fossil fuels even further, these cogeneration plants also combine other sources like waste heat from industry. The process saves energy and substantially reduces CO2 emissions and pollutants, while supplying residents with district heating at lower cost.
Based on this strategy, a joint venture was formed in 2017 between High Power SpA — a regional leader in the construction and operation of district heating and cogeneration plants — and AGC Glass Europe. The resulting company, Wedge Power, was chartered to build and operate an electrical/thermal CHP plant to recover and to reuse waste heat from plate-glass manufacturing operations of AGC Flat Glass Italia. Construction of the CHP plant was just one aspect of the refurbishment of AGC's Cuneo plant. The redesigned factory was also expected to boost capacity and reduce energy consumption and emissions. The plant opened in October of 2018. Niagara Framework® is at the core of the centralized energy management system that monitors and controls operations and ensures consistent, optimized delivery of power and district heating to Wedge Power customers.

Challenge
AGC's Cuneo plant entered service in 1963 and grew to be the largest glass manufacturing plant in Italy. Cuneo Glass has one float glass line which serves downstream facilities for processing the panels into glass products for architecture and furnishings, for the automobile industry, as well as for retail displays. During design and construction phases, the Wedge Power project team was challenged to build and equip a CHP plant that could produce sufficient electricity to cover glass manufacturing operations, as well as to supply the electricity needs of 20,000 homes and enough heat to power a hot water system that would heat some 400 homes. The project called for excavations and installation of 45 kilometers of insulated pipes to circulate the plant's thermal energy and an equal length of fiber optic cable to serve the CHP plant's data network. The data network interconnects all the heat and energy distribution substations, and it provides the communication infrastructure for other services.
Solution
Sinergie Energy Solutions and Quicklink Solutions designed and integrated the data management system for Wedge Power's CHP plant operators. The solution starts with a JACE® 8000-based control kit running Niagara Framework deployed at each substation. The sub-central management logic exploits Niagara Analytics to highlight anomalies in energy consumption and to generate alarms when faults are detected. The EasyLink supervisor, a management system developed by Quicklink based on Niagara, allows the optimized monitoring and control of the substations.
The project team took care to add appropriate metadata tags when modeling equipment and plant subsystems in Niagara to enable easy data aggregation and analysis of operations by the Wedge Power plant operators. This laid the groundwork for a custom user interface featuring advanced HTML5 graphics, configurable through a powerful chart builder. This central-console UI supports customizable reports and dashboards for various users, geolocation of sites and the creation of custom data maps.
RESULTS
Wedge Power's central management console presents near real-time data from the 500 thermal substations connected into the CHP network. From the User Interface, operators can
monitor and control activities; run analytics to detect anomalies and trigger action to avoid failures before they happen; and keep the CHP network running in its optimal state.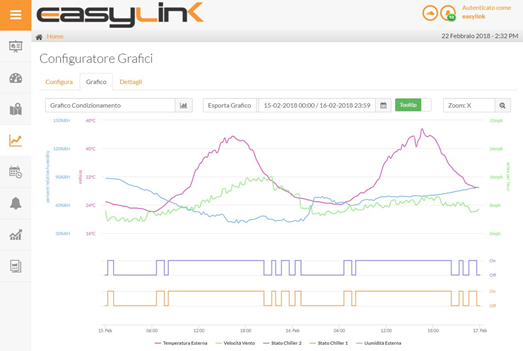 The various stakeholders in the Wedge Power Cuneo Project are benefitting from this innovative energy management solution for the city's CHP plant:
· Electricity consumers are realizing price savings. AGC Glass, particularly, is saving significantly on the amount of energy it needs for its own cooling operations during glass production because waste heat is recycled.
· District heating subscribers are realizing heat supply savings with zero risk of heat-related poisoning, gas leaks, explosions, and noise. They also receive heat with high reliability and 24-hour remote control, as well as free connection and no charge for ordinary and extra-ordinary maintenance.
Regarding progress in meeting environmental goals, the project is responsible for the recovery of approximately 50 GWh per year of energy, plus:
· 50% less nitrogen oxides emissions (≈10 ton) locally
· 36% less primary energy to produce the same quality of heat as traditional power plants
· 25 tons/year less of carbon dioxide emissions globally
· 12 tons/year less sulfur dioxide emissions locally.
ABOUT QUICKLINK SOLUTIONS
Since 2008, QuickLink Solutions has been delivering innovative and advanced solutions for building and industry energy management. With its Niagara Framework-based solutions, it strives to make the configuration, commissioning, and maintenance of energy management systems quick and easy. It works as a solution partner, providing technology products through a network of certified System Integrators.
ABOUT TRIDIUM
Tridium open-protocol products allow diverse monitoring, control and automation systems to communicate and collaborate in buildings, data centers, manufacturing systems and smart cities, bringing intelligence and connectivity to the network edge and back.
---

[Click Banner To Learn More]
[Home Page] [The Automator] [About] [Subscribe ] [Contact Us]