Ian Barkin
Senior Research Analyst
Harbor Research, Inc.

Building systems present a compelling argument for Pervasive Internet adoption, largely because of the number of disparate systems and the population of players that operate and maintain those systems, including OEMs, building managers, and service providers.
---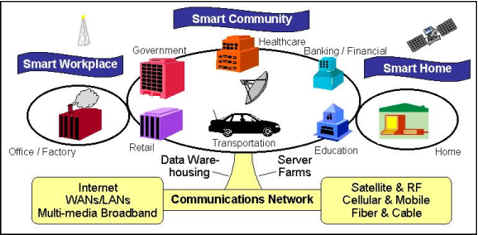 The Pervasive Internet is rapidly growing, and players in every industry are taking notice. Intelligent devices and networked machines and equipment will quickly become commonplace, and soon, everything from the power in our homes to the medical care we receive will be Internet-enabled. While a fully networked world is still a few years away, Harbor Research discovered that certain industries are pursuing adoption more aggressively than others, and the building systems venue is among the leading adopters. Building systems present a compelling argument for Pervasive Internet adoption, largely because of the number of disparate systems and the population of players that operate and maintain those systems, including OEMs, building managers, and service providers.












Harbor's research on the building systems venue includes commercial, residential, and industrial buildings, and is further categorized by system. Commercial and industrial building managers are concerned with building environments (including HVAC, security, lighting, fire, water, and other building systems), energy consumption, and generally maintaining an environment that is responsive to the needs of those who work, shop, and live in their buildings. Smaller residential buildings are also a potentially large market but currently the cost of networking is prohibitive. The economies of scale inherent in large commercial and industrial buildings, and the criticality of the systems in those buildings, serve to justify the initial costs of networking and help realize a positive ROI. As the price of networking alternatives becomes more affordable, the residential market will surely follow in the footsteps of the commercial and industrial segments.
The building systems venue invests in device networking capabilities in order to enhance building automation and to assess tenant needs. Building managers want Internet-enabled devices to remotely diagnose system problems, upgrade applications, and monitor customer information systems. Harbor's research shows that companies are more interested in using device-networking solutions to remotely assess and/or upgrade facility capabilities than to preemptively predict problems. Over time, we believe this short-term outlook will evolve into a greater understanding of the potential benefits of the Pervasive Internet. Companies will begin to focus on early detection rather than quick fixes.
Recently, Harbor conducted extensive analysis in order to determine which factors most influenced the adoption of Internet enabled solutions. We solicited input from both technical and business-oriented individuals from various types of companies including device OEMs, service providers, and technology developers. Our findings show the key adoption drivers to be price, ease of installation and low system management complexity. Busy managers want plug-and-play solutions that will not require lengthy installations or extensive maintenance. In addition, the demand for open device standards and protocols is common. Building managers expect to support and connect to multiple secure networks in numerous ways to constantly monitor assets and equipment health. Integrating building systems for optimal management and maintenance can add value and save money. However, building managers must first be convinced that the long-term benefits of pervasive solutions outweigh the costs and challenges of networking and device enablement.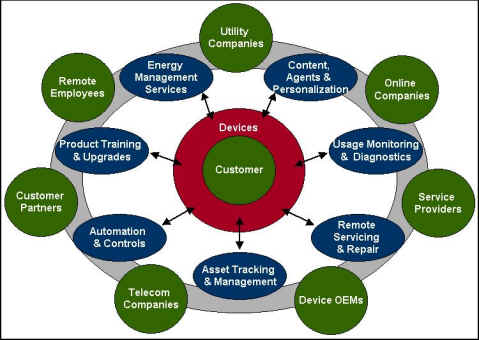 There are multiple suppliers, OEMs, contractors, service providers and others who will be key players in the building systems market. Harbor expects that customer demand for integrated solutions and the adoption of open standards will drive consolidation in this traditionally fragmented industry. Meanwhile, we anticipate that the interaction between these players across device types (and venues) will help capture the true value of the Pervasive Internet. In the not-so-distant future, building managers will survey the health and performance of all devices via a single dashboard, very much like a driver in a car does today. But this dashboard will report on a far larger array of devices and criteria, across a large portfolio of buildings. The benefits and the savings will be enormous.
About Harbor
Harbor's goal is to work with companies in this space, to position them to compete successfully, help them forge meaningful relationships, and develop profitable business models capitalizing on the Pervasive Internet. Through our studies, consulting engagements, and ongoing research in support of our monthly Pervasive Internet Report, Harbor has built a deep expertise in this arena. Our work is geared to provide companies one-stop access to information on the technologies, standards, adoption behaviors, and corporate alliances underlying the Pervasive Internet.
To learn more please visit www.harborresearch.com/pir_demo and check out the complimentary April, May, and June issues of the Pervasive Internet Report.
---


[Click Banner To Learn More]
[Home Page] [The Automator] [About] [Subscribe ] [Contact Us]