---

The perfect storm produced a perfect event; a combination of rich subjects discussed, enormous business opportunities for vendors and integrators alike, on a backdrop of solving climate change problems and interestingly an awareness of social changes permeating our world.

Anto Budiardjo
President & CEO,
Clasma Events Inc.
With nearly 1,000 people in attendance in Santa Clara this year, it was clearly a watershed event in many ways. The perfect storm produced a perfect event; a combination of rich subjects discussed, enormous business opportunities for vendors and integrators alike, on a backdrop of solving climate change problems and interestingly an awareness of social changes permeating our world. All of these came together in Santa Clara in June.















Beyond a vision
Since 2003, attendees of BuilConn have been chasing a vision, in the intersection of technology and automation with openness as a fundamental and key principle. It seems that the years have seen realizing that vision to be a challenge, many felt that while the "vision" was strong, the driver for business was weak; it has fundamentally not been bankable.
In 2009, that changed. The buzz and discussion was no longer about a vision, but about tangible issues. The presentations, from the 240 or so speakers, were about experiences, best practices, and discussions about what to do now, how to ensure we have the right technologies, products, services and ecosystems to bring value to building owners and society at large.
Energy, the driver
The appetite for energy solutions at ConnectivityWeek this year was clear. From discussions on the stimulus to the role of IT in the future of energy, energy was the substance of almost all of the conversations. This reminds me that Building Automation started off as fundamentally an energy management function and we are now just returning to those roots.
The difference is that now we're talking about energy management in the bigger (and thus more valuable) context. Not just in-premise energy management, but integrating with externalities such as the supply side (utilities), with renewables, storage and with much more energy aware end-users and building occupiers. In the 70's and 80's energy management was just about saving money, an argument that soon vanished as energy costs came down. Now cost savings are only the beginning as people realize that everything from societal benefits to operational benefits and occupier and customer perception are driven by energy conservation, efficiencies and sustainability. They are all interlinked, inter connected!
IT as the enabler
It is no surprise that being held in the heart of Silicon Valley, ConnectivityWeek was very attractive to IT players. Looking at the speaker list you see multiple speakers from Microsoft, Google, Sun, NetApp, VMware, Cisco and many other big names, they are getting the energy bug and they come to ConnectivityWeek to understand how to apply their technologies, products and best practices in the future of energy.
Many people in Building Automation still don't understand why IT players are interested in this space and why they should take note of this trend; this myopic view is unfortunate since it is the reality of the future of energy and buildings. Like the creation of the Internet, the birth of the Energy Internet (or whatever you want to call it) will connect all manner of real-time systems from building automation, the grid, smart homes, transportation and pretty much anything else that uses energy, which is pretty much everything!
Horizontal silos into horizontal enablers
For many, energy has been a vertical silo. The past has seen the generation of energy to distribution and use as being an integrated industry not linked to anything else. This applies to electricity and oil and gas alike. As Smart Grid takes hold and more of our energy consuming devices become electric (such as cars), combined with the birth of distributed generation and storage in large scale as well as in our homes, buildings and vehicles, electricity will touch and be integrated with more and more of our world, in the same way that telecommunication is now integrated into our lives.
At this point, energy is no longer a vertical, specialized sector, but a horizontal subject that will touch everything. The impact of this on Building Automation cannot be underestimated. There is a similarity to telecoms changing from a vertical monopoly to the horizontal subject that it is today. The same goes for news and information, and energy is next – the writing was on the wall at ConnectivityWeek.
The young and social media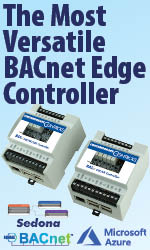 One of the most fascinating parts of ConnectivityWeek was the entry of the young into the mix, as well as a discussion of the trends driving societal changes in the world, specifically the way social networking and the expectations of the future generation.
Bottom line is this; the future of energy and buildings has to be designed with full understanding of the future energy users and building occupiers and owners. Here we are talking about catering to the iPod generation, not the professionals of average age 50 that typify both the building automation and utility industries today.
The YoungEnergy Network spoke out loud and clear at ConnectivityWeek; they are ready to take on the challenge; to address the climate change issue and design the future energy systems. They are sharp, motivated and well organized. Ignore them at your peril!
Where to next?
As far as ConnectivityWeek, we are already starting to plan for 2010. The dates are set May 24-27, 2010 in Santa Clara and the growth we saw in 2009 is only the start of the growth of this space. We would welcome comments and suggestions; reach out to me at anto@clasma.com.
In the mean time, on the Smart Grid space, things are just starting to get really interesting. With the stimulus grants and projects about to be announced during the summer, the funding will start to flow into the Smart Grid and green building space. GridWeek 2009 in DC September 21-24 will be another watershed event on the policy front. Utilities, policy makers and those in the consumer side (buildings, homes and industrial) will benefit from taking notice and truly understand how the Smart Grid will impact their world, specially when the climate change bill will start to bite.
The world of interoperability standards will take a leap forward at Grid-Interop in November. In partnership with DOE's GridWise Architecture Council and NIST, this event in its third year, will bring together developers of standards across all disciplines from Smart Grid through to building automation, homes, vehicles, and all other interconnected areas. They will come together to figure out how the systems interoperate, at Grid-Interop in Denver, November 17-19.
Our future events…
GridWeek September 21-24, 2009 Washington DC www.GridWeek.com
Grid-Interop November 17-19, 2009 Denver CO www.Grid-Interop.com
ConnectivityWeek May 24-27, 2010 Santa Clara CA www.ConnectivityWeek.com
---

[Click Banner To Learn More]
[Home Page] [The Automator] [About] [Subscribe ] [Contact Us]