---

Western Michigan finds a way to integrate pneumatic thermostats into its BAS

Harry Sim
CEO
Cypress Envirosystems
Kirk Dillery is the energy systems specialist for the Facility Management Department at Western Michigan University. His responsibilities include 100 buildings on the 1,200 acre main campus near Kalamazoo. And most of those buildings were constructed before the year 2000, which means they use pneumatic thermostats and can't be made part of an energy management system (EMS) or a building automation system (BAS) without an expensive and time consuming conversion to direct digital control (DDC).















The costly option
"A DDC seemed like the only solution if we wanted to tie the older buildings into our EMS and BAS programs," said Dillery. "But the commitment was too steep both in dollars and in the time and inconvenience of the actual installation. Not only would we have to open walls and ceilings for the rewiring, we would also have to badly disrupt the professional lives of the people in the building. The installation would take months. Plus, we couldn't do it incrementally one or two floors at a time. Each building would have to be done as a complete project."
A new solution for pneumatic control
"I'd been doing periodic online key word searches for pneumatic thermostat topics, but they never turned up any alternatives," he said. "Then in early 2009 I did another search and new information came up -- new product announcement for a wireless pneumatic thermostat and a link to the manufacturer, Cypress Envirosystems. It said the thermostat retrofitted in place of the original and communicated with an energy management system by radio. It would allow me to implement night setback, zone control, occupancy override, and auto demand response and would work with my BAS. It sounded like what I was looking for and I gave Cypress a call."
"We had only recently come to market with our Wireless Pneumatic Thermostat (WPT) when we got the call from Kirk," said Joe Tallant, director of sales for Cypress. "We got together with him and did a live demo. We have a special kit comprised of the WPT mounted on a stand, an air compressor, a main pressure gauge, and a branch pressure gauge along with all the pneumatic hookups, a lap top, and a USB hub. The WPTs themselves are a combination of technologies. They have a simple thumb wheel to control the temperature and a motor that turns the wheel. The motor is linked to a radio so we can command and control each WPT separately from a remote locations. Both the radio and the motor run off a battery. A sensor inside monitors the temperature of the room. And there is a pressure sensor so our system knows the pressure in the pneumatic line. When we did the demo, Kirk was able to actually see the WPT at work and communicating wirelessly with the computer."
A test project
"I decided to give it a try," said Dillery. "One of the nice things about the Cypress system is that we could do it incrementally, without having to commit to converting an entire building. And I had the perfect building for the experiment, our John P. Everett Tower built in 1970. It's the home to the offices for our mathematics, statistics, and physics departments and it had an old problem I wanted to fix. It looked like Cypress might be the solution.
"It's a 30,000 square-foot six-story building and we already had DDC control of the air handling equipment. But we had no control over the individual zones. The biggest issue was the heating system. We shut down the heating system at night, but it's a reheat system configured like a forced air fin tube. So at night when the air handling equipment went off, we were still getting heat from the reheats because the thermostats were still controlling the local heat. As a result, the building never cooled down. Each air handler serves two floors, so we decided to give the WPTs their first test on the middle two floors of the building."
Installation
The installation went remarkably fast, with the WMU team led by Dillery doing most of the work.
"We are a pretty advanced and self-sufficient organization with a good deal of technical knowledge," he said. "Cypress first came out to do a wireless survey and we determined the number of thermostats and repeaters we would need. Then we did the installation in-house with the training and assistance of Cypress engineers. The installs took a little longer than the 20 minutes per thermostat they say it takes, but that was because we had to modify the existing pneumatic tubing. We started on March 11th and in a little more than two days we had installed 47 thermostats and had done set up and calibration. The Cypress server uses BACnet to communicate with our Tridium Universal Network Controller and it worked flawlessly."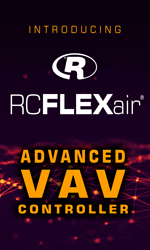 Some unforeseen difficulties
"Unfortunately, the system wasn't perfect from the start," said Dillery. "We had some issues with the branch pressure on the thermostat not responding well to drastic temperature changes. The problems were minor, but annoying. I let the folks at Cypress know and they were very responsive."
"Kirk is the kind of client you want, particularly with a product that is new to the market like the WPT," said Tallant. "We had been very careful with the development and had done three Beta tests, but there's always room for improvement. And Kirk was extremely conscientious working with the system and reporting his results almost weekly. It enabled us to upgrade the WPTs to address his issues. We were back in early August to reinstall 47 upgraded WPTs at no charge. We also upgraded our other early installations."
Jeff Lutz, WMU account manager for Cypress, was responsible for the second installation in early August.
"We delivered the WPTs and Kirk and his WMU team went to work," said Lutz. "They had learned enough during the initial install that they were able to do everything. The whole upgrade was done in less than three days."
Up and running
"The new upgraded WPTs are working great." said Dillery. "We now remotely control setpoints, set alarms, run diagnostics, perform zone control, and occupancy override.
"Of course, some of the tenants complain that they have lost control of their thermostats, but I point out that the university has a setpoint policy of 70 degrees for heating and 74 degrees for cooling. At night we go to 60 and 85 degrees. Thanks to the new WPTs, this is the first time we've been able to implement the policy in that building."
Regarding energy savings, there is definitely improvement, but more time is needed to quantify the exact amount.
"We can't really measure energy savings because the HVAC system is shared with a much larger building and it's hard to sort it out, but we know it's there, just not how much." said Dillery. "But we are definitely saving on the overnight heat because we now control the thermostats and we know the temperatures drop at night when they didn't before. We'll soon know better on how they are paying back because we're putting in place long-term goals to retrofit all of the pneumatics on campus and bring them under our BAS. Then we'll be able to monitor and evaluate energy savings. We've already installed an additional 50 WPTs on the two top floors of Everett Tower and are making incremental plans for the remaining two floors at Everett and the other older buildings as the budget money comes available."
---
About the Author
Harry Sim is the CEO of Cypress Envirosystems, a company which produces low-cost, easy-to-install technologies to retrofit existing facilities for energy efficiency. Before Cypress, Harry was a VP at Honeywell, holding General Management and Marketing positions. He holds BS and MS degrees in Engineering from Stanford and an MBA from Insead in France.
---


[Click Banner To Learn More]
[Home Page] [The Automator] [About] [Subscribe ] [Contact Us]