---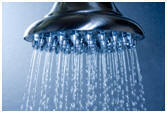 Replacing old shower heads with low-flow shower heads typically provides a low cost, quick reduction in water consumption and energy savings by reducing hot water boiler loads. Today's green-conscious building owners and consulting engineers looking to retrofit existing buildings with modern energy-saving solutions are faced with some challenging decisions based on fixed budgets, accelerated return on investment, building downtime and overall energy savings. Building systems such as insulation, windows or mechanical equipment should be analyzed regularly as any incremental energy saving can potentially reduce a buildings overall operating costs. However, some building systems are easier to retrofit than others and energy savings or returns on investments can vary greatly depending on the life cycle of the building system.















As an example, a typical commercial midmarket building's HVAC system can consume nearly up to fifty percent of the building's total energy usage. Any improvement in this area can provide a significant reduction on overall energy consumption.
Advancements in wireless communicating controls such as the development of mesh-networking protocols and standards such as ZigBee allows for the "shower head" analogy to be applied when replacing existing stand-alone thermostats with wireless communicating models as part of a building retrofit. Integrating building HVAC controls to a central high level supervision station allows for advanced comfort and energy management strategies, graphical interface and trend logging, however retrofitting these types of control systems is not always feasible. Installing control wires for communication purposes, in existing buildings may be expensive or difficult due to building constraints (ex: government heritage buildings, hotels, schools or universities etc.). In such cases, wireless communicating technology can provide the simple "shower head replacement" solution for outdated stand-alone HVAC controls. It is interesting to note that scheduling, non communicating devices are typically left in manual or hold temp. mode as little as 12 months after installation. This is primarily due to complex scheduling interfaces or having to provide a resource (building maintenance) to modify an existing standalone device. Using automatic occupancy controls along with wireless communication eliminates this issue while ensuring that energy is being saved on a daily basis while conforming to the facilities occupancy behavior. Implementing more efficient energy saving control strategies can now be achieved with minimal building downtime, labor and material costs. Replacing stand-alone non-communicating thermostats with new wireless communicating models is a relatively simple proposition since existing control and power wiring can be reused. This along with passive infrared motion detector built directly into the control unit for demand based occupancy strategies, further optimises the controller to be able to provide great energy savings to unoccupied zones during scheduled occupancy periods.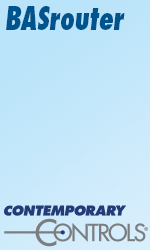 It is essential to understand the advantages and functionality of the physical devices (thermostats, sensors etc.) as well as how the wireless communication protocols works to ensure a reliable and efficient control system. ZigBee mesh-networking has been designed to ensure a robust and reliable network by establishing a physical mesh amongst the wireless communicating controls. The building management system can communicate to the wireless controllers through the coordinator, allowing the information to hop from one controller to another throughout the mesh, until the intended controller is reached, essentially eliminating the problem of short range and poor signal strengths that plagued older wireless technologies. These meshes are typically "self-healing" meaning the controller will automatically find an alternate path to the coordinator or wireless supervisory system if necessary.

Modern wireless systems are quickly becoming the first choice for creating new retrofit opportunities that are reliable, cost effective and provide a quicker return on investment for today's building owners.



---


[Click Banner To Learn More]
[Home Page] [The Automator] [About] [Subscribe ] [Contact Us]