---
IP Technology Fuels Growth of Video Surveillance Market

One of the many benefits of IP video surveillance technology, compared with traditional analog video equipment, is that digital video is compressed and ran across standard Ethernet networks using IP which is the same protocol used in corporate networks and the internet.



Kirk Clousson
Product Marketing Manager
Contemporary Controls


Market Shifts
One of the biggest advances in surveillance is the accelerating shift to Internet Protocol (IP) from analog. The power and accessibility of the Internet means that the convergence of IP video surveillance along with the IP infrastructure is perfect together for accelerated growth. The shift from analog to digital technology has created opportunities for a new way of thinking of how security systems are installed. One of the many benefits of IP video surveillance technology, compared with traditional analog video equipment, is that digital video is compressed and ran across standard Ethernet networks using IP which is the same protocol used in corporate networks and the internet. Also, there are many ways to design and secure an IP network. An IP network can be as small or as extensive as your requirements demand and it can be wired, wireless or a combination of both. An IP network video surveillance system can grow with a user's needs—one camera at a time, while analog systems can often only grow in steps of four or 16 at a time. IP-based systems provide a means for network video products and other types of applications to share the same wired or wireless network for communicating data. Data can be carried over the same cable and any number of network video products can be added to the system without significant or costly changes to the network infrastructure. In addition, it is possible for wired IP networks to not only deliver data, but they can also be powered by using Power over Ethernet (PoE) technology. Digital video can be transmitted across any broadband network connection, i.e. cable, fiber or wireless. You can add as many network video products to the system, as desired, without significant or costly changes to the IP network infrastructure. You can place, and network, the products from virtually any location, and the system can be as open or as closed as you wish.

Modern IP Cameras

During the last few years, the rapid growth of digital technology has produced sophisticated cameras, which can directly record high-definition digital videos. Modern IP surveillance cameras provide up to 16 times the resolution of traditional analog cameras. The resolution of IP cameras is many times higher (currently up to 5 megapixels) and can capture a clearer image when objects are moving. They also cover larger areas, and offer superior digital zoom capabilities. In fact, today's IP network cameras give rich enough detail that you can read the numbers on a license plate or the name on an ID badge. Technical advances for these cameras will continue to get better as time goes on. Adopting the digital revolution from the camera to the head-end and encoding the video into IP packets directly in the camera presents numerous advantages. In fact, the system designer can leverage existing networks and infrastructures irrespective of the specific medium used to convey the video (e.g., copper, fiber-optic, etc.). Please note: analog cameras should not be ruled out from the market as the companies who currently manufacture analog cameras do not remain idle and continue to progress. Analog camera technology is a sound solution.

Power over Ethernet ― Ideal Product Technology

Power over Ethernet (PoE) technology is ideal for IP surveillance systems. IP data is communicated over the Internet via a packet-switched internet using the Internet Protocol Suite, also referred to as TCP/IP. It enables TCP/IP network devices to receive power from a PoE enabled switch through the same standard cable that transmits IP data. PoE equipment adds power to the data in Ethernet wiring so that devices such as IP video surveillance and card access machines can be powered via standard Ethernet cabling, whereas analog needs its own separate wire besides a power wire. PoE keeps the cabling secure, does not interfere with the network operation, and reduces installation and maintenance costs. It is widely accepted and used to power wireless access points and network cameras in a Local Area Network (LAN).

Often there are places where traditional power wiring for AC power is not available or easy to install. PoE can bring IP Video Surveillance to areas where it might not have been applicable and or cost-effective; depending on the camera location, it can have the potential to save up to a several hundred dollars per camera. Using PoE makes it easier to move a camera to a new location, or add cameras to the video surveillance system without tied to an electrical outlet, and devices such as IP cameras and wireless access points can be located wherever they are needed most, and can be easily repositioned. PoE is also extremely reliable, intelligent, and designed to protect network equipment from overload, under powering, or wrong installation thus resulting in a more secure video system. Using PoE, a video surveillance system can be powered from the server room, which is often backed up with an uninterruptible power supply meaning that the video surveillance system can be operational even during a power outage. Using PoE+, Standard IEEE 802.3at, doubles the device power. PoE Technology

As mentioned, PoE technology provides power to Ethernet devices that have no immediate source of power. It does this by placing 48 VDC onto the otherwise unused pairs of your CAT5 or higher cable. PoE applications typically involve two devices such as an IP video camera and card access systems. For example, an IP video camera and a card reader is called the powered device (PD). The equipment that supplies the power is called the power sourcing equipment (PSE). Your PD can consume up to 13 W — even if installed 100 meters from the PSE. There are two ways of connecting power as shown in Figures 1 and 2. The first method, Alternative A, (Fig.1) is via the data lines while the second method, Alternative B, (Fig.2) is via the unused pairs. 1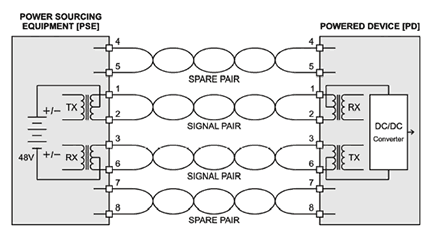 Fig.1 - Alternative A. The signal pairs carry both data and power. Polarity is indeterminate.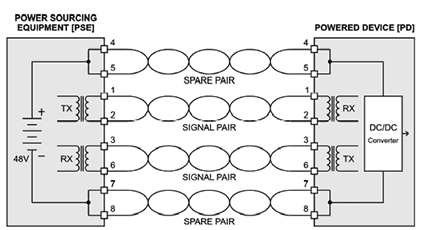 Fig.2 - Alternative B. The unused pairs carry power. Polarity is as shown.


If only one PoE device needs to be powered, an injector can be used. An injector is inserted mid-span between a standard Ethernet switch and Ethernet powered device (PD). Power to the injector can be either 24 VAC or VDC. The injector develops the required 48 VDC and injects the voltage into the Ethernet cable in order to provide power and data to the powered device. Under certain circumstances, a non-PoE compliant device can be made compliant with the use of a splitter. (Fig. 3) If the end device is 10/100 Mbps Ethernet-based but requires 24 VDC to operate, the splitter will accept combined power and data connections from a PoE-compliant power sourcing equipment (PSE) and uses the 48 VDC to generate 24 VDC to power the end device while passing the data signals. PoE Injectors and Splitters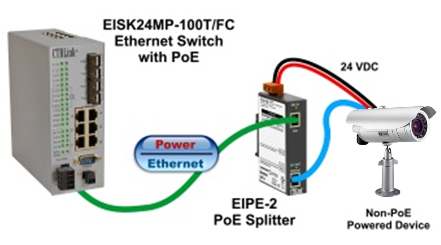 Fig. 3 - Non-PoE Compliant Device with Splitter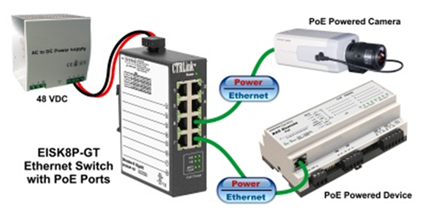 Fig. 4 – EISK8P-GT Ethernet Switch w/ PoE Compliant Device


If you're using multiple PoE port applications, an Ethernet switch equipped with PoE sourcing ports is required. An end-point PSE such as the EIDX24MP-100T EIDX Managed Switches or EISK8P-GT EISK8P-GT-GigE Switch can drive a mid-span splitter or a PoE compliant powered device directly. (Fig. 4) Power for the PoE switch originates from an isolated 48 VDC power supply. For larger systems requiring from four to eight points of PoE, there are Ethernet switches available to provide the maximum 13 W of power to each PD. These switches require 48 VDC input power.

Industrial Ethernet Products
Industrial Ethernet products provide ruggedness with temperature rings, scalability and fiber cabling, which is why the emergence of industrial grade Ethernet is the equipment of choice for IP video surveillance. When building your IP infrastructure you need to take into account that not all Ethernet switches are equal. IP video surveillance requires hardened networking products that are reliable, due to heavy demands placed on them. Surveillance video operates 24/7 and depending on the application may need to meet extreme temperature demands. While choosing office grade products may be attractive because of their initial low cost appeal, this may be a major false economy resulting in costs accrued from site visits and compensation for system downtime. Industrial grade Ethernet products are inherently more dependable with higher Mean Time between Failures (MTBFs).2 You don't want a switch to fail in a surveillance application, or any application for that matter, but particularly when security is at stake. With companies putting more network traffic and applications such as IP cameras on their Ethernet infrastructure, the results are greater demand on networks.

Wireless

Wireless Local Area Network (WLAN) provides a practical solution beginning with eliminating the need to run cable between a LAN and a network camera. Bandwidth capacity of the wireless access point and the bandwidth requirements of the network devices should be considered when setting up a wireless network. Typically, the useful data throughput supported by a particular WLAN standard is about half the bit rate stipulated by a standard due to signaling and protocol overhead. With network cameras that support 802.11g, no more than four to five of such cameras should be connected to a wireless access point.
As far as the IP video surveillance system, the wireless interface is transparent and is simply a replacement or extension of the standard wired IP network meaning connecting to a wireless network is the same as connecting to an Ethernet switch. For security purposes, encryption is built into the technology. A wireless IP router such as the EIPR series router offers a good solution EIPR Series Routers. IP routing is economical, provides optimal routing, and is resilient. IP wireless routing is convenient in situations where there is a need to move cameras to new locations on a regular basis.

More Key Technologies
Virtual Local Area Network (VLAN) is a unique, broadcast domain created by managed Ethernet switches, which uses the switch to partition a physical network, in turn creating distinct broadcast domains. A VLAN has the same qualities as LAN but it allows end stations to be grouped together even if they are not on the same network switch. VLAN membership can be configured through software instead of physically relocating devices or connections. Without VLANs, a switch considers all interfaces on the switch to be in the same broadcast domain. VLANs allow more control in implementing security policies and used to overlay IP video surveillance traffic on an existing data networks. By assigning the IP surveillance traffic to a separate, distinct, high-priority VLAN, the traffic is assured to pass through the network quick and secure. Besides network segmentation, VLANs offer several key benefits including security and bandwidth availability. Because surveillance data can be sensitive, network administrators don't want it accessible across the entire network. Only authorized users physically connected to the network will have access to video surveillance traffic, and unwanted users will be kept out. This is especially useful when an IP surveillance network shares the same network infrastructure with other functions or applications, such as a corporate data network. As for bandwidth availability, a dedicated network ensures bandwidth will always be reserved for the surveillance traffic, as needed. Often security integrators are often not aware that these same security and bandwidth requirements can be realized on one common network by using VLAN technology.

Quality of Service (QoS) refers to a network's ability to achieve maximum bandwidth and deal with other network performance elements like latency, error rate and uptime. It helps provide higher quality network performance for critical applications and predictable throughput for IP video, as well as minimizes traffic delay, and jitter. QoS is a key element with managing network congestion during periods where bandwidth is constrained. QoS capabilities in network switches allow data prioritization so that time-sensitive and system-critical data can be transferred smoothly with minimal delay over a network. For example, a required bit rate or delay measurement may be guaranteed, making QoS important if the network capacity is potentially insufficient, especially for real-time, streaming, and multimedia applications such as IP video, VoIP, streaming media, videoconferencing and online gaming. Without QoS, if a corporate data network experiences a heavy traffic event caused by mass file transfers, broadcast storms or other such applications, the surveillance video may freeze skip or even drop out completely. For mission-critical video surveillance, this risk is unacceptable.

Network redundancy is essential for IP surveillance. Redundancy technology helps to ensure a reliable and continuous IP network for mission-critical video transmissions. Since any single network link carries multiple video streams, a link failure can result in serious loss of video streams. In fact, a single link failure can result in serious loss of images, which is not acceptable for a surveillance system.

Noticeable Trends

Mobility is reshaping the IP video surveillance market. With mobility, users on mobile devices can review surveillance footage in real time, significantly increasing the opportunity for monitoring situations. There is also the trend for mobile devices to transmit footage in real time back to a control center providing assessments of emergencies. This allows for greater security especially with large crowds, or any type of high-profile event.

Cloud-based video surveillance also known as Video Surveillance as a Service (VSaaS) is valued at over $500+ million and growing.3 With network bandwidth improving along with network product pricing declining, cloud based video surveillance solutions are drawing the attention of more suppliers.

Convergence of teams has resulted from the move to IP video surveillance because it demands the attention of IT departments along with additional experts. More IT professionals are asked to work with integrators and their own security departments to leverage the robust security applications IP offers. Implementing successful IP video implementations means that IT is required into the mix early, so the department can anticipate any issues that may develop.

IP Network Benefits

Open Standards

: An open network protocol enables the guarantee of choosing a variety of products from various manufacturers. Network video products based on open standards can be easily integrated with computer and Ethernet based audio and security systems, video management and application software, and other digital devices. You are not forced to use a particular system or platform. You have the ability to integrate with other Ethernet and security equipment making your video surveillance system future proof.

Scalability/flexibility

: An IP video surveillance system can grow with your needs. You can add as many network video products to the system as desired, without significant or costly changes to the network infrastructure. You can place and network the products from virtually any location.


Cost-effectiveness

: An IP Video Surveillance system has a lower Total Cost of Ownership (TCO) than traditional analog CCTV surveillance. Management and equipment costs are lower since backend applications and storage run on industry standard, open systems based servers and not on proprietary hardware such as a DVR in the case of an analog CCTV system. Cost savings also come from the infrastructure used. IP-based video streams can be routed globally using a variety of interoperable infrastructure. IP based networks such as LANs and the Internet, and various connection methods such as wireless are much less expensive and an IP infrastructure can be leveraged for other applications across the company. Lastly, savings can be achieved from PoE technology, which cannot be applied to an analog video system.


Reliability

: Reliability is a key benefit of IP networks as they integrate many features that prevent data loss, back up mission-critical data, and recover quickly from outages. A network management system can monitor all networked devices: cameras, switches, access points, and storage, and generate notifications if issues arise. For instance, if an IP camera goes offline, a network management system can immediately alert administrators, who can then reassign another camera to cover that area, no matter where the administrators are. Typically, the back-up storage can automatically take over and no recorded data is lost.


Availability

: IP network cameras can by deployed anywhere reachable by Ethernet cabling or a wireless access point, expanding deployment options to include longer reaches or even outdoor coverage. PoE, which is not available in analog video systems, simplifies installation of network cameras/video encoders.


Improved video quality

: With digital, pixel image sampling an entire image is captured at one time. This ensures sharp images even with a high degree of motion.


Remote accessibility

: Authorized users can access real-time video at any time from any authorized computer anywhere. Remote accessibility provides an easy way to capture and distribute high quality video over any kind of IP network or the Internet. The video can be stored at remote locations for convenience and security, and the information can be transported over the LAN or Internet.

Easy installation

: IP surveillance systems are typically fast and easy to install. Contemporary Controls products offer PoE support, simplifying installation since only one cable is needed for power and video. The products are out-of-the-box outdoor-ready further speeding up installation, even in the toughest of conditions.
Market Growth

MarketsandMarkets predicts the total video surveillance applications market to reach $25.43 billion by 2016 at a CAGR of 19.35% from 2011 to 2016. The IP video surveillance market currently is estimated to be $5.15 billion in 2011 and is expected to reach $15.89 billion at an estimated CAGR of 25.31% from 2011 to 2016. As of 2011, the analog video surveillance market is estimated to be $5.36 billion and is expected to grow with CAGR of 12.24% to reach $9.54 billion by the end of 2016.4


Fig. 5 – Video Surveillance Market 2011 – 2016 by MarketsandMarkets
Market Segments
Video surveillance systems have made progress into an abundance of application sectors such as commercial, infrastructure, institutions, industrial and residential. With the advent of globalization, businesses have expanded and spread to overseas locations. Therefore, surveillance systems are now also being used for real-time and remote supervision and IP video surveillance has become a mandatory requirement across many sectors.
Industries and governments use IP video surveillance to support their operations.

Governments depend heavily on IP video surveillance as an integral part of crime prevention and homeland security measures.

Energy companies and utilities use IP video surveillance to monitor the condition of remote equipment and to ensure the physical security of their critical assets.

Transportation including mass transit, highways and airports depend on video surveillance to safeguard critical assets from possible terrorist attacks and for day-to-day traffic monitoring to ensure passenger safety. Seaports and freight companies use video surveillance for theft prevention.
Retailers rely on video surveillance to identify suspicious and illegal behavior that takes place in product aisles and at the POS. It is estimated that retailers in North America experience some $45 billion in retail shrinkage annually to employee theft, shoplifting and organized criminal efforts.5 Besides independent retailers, you also have the facility management companies that manage shopping malls who utilize very sophisticated video surveillance systems.

Education ― K-12 and universities are unfortunately widely considered one of the fastest growing market segments. Since Sandy Hook in December 2012, school shootings continue in the US at alarming rates.
Additional markets segments include manufacturing facilities, financial institutions, lodging/entertainment, healthcare, commercial office buildings, and residential.
Something To Think About
Increasing security concerns and the recent rash of terrorist activities have forced governments around the world to invest in video surveillance technologies for homeland security. This has significantly boosted the growth of the global video surveillance market. Video surveillance is now migrating towards computer networks, transmitting video by IP protocol. In the U.S., in some of the developed states like New Jersey, it is nearly impossible to travel and not be observed on cameras. In the United Kingdom, there is a video surveillance camera for every 14 people. People in London are caught on surveillance cameras up to 300 times a day.6 IP video surveillance is growing and for good reason. Protecting our greatest asset is something you cannot put a price on.

---

References:
1. Industrial Ethernet Book - Issue 27
http://www.iebmedia.com/index.php?id=4749&parentid=63&themeid=255&hft=27&showdetail=true&bb=1&PHPSESSID=1vi17e5norog6lgjht3hb3r3v1
2. Amplicon
http://www.amplicon.com/security/ip.cfm
3. Cameramanager.com
http://www.cameramanager.com/files/Video%20Surveillance%20Industry%20-%20Market%20size.pdf 4. MarketsandMarkets
www.marketsandmarkets.com
5. Security Executive Council
https://www.securityexecutivecouncil.com/newsroom/strategic_news.html
6. The Independent http://www.independent.co.uk/news/uk/this-britain/how-average-briton-is-caught-on-camera-300-times-a-day-572781.html


---
About the Author

Kirk Clousson is the Product Marketing Manager for Contemporary Controls. Kirk directs the Company's marketing communications initiatives and is involved in product marketing, and strategic marketing. Prior joining Contemporary Controls Kirk was the District Marketing Leader for Trane where he led the marketing efforts for 15 years.

Contemporary Controls will reach its 40th anniversary is in 2015. The Company designs and manufactures network communications products for the global marketplace and has locations around the world, a reputation for technical support, and the expertise required to make building automation projects successful. For more information, visit www.ccontrols.com, call 630-963-7070 or email info@ccontrols.com

---


[Click Banner To Learn More]
[Home Page] [The Automator] [About] [Subscribe ] [Contact Us]