---
Every month there is a blizzard of information contained in the emails and newsletters that cross my desk on their way to AutomatedBuildings.com. Some of this information is not in the form of any type of content we can publish but I feel I should share with you these snippets, blog bits, and url links that are about to fall off my desktop.
BASgatewayLX Quickly Gets Modbus Data Up to the BACnet/IP Infrastructure
When our customers need to quickly get Modbus data from their mechanical devices up to the BACnet/IP infrastructure they use our BASgatewayLX. Customers benefit from the Modbus to BACnet Gateway when using external Modbus serial and TCP because the discovery of Modbus data points appears as quick as configuring BACnet points - greatly reducing the time to discover Modbus devices in the field.

Apple wants to make the smart home a whole lot smarter. With a feature called HomeKit that's coming in iOS 8, iPhones will be able to start controlling smart devices, such as garage door openers, lights, and security cameras. They'll all be controllable through Siri too, so Apple says that just by saying, "Get ready for bed," a smart home could automatically dim its lights and lock its doors.
Tutorial videos for Users of EnOcean based products and solutions, such as installers, specifiers, facility managers and system integrtors. Leading companies worldwide from the building sector collected to form the EnOcean Alliance and establish innovative automation solutions for sustainable building projects
Improve energy efficiency -- and your bottom line -- in a building of any size with Schneider Electric building management solutions. Whether you manage a small to medium-sized building, a large building, or an enterprise of buildings, Schneider Electric's SmartStruxure™ and SmartStruxure™ Lite solutions can help you

You need to learn SQL, not tomorrow, not in a few hours. You need to learn SQL right now! The good news is SQL, which stands for Structured Query Language, isn't that hard to learn. The Why? Ok, why should you learn SQL? Let me countith thy ways…. SQL allows you to do awesome things with your data. Do you want to look at all rooms that were occupied according to a patient database and join that data with temperature data from a BAS database well you could….
Computerworld - In an Internet of Things world, smart buildings with Web-enabled technologies for managing heat, lighting, ventilation, elevators and other systems pose a more immediate security risk for enterprises than consumer technologies.
A brief history of evolution of data in managing building operations We are now on the verge of the Internet of Buildings era, which will alter the way we operate buildings to manage budgets and sustainability. How will incumbent firms adapt?

Welcome to the KNX Tools Online Shop This tool has been tailor-made for our customers in order to give them the possibilities to order products, pay them online as well as checking their documents, orders, invoices and reference. As one of our costumers you can benefit freely of this service. If you already have a login for our services please use it in the login window here under.
Element14 has launched a self-powered sensor kit for designers and enthusiasts to get up and running with home and building automation. The EnOcean Sensor Kit requires no cables or batteries and can be used with the EnOcean Pi for a wide variety of applications including switching lights, controlling blinds as well as acquiring wireless sensor information like temperature and window/door status detection

Tie YouBIM into the IBM Maximo environment (traditional static directory tree navigation). The world leading solution from IBM, Maximo is one of the most widely deployed CMMS solutions that helps manage every aspect of facility management. YouBIM is a SAAS (Software as a Service) cloud based solution that brings an integrated database and instant access to facility information through an easy-to-navigate 3D/BIM (Building Information Modeling) interface.
BMS Recycle gives companies the chance to buy overstocked and used controls some of which are obsolete and difficult to source, we have a wide range of products for sale including Trend IQ and Satchwell controls which are our best sellers. We stock and sell products on to companies preferring to use recycled controls at reduced prices.
IES provides powerful managed services solutions that deliver the economic benefits of virtual peaking power plants, virtual power plants and virtual microgrids through capacity management, peak load management, energy efficiency optimization and asset management
See over 50 recorded presentations and interviews with Lyle Bunn on YouTube and at the InfoComm YouTube channel - Digital Signage Application Showcase and presentations for AV/IT Integrators
A societal oxymoron By Harry H. Kohal Enterprise asset management (EAM) is a way of thinking, a discipline, and ultimately a culture that increases equipment life and production uptime.

This standard defines an architectural framework for the Internet of Things (IoT), including descriptions of various IoT domains, definitions of IoT domain abstractions, and identification of commonalities between different IoT domains. The architectural framework for IoT provides a reference model that defines relationships among various IoT verticals (e.g., transportation, healthcare, etc.) and common architecture elements.
The co-founders of MIT spinout KGS Buildings have a saying: "All buildings are broken." Energy wasted through faulty or inefficient equipment, they say, can lead to hundreds of thousands of dollars in avoidable annual costs.That's why KGS aims to "make buildings better" with cloud-based software, called Clockworks, that collects existing data on a building's equipment — specifically in HVAC (heating, ventilation, and air conditioning) equipment — to detect leaks, breaks, and general inefficiencies, as well as energy-saving opportunities.

Mobile Technology Affecting Growth of HMI Screens in Building Automation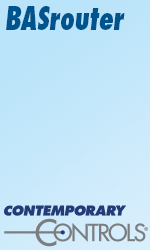 With a recent trend to more mobile technology, the use of human interface (HMI) screens in the building automation equipment market is forecast to decline over the coming years, according to a recent report from IHS. IHS has forecast the world market for human interface (HMI) screens to decease by a CAGR of -2.7% to $179.4 million in 2018. As the responsibilities expand for facility managers, there is an increased demand for multitasking. One of these is maintaining the building automation (BA) system. In the past, this included a main computer or individual location for set points and readings where diagnostics could be performed. In these situations, HMI screens became a valuable resource as they allowed the facility manager to easily navigate different parts of a BA system; however, today the industry is beginning to evolve beyond HMI screens.
Live from Las Vegas...it's Conference LIVE! We're webcasting in 'real time' today from the Expo Floor and have a full schedule of riveting interviews, product announcements and demos you can tune in for if you were not able to join us in person this year.

Welcome to the official online press office for InfoComm 2014. Below, are the latest announcements from exhibitors in Las Vegas.

Computerworld - If home automation can reduce insurance claims due to fire, water damage and theft, insurers may become advocates for Internet of Things technologies. That could change the business model for the Internet of Things as it applies to home automation. Insurance companies may one day subsidize the cost of installing the technologies, or possibly cover the entire bill.

The Digital Signage Best Practices Guide 2014 Digital Signage Magazine presents a groundbreaking report designed for all technical professionals and key decision-makers.

---


[Click Banner To Learn More]
[Home Page] [The Automator] [About] [Subscribe ] [Contact Us]