---
Optimize Productivity, Not Just Energy

A review by Andrew (Drew) DePriest

Midwest Regional Sales Manager at Automated Logic LinkedIn article

Founder, Owner, Publisher AutomatedBuildings.com
I was extremely pleased with the response to my editorial in our June issue and with these two articles
Measured Variables; Health, Wellbeing, & Productivity
Editorial - Ken Sinclair, Publisher
Applying All the Laws of 3s to See the Future
Alper Uzmezler, BASSG & Therese Sullivan, BuildingContext
The Trillion Dollar Opportunity
Brad White, SES Consulting Inc.
This linkedIn article

https://www.linkedin.com/pulse/efficient-effective-your-next-office-optimize-just-energy-depriest

by Andrew (Drew) DePriest Midwest Regional Sales Manager at Automated Logic keeps the dialog going and adds some great resources. Be sure to read complete article here is the gist
For years, the building management community has believed the axiom that a "greener" building makes for a happier, more productive staff. Thanks to recently-published scientific research more deeply illustrating this connection, as well as advances in mobile technology and enterprise infrastructure, we are finally beginning to see the market believe it financially as well. In short, productivity has caught energy efficiency as a viable means for building owners to maximize their facility's value.
Consider the "3-30-300 Rule," a concept put forth in 2014 by global property management firm JLL. In a given year, tenant companies that occupy commercial real estate (CRE) space spend on average $3 per square foot on utilities, $30 on rent, and $300 on payroll. Thus, any project or technology that can produce a percentage cost reduction for the building would be most impactful at the $300 level, or productivity. New research would indicate that such gains extend beyond mere observation bias illustrated by the Hawthorne Effect, and could substantially impact a company's bottom line.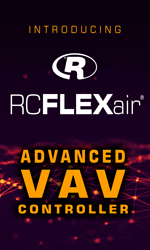 Scientific Case for Green, Productive Buildings
In October 2015, a team of health and building experts led by Harvard University's Dr. Joe Allen published the results of a study titled "The Impact of Green Buildings on Cognitive Function." The team conclusively proved that doubling the ventilation rate (from 20 cfm/person of outside air, per ASHRAE 62.1, to 40 cfm/person) in an "enhanced green" building resulted in remarkable productivity gains for the occupants. Higher-level thinkers exhibited triple-digit percentage increases along cognitive areas like "strategy," "information usage," and "crisis response."

---


[Click Banner To Learn More]
[Home Page] [The Automator] [About] [Subscribe ] [Contact Us]