---
GSRC is a super operator, a kind of outsourced center of excellence and expertise on increasingly complex, automated building control systems.




Bob Lahey
Service Market Director
Honeywell Building Solutions
Honeywell Global Service Response Center
As you read this, the lights are mysteriously dimming somewhere across America's vast empire of retail, educational and medical complexes. Or a showroom feels clammy. Or an air conditioner is making ominous sounds.











And an anxious business manager wants to know why. Even more, he or she wants the problem fixed — immediately. Before sales start falling off and the reputation of the store/hotel/school/clinic takes a nosedive.
However, relief isn't necessarily as close at hand as it once was. Facilities managers across the industry face a variety of challenges. Staffing budgets are shrinking. Turnover in the ranks of hard-to-replace maintenance technicians who know the quirks of their system is a chronic challenge. Plus, soaring energy costs are forcing managers to revisit the capabilities of their automated control systems and try once again to find a way to use them to their full potential.
"Managers are realizing that, without the appropriate level of expertise, they're not going to realize the savings they bought the system for to begin with," said Tom Sumner, director of the Honeywell Global Service Response Center (GSRC) in suburban Atlanta.
Enter customer support "super operators" like the GSRC, where a crew of 85 people provide maintenance and support services around the clock. The GSRC handles up to 3,200 calls per day in five languages from customers in 30,000 locations in North America, Puerto Rico and Mexico. Honeywell has similar centers in Newhouse, Scotland and Sydney, Australia.
"Honeywell and its partners include a lot of retail, so we start seeing a spike of calls around 9 or 10 a.m. on the East Coast, once stores are open," Sumner said. "Traffic picks up again in the late afternoon, when the entire country is open for business."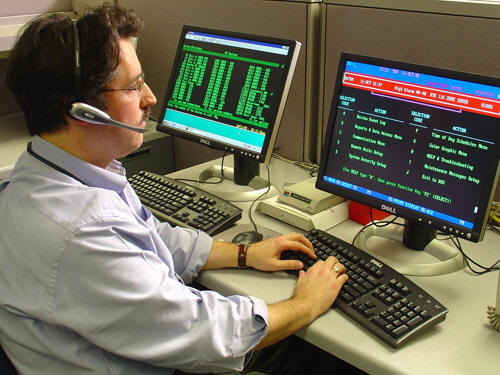 Figure 1 Shrinking budgets and concerns over rising energy costs are turning facility managers to "super operators" like the Honeywell Global Service Response Center (GSRC) in Atlanta. The center handles up to 3,200 calls per day from North America, Puerto Rico and Mexico.
GSRC technicians interact with customers in several ways:
Responding to phone calls by prioritizing requests based on urgency, and dispatching some 1,400 local Honeywell HVAC repair and energy service technicians, as well as customer-chosen service personnel;

Resolving comfort or controls issues through remote connectivity;

Monitoring building activity remotely to diagnose incipient signs of trouble, such as faulty compressors, or tenants who set thermostats too high or low;

Using systems data to develop reports and establish trends, such as the optimal time of day from an energy preservation standpoint to start cooling to achieve and hold a target temperature;

Direct adjustment of local controllers over the Internet, a functionality now possible in about 500 locations with IP connectivity. (The remainder of sites are connected via dial up.)
"Over the last year interest in the center has grown phenomenally," Sumner said. "Eighteen months ago we'd have prospects touring through the center every couple of months. Now they're coming through every week or two. Energy costs are driving that."
Figure 2 Hands-on experience with equipment from across the industry allows GSRC technicians to help companies maximize the performance and value of their systems.

Sumner said the business case for linking to the GSRC is straightforward, whether for single-store managers, small groups or national chains. GSRC is a super operator, a kind of outsourced center of excellence and expertise on increasingly complex, automated building control systems. Customers can reduce the strain on their own technicians — assuming they have in-house support — with a team of seasoned experts for supplemental service, monitoring and even training.
"It's like having an extension of their in-house team," Sumner said. Experts at GSRC can troubleshoot directly, averting or postponing service calls to scheduled preventive maintenance visits anywhere from 5 percent (without remote connectivity) to 35 percent of the time (with remote connectivity). They also consult with time-pressed local technicians, helping them diagnose and repair problems faster.
This helps gives customers like the City of Monterey Park confidence in their building controls. "Our technicians don't always have to be at the building to insure things are running correctly," said Tina Clark, principal management analyst for Monterey Park.
Sue Hudall, assistant to the director of operations for Okeechobee County School District in Florida, sees similar value in the center. "We have had last minute issues occur, whether mechanical failures or needs to change schedules at various buildings," Hudall said. "The staff that understands the controls system is only onsite from 7 a.m. to 4 p.m. so they can't always be here to handle those issues. The GSRC fills that gap, and saves us time and money."
Apart from growth in customers, IP connectivity represents the most significant change in the business in recent years for the GSRC, which opened in 1982. The visibility into control systems the Internet allows for remote monitoring — where systems performance is tracked from sensors built into controllers and equipment. This type of monitoring can work in tandem with local repair crews to shorten their time at the customer site.
If a store were to report excess heat in the southeast quadrant of the showroom, for example, a technician at the GSRC may analyze the building systems remotely and determine the problem is an iced-over evaporator coil on rooftop unit #17. The repair still requires a dispatched crew but the service call might be half as long if the remote technician can start defrosting the unit immediately — so the work can begin as soon as the truck arrives. The local crew also can receive a thorough briefing before it gets to the site, either verbally or via mobile e-mail through the Honeywell Field Automation Service Technology (FAST) tool, a handheld computer that technicians use to retrieve, log and update job information.
A second, real-world example: A school district in central Georgia with 27 facilities has been able to save several compressors a year due to the quick response from GSRC technicians to alarms from school freezers. And many times, Honeywell and the district were able to resolve issues quickly enough to avoid having to move food from freezer to freezer. The GSRC also logs the temperature of the freezers throughout the day and gives school officials a report that provides the federal government with proof that the district is properly maintaining the operation of the freezers.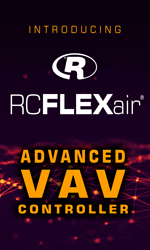 Comfort is another critical business issue that drives organizations to the center. "Many of our customers are facility managers who are focused on creating an optimal environment in their buildings," Sumner said. "This means issues that make tenants, shoppers, etc. uncomfortable can mean lost revenue." As a result, these customers rely heavily on the GSRC to support their business needs. For example, some municipal facilities in Wilmington, Del. require assistance from the GSRC regardless of who services their mechanical equipment.
In addition, a lot of customers don't understand their equipment well enough to fully capitalize on potential efficiencies. "'I know my control system can do more to save time and money, but I don't have the know-how to perform those functions' is a common refrain we hear," Sumner said. "The GSRC is a hub for that expertise so facility managers do not have to worry about having someone on staff who is familiar with their specific building controls at all times."
Much as Honeywell would like to have all their customers using Honeywell equipment, they don't — especially with the rise of open, multi-vendor systems. Long ago the company learned how to repair, monitor and interact with equipment from other vendors. Today, according to Sumner, GSRC does remote diagnostics and repairs on more than 30 different brands of HVAC and energy system controllers.
Currently, the Honeywell GSRC customer base is about 35 percent retail, ranging from department and home improvement stores, to fast food and casual dining restaurants. Schools, from kindergarten through college, account for 20 percent, as does general office buildings and medial facilities. Hotels, financial institutions and government offices are a large portion to the remaining customers. Essentially, any operation that depends on HVAC, refrigeration or lighting controls as an integral part of their business can leverage the experience and knowledge at the center.
GSRC operations, as indicated above, are increasingly tied to the Web, an important feature for large, multi-site customers who want their vendors to provide real-time access to service and support data.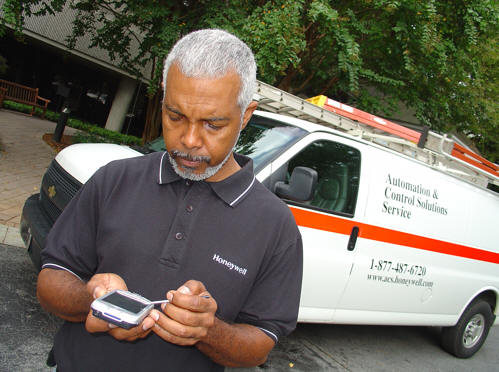 Figure 3 Service personnel communicate with the GSRC via the Field Automation Service Technology (FAST) tool. This provides customers with real-time updates on service calls.
The Honeywell ServicePortal interface, part of the Honeywell Service Online suite of Web-based service tools, gives customers current performance information, and historical data for benchmarking and quality assurance validation purposes. Customers also can see the status of service requests, which are updated in real time with information pulled from FAST.
From the bird's-eye perspective, the GSRC outsourcing proposition for over-stressed facilities managers looking to resolve maintenance, budget and personnel headaches is this: Better monitoring, control and preventive maintenance equals fewer costly emergency calls and callbacks, more rapid response to the emergencies that do occur, and significant energy savings. Fewer breakdowns and full exploitation of control systems capabilities equals higher uptimes, more customer comfort, and better reputation among both customers and employees. And lower lifetime costs.
---
About the Author
Bob Lahey is the service market director for Honeywell Building Solutions. In this role, he is responsible for the business strategy and management of new and existing service offerings for HVAC, security and fire systems. Bob is a 17 year Honeywell veteran — having previously worked in the industrial process control industry — and a Six Sigma black belt. He graduated from Pennsylvania State University with a bachelor's degree in electrical engineering.
---


[Click Banner To Learn More]
[Home Page] [The Automator] [About] [Subscribe ] [Contact Us]