---
EMAIL INTERVIEW – Tim Enwall & Ken Sinclair
Tim Enwall, CEO, Tendril
---
Tendril Bridge for Building Automation
Allows Niagara users to use our system software to quickly build wireless networks and manage them in the same context they manage their wired devices. It's the first and only product that bridges the gap between multiple new wireless systems and existing control systems.











Sinclair: Tim, you just got back from the Niagara Summit in Tampa. How was the event and what were the biggest trends that you saw there?
Enwall: I thought the Niagara Summit was a fantastic event, and I've heard the same sentiment from a number of other folks who attended. There aren't too many events that bring together a broad cross-section of building automation folks in one place, but the Niagara Summit does a great job of that. Attendees included all the key constituents in the industry – major property owners, system integrators, OEMs of building automation technology – and the Summit had a great working environment where a lot got accomplished in terms of partnerships, deals and evaluation of new technologies. Tridium has done a lot to grow the Summit into a key industry event.

The biggest thing that stood out to me at the Summit is the seriousness with which organizations are pursuing the use of Wireless Sensor & Control Network technology. In recent months people have commented to me that they thought it would take a while for ZigBee and 802.14.5-enabled sensor applications to really take off in the building automation field, but that's just not the case based on what I heard at the event. The Summit provided a 100% validation to me that the building automation industry is embracing Wireless Sensor & Control Networks as a key technology for solving the business challenges it faces.
Sinclair: Based on your conversations with people at the event, what's driving the interest in wireless sensor networks?
Enwall: I would actually go further than saying that it's "interest" in the technology. Again and again I heard that organizations are moving forward aggressively with implementations of these low-powered wireless sensor networks. People weren't talking in the future tense. They were talking in the present tense, and that's because there are truly compelling business reasons for moving ahead with deployments right away.

The first reason is the increasing importance of energy management for property owners. The cost of energy is leading to major energy management initiatives among the large property management companies. Some of the companies are even creating new executive-level positions to oversee the effort – VP of Energy. They are setting aggressive goals of reducing energy consumption across the board by 20%, 30% or 40%, and to achieve goals like that you have to include intelligent devices in your strategy. In fact, in some recent lighting studies done by the University of California at Berkeley, intelligent wireless lighting solutions, alone, can have a significant energy-saving impact.

The reason that people are pursuing wireless specifically – as opposed to traditional wired sensors – is cost of installation. Installing wired devices for these energy management applications would be very expensive because of the installation costs –around $150 based on metrics I've seen about the cost of labor and materials involved in cutting into walls, installing wiring, repairing the aesthetic look of the installation area, etc. Multiply that by the number of lights, controllers, sensors and air flow regulators in a building and the cost adds up. Wired devices are just too expensive for certain classes of buildings and certain classes of devices.

In contrast, the installation costs of wireless devices are minimal because they typically just involve Velcro-ing or screwing a small device into the wall or ceiling. Wireless sensors or controls are the solution that makes sense, and many of the folks I spoke with at the event – whether they were OEMs, system integrators or actual end users – have already secured budget for wireless projects.
Sinclair: Very interesting. Sounds like it's more than an "academic" interest in the technology.
Enwall: Yes, definitely. The business need for low-power wireless is accelerating adoption faster than anyone predicted.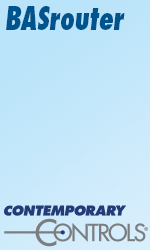 Sinclair: I saw that a number of companies made announcements at the Niagara Summit, including Tendril. What did you announce?
Enwall: Tendril announced a product called the Tendril Bridge for Building Automation. It's the first multi-vendor wireless integration software driver developed using Tridium's NiagaraAX Framework – and it allows people to build and manage wireless devices alongside their wired devices in the Niagara framework they are familiar with. It takes all of the complexity out of wireless networks.

The product is the result of a collaboration with Tridium that started a while back. Both companies had the same goal: to make it dirt simple to integrate wireless devices into building automation systems. We wanted to make it possible for folks to manage their new wireless networks without having to start from scratch with a new, unproven system that they are unfamiliar with.

The Tendril Bridge for Building Automation plugs into Tridium's Niagara framework and allows Niagara users to use our system software to quickly build wireless networks and manage them in the same context they manage their wired devices. It's the first and only product that bridges the gap between multiple new wireless systems and existing control systems.
Sinclair: Was the product well received?
Enwall: Yes, very. Lots of folks wanted to talk to us right after the event to make this product a part of their deployment strategy, so following up with them is a top priority for us. People also responded positively to the news that Tendril will have professional services available to help them create full solutions. Having access to our wireless expertise in addition to the product was an important combination for a number of folks. This product and the related professional services fill a real need for organizations moving ahead with wireless deployments, and I think our demo did a good job of illustrating that.
Sinclair: Tell me about the demo. Wireless sensor network deployments are a highly technical topic, and it's often difficult to break through that layer of technical detail. How did your demo address that?
Enwall: I agree about the technical obtuseness of a lot of wireless sensor network presentations. It's definitely a dense topic technically, but you really get the power of our software when you see it in action.

Our demo showed how quickly and easily you can build and operate a wireless network for single-office room-by-room environmental control -- allowing end users to very precisely control both heating and cooling based on which rooms are occupied. This kind of application would be at the core of many organizations' energy management plans, because of the significant impact that this kind of system would have on energy consumption.

Now, typically this kind of wireless deployment would be a bear to develop and deploy, taking 6-12 months to get the devices talking to each other, to get the wireless network integrated with your fixed device network, to program all the software involved, to integrate with Niagara. Quite a monster of a project.

But with the Tendril software plugged into Niagara, an OEM could integrate these kinds of wireless networks, using the rest of the Tendril system software suite, into their products in less than 5 days, and integrators can then deploy the solutions in hours.

The demo involved a wireless temperature sensor, occupancy sensor and a LON variable air volume controller; a Niagara interface that allowed the building owner to control and manage the system; a PC-based "soft" thermostat (a thermostat on the screen of the PC user) that allowed the office user to adjust the settings to their comfort; a Tridium JACE device that has Niagara built in, a wired LONtalk controller and a gateway for the low-power wireless sensors. All standard elements of a typical implementation, and using Tendril software and Tridium products any of the integrators who attended can get that kind of energy and comfort management application up and running in a few hours of installation time.
Sinclair: One last question before we wrap up: Looking ahead, what do you think we'll see in the next year or so in terms of the use of Wireless Sensor & Control networks in the industry?
Enwall: What I saw at the Niagara Summit has me convinced that in the next 12 months we'll see wireless projects move to the deployment phase on a wide scale. The large end users are going to be a key driver for the process because of how serious they are about more effectively managing energy consumption, security and occupant comfort. Wireless is the most cost-effective way to manage energy consumption because of the granularity of management it offers, and it also allows end users to offer tenants enhanced amenities to improve environmental comfort in buildings. We'll also see OEMs make a big push forward with new products that leverage low-power wireless protocols like ZigBee, which will accelerate adoption even more in the building automation field.
Note: Tendril exhibited at the Tridium Niagara Summit, the user conference and building automation expo that was held May 1-2 in Tampa.
---


[Click Banner To Learn More]
[Home Page] [The Automator] [About] [Subscribe ] [Contact Us]