---
| | |
| --- | --- |
| Connected Real Estate Roundtable, Palm Springs BuilConn | Ken Sinclair |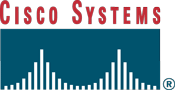 The first ever industry Connected Real Estate Roundtable in Palm Springs occurred as a well planned prelude to BuilConn's Connectivity week. BuilConn provided the only logical venue for these extremely necessary roundtable discussions that crossed over and cross pollinated information of the many industries presently interacting in our converged environment. I was extremely pleased to be invited to the table. The following are observations and summations I made while there and is intended to provide the flavour of the information served around the roundtable.
The factual and official reporting of the event is outlined in the below email from Rick Huijbregts, PhD Cisco Systems, Inc.











Dear Connected Real Estate Roundtable Participant,

Thank you for attending last week's Cisco Connected Real Estate Roundtable on May 16th at BuilConn in Palm Springs. We appreciated your time and candid contributions.
We kindly request you to take this opportunity to comment on the effectiveness of the session in order to help us understand how to plan continuation of this industry dialogue and to learn what future topics you would like to see from Cisco.

For us, it was a tremendous experience sharing visions, concerns, opportunities, and roadblocks when it comes to delivering intelligent converged environments. And although we all come from different business backgrounds and represent different corporate objectives, it was a pleasure to see that we all appear aligned in our thinking on the future design and realization of our next-generation built environment.

In the coming weeks, look for a white paper detailing the discussions and conclusions of our roundtable event. This paper will be developed in collaboration with CIFE at Stanford University http://cife.stanford.edu. You will be among the first to receive this paper, after which we will make it available to the industry at large --- in Cisco's ongoing effort to spread the word and share the vision.

Looking forward to working with you.
Sincerely yours, Rick Huijbregts, PhD Cisco Systems, Inc. Cisco Connected Real Estate Strategy and Program Development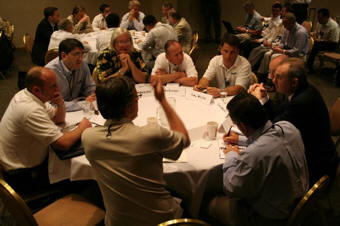 So until the official white paper is prepared here are my observations:
Although the event was billed as by invitation only, the interest had peaked and uninvited folks showed up on the hopes of being included. The decision to allow more observers was seen by all to be a very good thing. The room was extended and classroom seating added to the preset invited roundtable setup. All observers were allowed to be part of the event and share their input. The round table actually turned out to be several round tables, with each table being a carefully planned mixture of owners, integrators, contractors, vendors and others.
Rick from Cisco started with a presentation including the fourth utility and our mutual desire to achieve a plug and play environment. He pointed out that the Cisco purpose was to find out how they could best interact and assured us that they are not interested in coming into our space but very interested in providing better connections to it while increasing the value of BAS services to the enterprise.
Rick Huijbregts, PhD. is Strategy and Development Manager for Cisco Systems Inc. In his current role, Dr. Huijbregts works with the Corporate Divisions of Cisco to define and develop new and innovative real estate market opportunities. For more than 12 years, Huijbregts has been at the forefront of real estate innovation through his spearheading of research and implementation of new 'technology and business' models.
Next Leo Donnelly, Senior Technical Analyst, Harvard University, told us of preparing buildings for the next 60 to 70 years because the 20 year cycle is always exceeded. This means open standards and native IP devices with a single physical backbone. A single backbone was mandatory although he encouraged soft segregation within this model. His definition of open included an escape from Microsoft Windows to open software platforms including Linux and UNIX.
Leo Donnelly is a Senior Technical Analyst with Harvard University's Information Systems Group. Leo has been working on longer term strategic networking initiatives for the University such as fiber infrastructure initiatives, commercial Internet and Internet2 projects, and emerging technologies such as VoIP, cellular voice options, building systems technologies on the IP network and wireless technologies. Leo is also the Internet2 Technical Point of Contact for the University and is actively engaged in working closely with faculty on research initiatives. Leo is also the Chief Architect for the Northern Crossroads, an Internet2 gigaPOP in New England. His responsibilities include setting routing policy, planning and coordination with gigaPOP Members and the Internet2 community.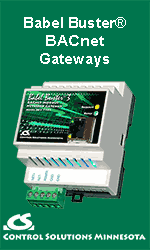 Bill Bacon of CBRE, the largest real estate owner, discussed how we are still in the early adopters stage and how we had to work hard on providing a strong feedback to the market place of our value proposition and explained how we can reduce risk with open IT standards.
CBRE is CB Richard Ellis United States. CB Richard Ellis leverages the industry's most powerful knowledge base to meet the commercial real estate needs of its clients worldwide.
Since 1991, Bill has specialized in tenant representation and Corporate Service Assignments. He has demonstrated a high level of proficiency in major Tenant and User representations. In the course of representing and consulting his clients, Bill has conducted local and national searches wherein he developed feasibility studies, analyzed financial and non-financial corporate objectives, assembled and coordinated teams of consultants, evaluated alternatives, negotiated and documented transactions and completed assignments on time and within budget.
Glenn of MGM MIRAGE is using technology on a large scale in a high security areas and is totally committed to the converged service approach. Glenn invited vendors to contact them with the latest and greatest convergence technologies which could be applied on the installed network up till the last moment to provide future proofing.
Glenn Bonner is the Senior Vice President and Chief Information Officer of MGM MIRAGE. Bonner joined MGM MIRAGE in 1997, and has more than 25 years of experience in management and business technology. Bonner leads MGM MIRAGE's corporate Management Information Systems group, which encompasses all MGM MIRAGE technology and systems, supporting over 70,000 employees in 24 locations.

As CIO, he is responsible for alignment and execution of the information technology function with the company's longer-term business strategy. Under Bonner's leadership, MGM MIRAGE has gained industry-wide recognition for their technology achievements and innovations. CIO Magazine recognized Bonner as one of the top 100 Chief Information Officers in 1999. MGM Mirage was also ranked as high as 68th by Information Week Magazine in the "Information Week 500" annual ranking of IS organizations in America.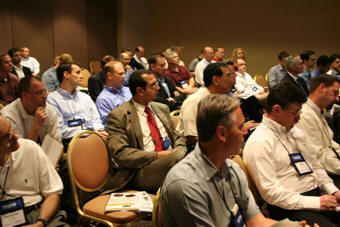 Al Lyon, ARUP We need to know what works and what does not, but alluded to a general problem of having engineers keep up with the rapid changes. If the building owns the backbone the valuable IT services keeps tenants dependent making them "sticky". Lock your clients into your connection services, the cost of each tenant providing their own is much higher.
Al Lyons leads the information communications and technology (ICT) consulting practice at Arup in NY. Arup is an international multidisciplinary consulting engineering firm with a staff of more than 7000 professionals working out of more than 70 offices around the globe. The NY office was established 15 years ago. It has a staff of 250+ people and presently provides a full range of engineering and technical consulting services.
Professor Volker Hartkopf presented the concept of BAPP Building as a power plant and discussed the interactive layer and the importance of substantiality.
Currently, Prof. Hartkopf is leading the Building as Power Plant (BAPP) project. The BAPP has been selected by the US Congress as the National Test-bed for Advanced Technology in Building. The 6,500 m2 project will be realized on the Carnegie Mellon Campus. The BAPP will integrate advanced energy-effective building technologies with innovative energy generation systems, such that all of the buildings energy needs for heating, cooling, ventilating and lighting, as well as equipment are met on-site, maximizing the use of renewable energies. Broader implementation of its concepts in industry and government here and abroad are expected.
Feedback from round tables - a collection of thoughts
Our services must be provided in a pull, not push environment. Performance for now, but must have insurance for future proofing. Convergence must increase efficiency, reducing energy and move toward complete sustainability.

We need to work hard to catch up to Asia in converging environments.

We must create a co-opetition environment for our industry.

Must build on the pervasive internet with its open standards.

Collaboration of use of space to provide tenant services to reduce the cost of occupancy.

Tenants can reduce cost with increased services using converged environments.

Make bench marks ie kw/sq/ft, get stakeholder involved, help change client business model.

Energy and environment are increasing occupancy costs, we have to differentiate how our buildings can improve, ie sub metering, wireless as a service. Explore other services with client.

Single wire planned must be made 5years ahead of project construction, the savings will allow added functionality by combining networks, all budgets pooled into one network cost.

Special approvals allow fire panels to be on backbone with redundant RF signal accepted. Actual fire detector pull station still hard wired.

We must improve our provided wireless networks within buildings. In Asia five bars of cell signal everywhere.

Network consultants are required if you do not have talent within.

Look for revenue generating opportunities.

Keep everyone in their area of core competence but have them all connect to the fourth utility - the data backbone.

Build a strong IT foundation that will house voice VOIP phones, video services. Combine wireless and VOIP and web services.

We must educate ourselves and then educate and communicate with our clients the power of integrated services in our new environments.

We must redefine the role that we will all play and present to the owner in a organized manner.

Create and point to white papers that capture our vision.

Single wire (fibre) backbone to house IP convergence with many virtual connectivity paths to meet the aggregated needs.
Anto's summation:
It will take precise visions, well aggregated, plus balls to make the type of change we are talking about in this room. We believe that IT folks like Cisco can help us organize, educate, and communicate a new level of integration. We all have to go forward and think about what having our data as part of the data utility really means and set in place a guideline on how that can be done with best practices.
---


[Click Banner To Learn More]
[Home Page] [The Automator] [About] [Subscribe ] [Contact Us]