---
BuilConn, held at the Donald E. Stephens Convention Center in Rosemont, IL May 22-24, 2007 once again exceeded our expectations. BuilConn continues to provide a forum for industry players to discuss and endorse new technologies and solutions which promote the converged network.











Richards-Zeta (RZ) has long been an advocate of the converged network. "RZ provides Intelligent Building Systems (IBS) infrastructure that uses an appliance with powerful embedded software tools to allow end-users and system integrators (SI's) to simply create integration and move information (both content and interaction) out of the building systems, on to the IP network and into valuable and sustaining applications and services", says RZ's President/CEO Ed Richards.
As the world struggles with the delicate balance between the thirst for energy and the protection of our environment, where the price and supply of energy is increasingly volatile, and end-users are seeing the demand for Green Buildings and LEED Certifications, forums such as BuilConn are crucial when discussing the industry solutions and initiatives which require integration and a converged network. "Many end-users and building owners assume that the technology that we build exists and take it for granted that [integration] is a given", says Richards. Conferences like BuilConn prove that the technology & solutions which enable integration (the middleware piece) are ready for the demand of the end-users. We have also seen increased involvement from the demand side, such as BuilConn sponsor Constellation Energy, further proving that the market is ready. Demand Response (DR) applications are a buzz. From the top down, once the CEO's understand how they can drive value into their existing assets with relatively little pain, they will begin to push pressure down from the top requiring middle-management (Facility Managers and IT Managers) to get involved and start turning to solution & technology providers.
Hotel 1000, a luxury hotel located in Seattle, Washington and a nominee for the Buildy Award Best Building, is a premier example of end-users and Senior Management responding to the value for a converged network. Their goal at this property and across future properties was to install, operate and manage a single converged network in which all building systems were managed and operated on the same network as the voice, video and data services provided to the guests.
"It takes an industry initiative/ industry forum such as BuilConn to get people and technology together to create the inertia needed to move our industry," says Richards. "Other industry conferences have more end-users, but they don't have any appetite or desire to understand what it takes to get the job done, they just assume. BuilConn is all about how to do the "heavy lifting" and 'get it done'."
To hear more from Ed Richards, please download his Pod Cast, recorded live at the BuilConn Conference.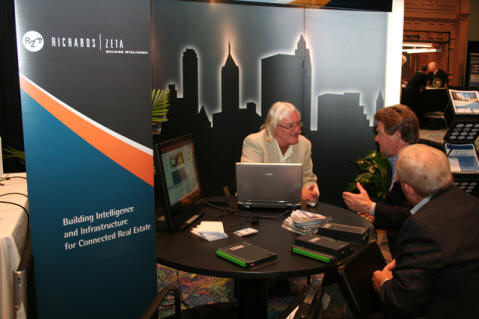 ---


[Click Banner To Learn More]
[Home Page] [The Automator] [About] [Subscribe ] [Contact Us]