---

EMAIL INTERVIEW – Danny Yu and Ken Sinclair
Danny Yu, CEO, Daintree Networks

Danny brings over 20 years of leadership and growth company experience in lighting, enterprise solutions, communications, and semiconductors to his role as CEO of Daintree Networks. Prior to Daintree, Danny was Vice President of Segment and Strategic Marketing at Philips Lumileds where he led global marketing, business development, and product definition for solid state (LED) lighting. Earlier in his career, Danny held senior roles in the venture capital industry including Managing Director at VantagePoint Venture Partners and Partner at DynaFund Ventures.

---
Simple and Open Wireless Control for Smart Buildings

There is no doubt building operators are looking for a more intelligent and elegant building control solution to make their lives easier.

Sinclair: The last time we talked you had 'lighting' in your main company descriptor and now it's gone. What's changed since our last discussion?
Yu: Daintree's approach to serving the market has always been to take full advantage of open standards and interoperability, allowing third-party devices to join our network platform and our solution to control multiple energy loads. While we started with full-featured lighting control, incorporating thermostat and plug load control was always on the roadmap. We've completed development of those additional capabilities over the past year - so now we're providing wireless building control that includes lighting as one core "app".
Solution Architecture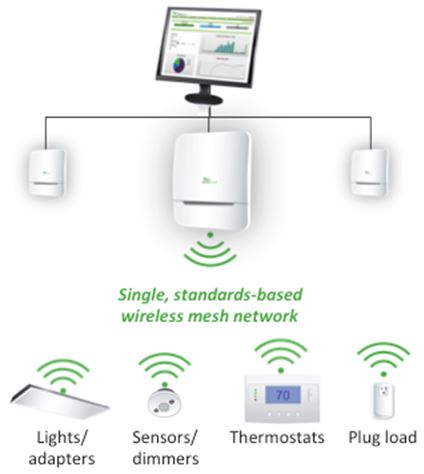 Sinclair: Tell us a little more about why open technology is a better for the customer than conventional technology?
Yu: For starters, proprietary systems for lighting, thermostat, and plug load control are typically "islands of technology" with separate networks and user interfaces, if they are centrally managed at all. This is complicated and costly. Additionally, the proprietary technology ties the customer to a single-source supplier and they become hostage to the development of software and devices to a single company locked-in to a system that is often difficult to install, commission, and maintain over time.

The alternative to proprietary lock-in is open-standards-based interoperability that gives customers a choice of devices and at the same time drives competition between manufacturers to keep costs down. We usually deploy projects where our control solution manages lights, sensors, thermostats, and plug loads that all come from different vendors. It works and works well.

Sinclair: That makes a lot of sense. Does it work in large-scale applications?
Yu: We get that question a lot. The answer is a definitive yes. ControlScope software has been optimized to support ZigBee certified devices, creating a mesh network where every ZigBee sensor, plug load, thermostat, and light fixture, or zone of fixtures, becomes part of a large-scale wireless communications network with bi-directional messaging. We currently can expand the network to 100 different facilities and 10,000 wireless nodes.


Sinclair: Is that the limit to network scalability?
Yu: Today it is, but our decade of embedded wireless and system management software expertise will allow us to push these limits significantly higher. We frankly want to set the pace for enterprise scalability and management in order to expand the market. We already have customers with needs exceeding our current limits. Corporate retail customers with thousands of locations like banks and restaurants want central control and reporting of their energy loads including a combination of lighting, thermostat, and plug loads. This is an exciting market opportunity and innovation area.

Sinclair: Are manufacturers supporting the open standard with the development of new devices?
Yu: Yes, a new generation of building control products is being developed by dozens of manufacturers of lighting fixtures, sensors, thermostats, remote temperature sensors, power meters, and plug loads. The manufacturers of hardware know the power of control lies in networked devices and the fastest way for the adoption of network control is to deliver it to the customer as a standard because standards allow customers to adopt new technologies with confidence.
An analogy that comes to mind is the one of internet protocol (IP) standards. Imagine a scenario where your Apple iPad or Dell laptop could not work at the local Starbucks because the Cisco wireless LAN implemented a proprietary Wi-Fi internet protocol. Ultimately standards drive the adoption of technology. Building control will inevitably follow the same pattern. This is proving to be the case for mechanical building control where the leading industry standard interconnecting systems has become BACnet. We use ZigBee to connect and control devices and BACnet to interconnect our system with a BMS if desired.
In essence, we are bringing proven methodologies from the Information Technology world to dramatically grow markets and applications in lighting and building control. For our work in intelligent efficiency, Daintree was just selected as one of the top 20 companies to watch by Greentech Media. The article can be viewed here:
http://www.greentechmedia.com/articles/read/intelligent-efficiency-innovations-reshaping-the-energy-efficiency-market

Sinclair: How will wireless control compete with traditional wired control over time?

Yu: It's all about the money. It is intuitive that wireless control reduces all low voltage control wiring to each device saving the labor and material costs for installation. Plus, customers get the added benefit of flexibility and simplicity via software based control. All building interiors change over time due to expansion or tenant attritions and changing configurations in software is free.

The ability to assign fixtures to different occupancy or daylighting zones becomes as easy by using a Web-based interface to make the changes. No rewiring. The simplicity comes in the reduction of device requirements. No more switching or relay panels in the control room. No longer does each thermostat or occupancy sensor need to be individually calibrated to a new control level. Just log on to the Web-based interface remotely and make the desired changes in minutes.

The National Electrical Manufacturers Association conducted research that proved the point. A wired system required $655 for a wired solution compared to $285 for the same system with wireless technology.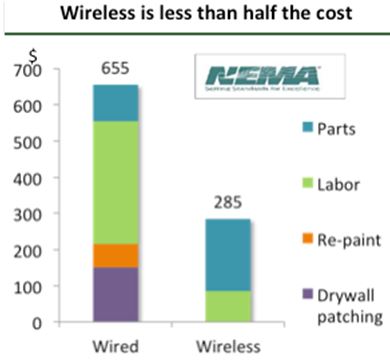 Sinclair: You spoke about Daintree's evolution that takes full advantage of open standards and interoperability of devices to add control of additional energy loads. What additional value can we expect from Daintree down the road.

Yu: We are revolutionizing the way building operators manage and reduce their energy use as well as operate their buildings. We're doing this by bringing a powerful, flexible, and cost-effective solution that meets capital expense constraints of the initial project A customer can start with a simple control system, and add value over time. What makes this possible is our flexible and open platform that lets our customers start small and add on new capabilities as needs advance. For example; an office building that started with our lighting control system can easily add temperature sensors to better ensure occupant comfort, Multi-Facility Management as the business grows, and energy analytics for a single location and the total enterprise.

There is no doubt building operators are looking for a more intelligent and elegant building control solution to make their lives easier. We're enjoying engaging with them to ensure their needs are integrated into our roadmap and we co-create success.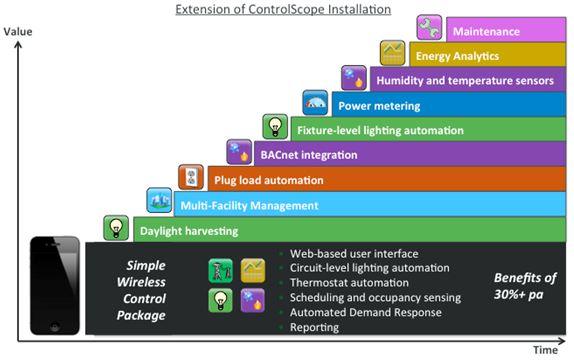 Sinclair: Thanks for updating us on the changes at Daintree.

Yu: Thank you for the opportunity to tell our story for simple and open wireless control for smart buildings. More information on Daintree Networks can be found at
www.daintree.net
.
---


[Click Banner To Learn More]
[Home Page] [The Automator] [About] [Subscribe ] [Contact Us]