---
EMAIL INTERVIEW – Jim Loughrey and Ken Sinclair
James F. Loughrey, Inventor, Entrepreneur, Logica Lighting Controls, LLC

Jim has been a Minnesota resident since 1949, when his parents left rural Iowa and brought their young son to the St. Paul area, where he would spend the rest of his adult life. He graduated from Macalester College in St. Paul in 1963 with a BS in Business Administration, a minor in theatre. He worked sales jobs in Building Maintenance, Real Estate sales and Property Management, before settling into the area of his real passion: theatre lighting and design. He first started this work in 1968 with Strand Electric of London, England in theatrical control sales. The entrepreneurial bug finally took its dominating bite and he started Stage-Brite in 1970 and sold it in 1982 to Sterner Lighting of Winsted, Minnesota. He worked out his obligations to Sterner in 1987 and started LINK Corporation. Not content with traditional analog lighting controls Jim began designing a digital system of light-level controls that didn't involve dimming in 2007, creating what is now Logica Lighting Controls, LLC. He holds patents to his proprietary designs.

---
Lighting Controls, made simple

By putting a microprocessor in the ballast of the fixture you will be able to turn on one lamp at a time and provide multilevel illumination without using a dimmer.


Sinclair: What is the current state of lighting control in commercial buildings?

Loughrey:

Currently the wall switch is the dominant lighting control device in occupied spaces of commercial buildings. In the large areas of commercial buildings the circuit breaker panel is the main lighting control.
Even in the large buildings with BAS systems the most sophisticated systems are relay panel systems where the lights are controlled by low voltage relays on a circuit by circuit basis.
Central control for the lighting is either on or off.
Sinclair: How would you change the way we control the lighting in commercial buildings?
Loughrey:
The obvious thing to do is what the HVAC industry has done with all their controls and devices. Add a microprocessor to the lighting fixtures so we can address them and send and receive commands to and from them.
By putting a microprocessor in the ballast of the fixture you will be able to turn on one lamp at a time and provide multilevel illumination without using a dimmer.
The fixture will be able to know when a lamp is burned out and report it. The microprocessor will skip deal lamps in its rotation when lighting the fixture.
Sinclair: Would the existing wall switch and circuit breakers still work if there was a microprocessor in the fixture?
Loughrey:

Yes. The fail-safe operation of any lighting system requires that the occupant of the space is able to have light when they need it, even if the lighting control system isn't working.
If energy saving is the goal, the ballast should turn on with only one lamp on in the fixture so that there is light but using the least energy possible.
If more light is needed the existing wall switch must be able to increase the light level without any other control equipment.
The lights in s hypothetical warehouse and shop should work so that you don't have to turn on all the lighting in a space just to walk through it. You should be able to adjust the lighting levels in any space.
Sinclair: What's wrong with using a dimmer? Aren't DALI dimming systems the standard in commercial buildings?
Loughrey:
A standard fluorescent dimmer is not a linear device. In other words it doesn't provide 50% light at 50% of energy use. Therefore it is good for creating a mood or setting light levels on a continuous scale in small spaces like conference rooms but not for energy efficiency or large-scale applications.
O-10V dimming controls have grown faster than DALI controls and have become the de facto standard for fluorescent lighting controls where energy saving wasn't the first criteria.
It is my experience that fluorescent lamps do not like to be dimmed. It is being done very successfully but Ohm's Law hasn't changed. When you lower the voltage the current increases. Increased current in a fixed load creates more heat and heat leads to failures.
DALI ballasts have been around for over a decade. The system was intended to become the industry standard in lighting controls. They haven't reached their goal because they are more than the customers, complicated to operate than the customer will tolerate and too expensive to purchase, install and commission.

Sinclair: Will the retrofit market be able to use a smart ballast?
Loughrey:
Yes. It's an ideal application for this technology. You can do one fixture or you can do an entire room. Wherever you have fluorescent fixtures controlled by a wall switch the ballast will provide energy savings and still allow the occupants of the space to have the light they need.
Sinclair: What if I don't want to have to stand there and toggle the light switch to get the light level I want?
Loughrey:

Then we can provide low voltage push button wall switches for the fixtures you want to control that allow you to select the level of light desired.
You can do this by running a low voltage telephone type cable between the fixtures in the lighting group and connecting them to the Low Voltage wall switch or go RF, utilizing a radio transmitter operated by a hand held wireless controller, wireless kinetic wall switches or from a computer with a gateway transceiver.
In Churches, warehouses and spaces where it isn't convenient to run low voltage wires from fixture to fixture simply install an RF transceiver on each fixture with its own address and you will be able to control it individually or by lighting zones.

Sinclair: What if the customer wants to use LED fixtures in some areas? Will they work on your proposed lighting system?
Loughrey:

Yes. LED fixtures are either dimmable using a 0-10V control or they are not dimmable at all. If they are not dimmable then they can be controlled by on/off per lamp or LED array so that multiple levels of light are achieved.
If they are dimmable with 0-10V control use a Low Voltage Preset dimming control with the wireless RF controls so that you can have four levels of preset controls. Four levels of controls are usually sufficient to provide the lighting levels needed for all the different tasks that take place in a space.

Sinclair: How do you control lights in this new system without rewiring the lights?
Loughrey:

With the ballast or switch that has a microprocessor inside it is possible to gang them together in two ways
The first way is to interconnect them with low voltage telephone cable. What you connect together will be part of the same lighting zone. You can connect any type of fixture on any voltage and from any circuit breaker together and they will operate together. They are not phase or voltage sensitive. They are a LAN.
The second way is to connect an RF transceiver to each fixture and make all the addresses on them the same so they will all operate together.
Let's assume you are in a warehouse and the electrical contractor wired the lights in east-west rows. The space now has rows of shelving run north-south and the owner wants the lights on motion sensors controlled by row.

Traditionally you could do it by wiring in power relays and sensors using one per fixture. This would turn on fixtures at different times depending on the sensitivity of the sensor and the location of the occupant.
Logica's distributed intelligence method would replace the ballast or put a remote switch on each fixture and then connect them together by low voltage cable and put a sensor at each end of the aisle and not have to have to touch the power wires at all. This would turn on all the lights in that aisle at one time.

Sinclair: What do you mean by "lighting zones"?
Loughrey:
A lighting zone is a group of lighting fixtures that you want to be controlled together. This means both on/off as well as intensity. They will all act as one.
Sinclair: How important is local control to the user of the space?

Loughrey:
There are tests that show the comfort of the occupant in a space can affect their productivity by 30%. If the lights are too bright or give off too much glare a headache is the usual result. The real measure in the space is not intensity but the ratio of the lightest point vs. the darkest point. If that ratio if 4:1 or less then the eye is capable of adjusting fast enough so there is no eye muscle strain.
If the ratio is over 10:1 then it is almost certain to strain the eye muscle and cause a headache or fatigue.
Energy usage is less when the occupant of the space turns on the lights when they enter rather than having the lights switched on automatically based on a time clock. Also, the use of computers creates the desire for less light in a space than before.
Workers today are much more energy conscious than in the past so the tendency to turn lights down or off when they are not needed is much greater now.
Sinclair: How can the building owner sample this technology to prove that it works?

Loughrey:
One place that is a real energy hog in older buildings is the hallways. The old IES standard for hallways was 50 foot-candles. Now it is recommended that hallways be lit to 15 foot-candles. So it is very easy to install smart ballasts in the hallway fixtures and then turn them on by the switch and get only one lamp per fixture. If it was a 4 lamp fixture then you will have 12.5 FC and if it's a 3 lamp fixture you will have 18 FC. Both of these would be acceptable since the IES levels are only recommendations not mandated exact levels. Small investment cost, too.
Sinclair: How would you do a grocery store?
Loughrey:

A grocery store is a great candidate for the smart ballast since they have so many aisles and are open so long. The longer they are open the greater for the potential of savings. The project would require the changing of the all the ballasts in the fixtures. If they are continuous-run fluorescents, use 4 lamp ballasts and connect them together with a daisy chain low voltage cable running the length of the run. Connect an RF transceiver to the end of each row so it is on one lighting zone.
With each row a separate lighting zone you have 4 levels of light in each aisle. You can use occupancy sensors to go between one lamp on in every eight foot 2 lamp tandem fixture and all lamps on when a customer is in the aisle. A time delay of over eight minutes is recommended so that you don't have too much cycling of the lamps.
You can also use a computer with a gateway to speak to each of the rows to adjust the light levels to 25% or 50% from 11:00 pm to 6:00 am. This will save a great deal of energy.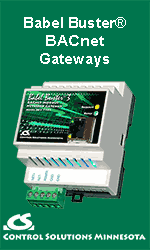 Sinclair: How would you do a law office?

Loughrey:
Law offices have two general types of space. The offices on the outer walls of the building are usually private offices and have from 2 to 6 fixtures and they are usually on wall switches. Occupancy sensors are not usually used in these offices since if the occupant is reading and still it is very annoying to have the lights go off. So the smart ballast is perfect since the user can set the light level to what they want.
The more important the attorney is they would be good candidates for the handheld remote and could have several lighting zones in their office. One over the desk, one over the conference table, and one controlling the lights on book cases, artwork or seating areas. The handheld controller can control up to 8 zones and has a master control so that all lights can be turned off at once when they leave.
The center of the floors in attorney's offices are often bull pens where there are several desks and other work areas. It is best to control these lights by work area so that different light levels are possible. How often have you been in one of these areas and seen that lamps have been removed from fixtures because the worker in that space didn't want that much light? It happens more frequently than you'd expect. It doesn't save energy and it reduces lamp and ballast life, since it creates destructive heat.
Hallways are the next big energy saving area in law offices.
Lunch Rooms, copy rooms and storage areas are also rooms that should have smart ballasts and controls.
Sinclair: What is the future for lighting controls?

Loughrey:
The future is coming first to California on January 1, 2014. There is a new Title 24 regulation going into effect then that requires commercial builds to be able to shed 30% of their electrical load within 15 minutes. They don't have to be connected to the utility at this time but they must have the ability to do so. Lighting is about the only load that lends itself to being adjusted so quickly and without any real economic loss to the occupant companies of the building.
Another big game-changer in the near future will be the installation of small building automation systems in buildings from 5,000 sq. ft. to 250,000 sq. ft. These buildings will have $500 controllers that will run all the HVAC and lighting controls. They will pay for themselves in two years or less and will allow property managers to help control energy costs.
---

[Click Banner To Learn More]
[Home Page] [The Automator] [About] [Subscribe ] [Contact Us]