---

At the http://www.xml-symposium.com/ where I led a Panel Discussion on XML-related HVAC industry initiatives and views, I was pleasantly surprised to find out about the active movement in aecXML.
Moderator: Ken Sinclair – Editor/Owner, AutomatedBuildings.com
Panelist: Paul Ehrlich – Chair, oBIX (open Building Information Xchange)
Panelist: Barry Haaser – Executive Director, LonMark International
Panelist: Jim Lee – President, BMA (BACnet Manufacturers Association)
Panelist: John Kennedy - aecXML
Panelist: Wayne Dunn – ASHRAE
Panelist: Mark Palmer – FIATECH












Listed below is connection to some of web resources for aecXML that were brought to my attention by my panelist.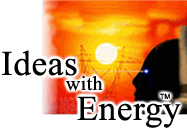 GeoPraxis, Inc., an architectural, engineering and construction software company, is the industry leader in the development and implementation of building energy analysis tools and web-based solutions.
http://www.fiatech.org/projects/idim/aecxml.htm
aecXML is an XML-based language used to represent information in the Architecture, Engineering, and Construction (AEC) industry. It is intended to be used as an XML namespace and to facilitate information exchange of AEC data on the Internet.
The last several months the IAI has been working on rejuvenating and streamlining the aecXML effort. Read more http://www.iai-na.org/aecxml/mission.php
Who is IAI ?
International Alliance for Interoperability (IAI)
An alliance of organizations within the construction and facilities management industries dedicated to improving processes within the industry through defining the use and sharing of information.

Includes architects, engineers, contractors, owners, facility managers, manufacturers, software vendors, information providers, government agencies, research laboratories, universities, etc.

Currently 9 chapters: Australasia, France, the German Speaking countries, Japan, Korea, North America, the Nordic countries, Singapore and the United Kingdom.

Mission Statement
The Alliance is a global standards-setting organization representing widely diverse constituencies—from architects and engineers, to research scientists, to commercial building owners and contractors, to government officials and academia, to facility managers, and to software companies and building product manufacturers. Alliance members are committed to promoting effective means of exchanging information among all software platforms and applications serving the AEC+FM community by adopting a single Building Information Model (BIM).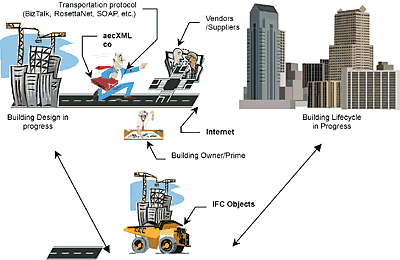 IFCs describes the building model, its components, and the relationships between them in single model shared by diverse applications; whereas, aecXML shares limited common building components and commercial information between disparate software packages used by AEC/O professionals for specific commercial transactions.
For more info http://www.iai-na.org/index.php
---


[Click Banner To Learn More]
[Home Page] [The Automator] [About] [Subscribe ] [Contact Us]