---
ASHRAE BACnet Standing Standards Project Committee SSPC-135 formally approved for publication for public review a set of proposals which add Physical Access Control capability to the existing standards for Building Automation and Control.

Rob Zivney, Hirsch Electronics
rzivney@hirschelectronics.com

Hirsch's involvement is as a member on the BACnet committee responsible for the access control standards.











DALLAS, TX, February 7, 2007 – Today, the ASHRAE BACnet Standing Standards Project Committee SSPC-135 formally approved for publication for public review a set of proposals which add Physical Access Control capability to the existing standards for Building Automation and Control. The proposals were submitted by the Life Safety and Security Working Group (LSS-WG), consisting of representatives of both the HVAC and physical security industry from around the globe.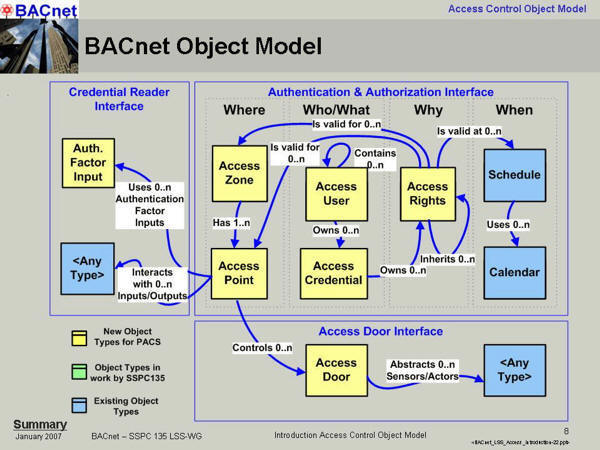 "The committee developed these proposals over a four year period to ensure that we addressed the state-of-the-art practices of the security industry while building on the proven BACnet platform for HVAC," states David Ritter, Convener of the LSS-WG, and Access Control Project Manager with Delta Controls, Surrey, BC, Canada. "The Access Door Control object type was voted out of committee last year, and these seven additional proposals complete the scope of the Access Control application."
The LSS-WG was able to focus on developing a comprehensive specification for Access Control applications since complementary elements of a complete system are addressed by other BACnet working groups. For instance, Network Security and Web Services are addressed by industry experts in those areas of expertise. Additionally, the core infrastructure for BACnet interoperable building control systems is already in place and widely deployed in the field worldwide.
"The physical security industry has reached a state of maturity that demands interoperable standards," states Rob Zivney, a member of the LSS-WG and VP Marketing with Hirsch Electronics, a security systems manufacturer. "It is interesting that the first comprehensive Access Control standard to emerge comes from the building controls industry. I know that there are many end users with existing BACnet installations that are excited about the possibility of adding access control to their systems."
The work of the BACnet LSS-WG involved the development of eight proposals. The Access Door object was recently approved and published as Addendum f to BACnet. The other seven proposals are expected to become amendment j to the base standard, once the public review process is complete and the amendments are approved for publication by the ASHRAE Board of Directors and by the American National Standards Institute. The proposals include: Access Door object, Access Point object, Access Zone object, Access User object, Access Credential object, Access Rights object, Authentication Factor Input object, and the Access Event Algorithm. These proposals are posted on the BACnet website at: http://www.bacnet.org/
"The traditional physical security industry may not be accustomed to looking towards BACnet for industry standards," continues Zivney. "However, everyone can submit comments on these standards. It is important that the physical security industry does so, as BACnet is already a preeminent international building controls standard."
About BACnet
BACnet is a data communication protocol for Building Automation and Control networks. The BACnet standard, ANSI/ASHRAE 135-2004 is a set of rules governing the exchange of data over a computer network. The rules relate specifically to the needs of building automation and control equipment, i.e., they cover things like how to ask for the value of a temperature, define a fan operating schedule, or send a pump status alarm. BACnet is an American national standard, a European pre-standard, a Japanese standard, a Chinese standard, and an ISO global standard (ISO-16484-5).
About ASHRAE
The American Society of Heating, Refrigerating and Air-Conditioning Engineers advances the arts and sciences of heating, ventilation, air conditioning and refrigeration to serve humanity and promote a sustainable world. Membership is open to any person associated with the field including indoor air quality, building design and operation, environmental control for food processing and industry, and now, security/access control. ASHRAE is located at 1791 Tullie Circle, NE, Atlanta, GA 30329-2305, U.S.A., Phone: 404-636-8400 website: http://www.ashrae.org/
---
Mr. Zivney directs Hirsch Electronics' marketing group with responsibility for strategic planning, alliances, marketing communications, pricing, the Learning Center, and vertical market programs including Hirsch's flagship Government Programs Group. His career in the security and building controls industries spans 30 years, and his expertise covers access control and intelligent building systems including the integration of environmental, lighting, fire and security systems. Prior to joining Hirsch, Mr. Zivney held positions with CSI Control Systems International, MCC Powers (now Siemens), and Honeywell.
Mr. Zivney is on the Board of Directors of the Security Industry Association (SIA), and serves as SIA's chair of the Personal Identity Verification Working Group and represents SIA to the Smart Card Interagency Advisory Board Physical Access Committee. Further, he is active in standards activities with SIA, ASHRAE/BACnet, and OASIS/oBIX. A sought-after industry speaker, his opinions and market outlook are often quoted in the industry trade. He holds a Bachelor of Science degree in Electrical Engineering from the University of Texas at Austin.
---


[Click Banner To Learn More]
[Home Page] [The Automator] [About] [Subscribe ] [Contact Us]