---
| | |
| --- | --- |
| Heat Transfer Inc. knows its boilers can take the pressure thanks to Setra transducers. | Case Study |
Steve Asselin, a project manager and specialist in automated test measurement, came to Heat Transfer Products, Inc. of East Freetown, MA with his initial assignment being to design a production line for the company's Munchkin™ water heaters. Since 1973, Heat Transfer Products has been one of the Northeast's leading manufacturers of water tanks and water heating appliances for residential, commercial and light industrial use.











The Munchkin line is one of the company's most popular product lines. It is also one of the most compact and efficient heaters available on the market today. The line consists of ultra high efficiency (92%) residential and commercial stainless steel heaters, all of which are compact in design, modular in construction, and extremely quiet in operation.
Asselin knew that the most important aspect of designing the new Munchkin production line would take place during the final stages of assembly: the testing stage during which each boiler would be checked for its ability to literally perform under pressure. Asselin also knew who to call to get the test measurement devices he needed for this essential testing phase ─ he had been working successfully with Setra Systems for over 15 years.
"Previously," Asselin said, "I was involved in creating test machinery mostly for the manufacture of automotive components. It had been my experience working with Setra that they made a reliable product that is both extremely accurate and a solid value for the dollar. So when I started working at Heat Transfer Products, without hesitation I called my Setra contact, Paul Richards."
Setra Systems of Boxborough, MA is a leading designer, developer and manufacturer of electronic instrumentation for measuring pressure, acceleration and weight.
"I appreciate the fact that, as with Heat Transfer Products, Setra manufacturers their products in the United States," Asselin continued. "In fact, they are the only New England-based manufacturer that has an affordable sensor that can accurately measure very low gas pressure. So when I called Paul at Setra and he described the Model 201 pressure transducer, which was a prototype at the time, I knew it would fit the bill. Even though it was a prototype, I had enough experience with Setra to trust their products completely."
Asselin set up two testing lines for the Munchkin boilers. The Setra Model 201 would come into play during the boiler firing rate test, the testing phase whereby the boiler is tested to make sure the boiler is firing at its designed rate. This test ensures that the appliance produces the amount of heat that it is rated for.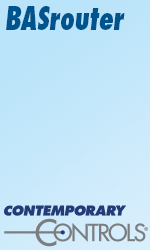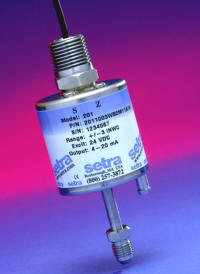 The Model 201 Pressure Transducer features a rugged design, wide operating range (-40F to 175F) and a high 45 psi overpressure capability, so it is well suited for applications like boiler gas pressure measurement, as well as vapor recovery systems, exhaust gas control systems and industrial scrubbers. With its all-welded, no o-ring construction, the Model 201 has a leak-free design suitable to measure hazardous gasses. And because it features Setra's patented variable capacitance sensor design, it is well-suited for measuring very low differential or gauge pressures in ranges as low as ±2.5 in. W.C.
During Heat Transfer's boiler firing rate test, water from a 2400 gal tank is pumped through the boiler under test. The boiler is then lit. As the boiler heats up, the gas flow into the boiler as well as other parameters are measured to determine the firing rate of the boiler. In order to accurately determine the gas flow rate the pressure of the gas flowing into the boiler must be known and the Model 201 is used to measure this pressure. The Model 201 features an Inconel® diaphragm and an insulated electrode, which forms a variable capacitor. As the sensor pressure increases or decreases, the capacitance changes. This change in capacitance is detected and converted to a fully conditioned, easy-to-read linear current output signal.
"We have two shifts of technicians testing boilers," explained Asselin. "It takes several minutes to fully test each boiler. After each Munchkin is tested, it then proceeds down the assembly line to get cleaned up, stickers applied, boxed and palletized."
Asselin has accomplished his mission, establishing a new production line which incorporates an extremely efficient and reliable testing phase. Now that the pressure is off, figuratively speaking, Asselin is already working the Model 201 into future testing projects.
"Next spring we will be introducing a line of new high-output gas-fired wire tanks," Asselin said. "I will most certainly be buying more of the Setra Model 201 pressure transducers to put that new product to the test."
---


[Click Banner To Learn More]
[Home Page] [The Automator] [About] [Subscribe ] [Contact Us]