---
Distributed I/O modules





Where to use them - examples of applications.



Krzysztof Jaczewski,
Key Account Manager,
Global Control 5
iSMA-B-MINI is a complete range of distributed I/O modules.
Compact dimensions, perfectly matched input and output combinations, and built-in communication protocols with both Modbus and BACnet, allows for unlimited application possibilities, in large and small building automation systems.
These modules, in particular, can be mounted in distributed automation systems with a wide range of I/O options, such as temperature, pressure, humidity, CO2; monitoring of on/off states, failures, work confirmations; control of 0 ... 10 V actuators and motors; switching on/off e.g. lighting circuits, valve actuators.
All Universal Inputs (UI) are equipped with a 16-bit transducers that support most types of temperature sensors: 10K3A1, 10K4A1, Carel 10K, 20K6A1, 2.2K3A1, 3K3A1, 30K6A1, SIE1, TAC1, SAT1, Pt1000, Ni1000.
Please note, that only a16-bit resolution should be used for PT1000 and Ni1000.
In addition, UI support 0-10 V, 0-20 mA current signals and dry contact signals.
Digital Inputs (DI) support dry contact digital signals and high-speed pulse counters up to 100 Hz with EPROM recording. Writing data to the EPROM memory allows you to secure the collected data during the possible loss of communication with the superior system. The usage of MINI I/O modules to integrate obsolete pulse counters is simple and affordable.
Due to the fact that modern building systems are becoming more and more complex, measurements, collection, and analysis of more and more data become indispensable. Without this, it is impossible to meet increasingly demanding standards for existing and new buildings. It was difficult and inefficient in the past due to the need to use expensive, multichannel DDC or PLC controllers, placed in large centralized cabinets to which extremely long and expensive cable paths were run. An additional disadvantage of such solutions were long signal cables, which were subject to interference to a large extent, which often caused unacceptable measurement errors.
The system of distributed iSMA-B-MINI modules, thanks to the extraordinary flexibility, permits overcoming the limitations of centralized automation systems and gains additional benefits.
The compact dimensions of iSMA-B-MINI modules allow the use of smaller and cheaper modular cabinets, shortening the path of signal cables is possible, and by dint of their size, greater flexibility in the deployment of automation devices on the site can be achieved.
Another advantage of iSMA-B-MINI modules is the possibility of using reliable communication buses, such as RS-485 and / or Ethernet. iSMA-B-MINI modules have two built-in open communication protocols, Modbus and BACnet. This unique feature allows you to change the communication protocol at any time, depending on your needs. The supported protocols are Modbus RTU/ASCII or BACnet MSTP and in the case of iSMA-B-MINI IP modules also Modbus TCP or BACnet IP, with BACnet functionality confirmed by the BTL certificate. Thanks to this, MINI modules can be integrated with existing networks and systems, which makes upgrading and expanding systems effective and flexible.
If the integration of iSMA-B-MINI modules with an existing system is not possible, it means that at some point of planning phase the wrong decision was made and the closed system or a solution that does not meet the stated communication openness had been chosen.
The ability to work as Modbus TCP gateways to Modbus RTU / ASCII is another unique feature of iSMA-B- MINI modules. This functionality allows direct communication of Modbus RTU/ASCII devices with the BMS system, bypassing intermediate network controllers. This particularly applies to the integration of electricity meters and modules monitoring the states of individual installations. It is also an economical way to integrate with the BMS system controllers of ventilation units or chillers, equipped only with the serial protocol Modbus RS-485.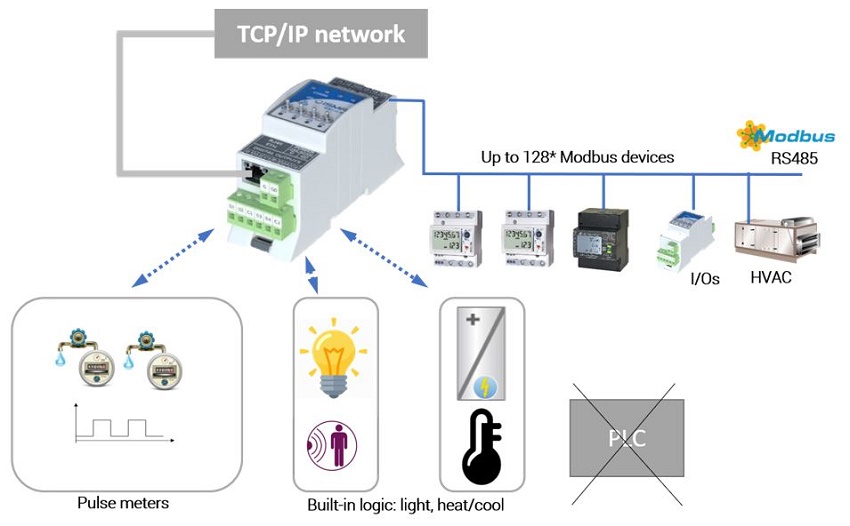 All modules equipped with relay outputs can be used as independent lighting, cooling and heating controllers. The modules support the operation modes of presence detectors with adjustable delay time. Due to the fact that the cost of the module is much lower than the dedicated controller, the cost of the entire system can be significantly reduced.


For more information visit our website.

---


[Click Banner To Learn More]
[Home Page] [The Automator] [About] [Subscribe ] [Contact Us]