---

EMAIL INTERVIEW Bob Heile & Ken Sinclair
Bob Heile, Chairman ZigBee Alliance
---
The ZigBee Alliance
The ZigBee Alliance is a global ecosystem of companies creating wireless solutions for use in home, commercial and industrial applications.











Sinclair: To start, what is the ZigBee Alliance?
Heile: Well, the way I like to explain who we are is that the ZigBee Alliance is a global ecosystem of companies creating wireless solutions for use in home, commercial and industrial applications. It is the only global wireless communications standard enabling the development of easily deployable, low-cost, low-power monitoring, and control products.

We've got a great group of more than 200 members who are working together and investing resources to make ZigBee a success. Our members are truly leaders and innovators in their respective fields. I typically group our members into categories: we have six of the world's top 10 semiconductor providers, module manufacturers, software companies, testing/certification organizations, independent design houses, original equipment manufacturers and device manufacturers.
Sinclair: Who are some of your members?
Heile: Our most well known members are Siemens, Philips, TI, Trane, Epson, Cisco, Freescale, ZMD, Honeywell, Johnson Controls, Huawei, LG, Mitsubishi, Motorola, NEC, Samsung, Vantage Controls, Crestron, Renesas, ST Micro, BM Group and Schneider Electric. As you can tell, this is a serious group of companies. Plus, we have dozens of other members who are essential to the overall process will make ZigBee a success in the commercial market in the coming year.
Sinclair: What does ZigBee promise for commercial buildings?
Heile: ZigBee is not only promising but is dedicated to delivery and execution. The technology is finding wide deployment in a variety of sensor and control applications. Within a couple of years many major commercial buildings will be using the technology for lighting, HVAC, security and safety systems resulting in huge savings. When they install ZigBee they'll enhance building satisfaction, comfort and safety for occupants. Because key building systems will now use a common networking technology, lights can be used to direct people to safe exits in an emergency and false alarms can be reduced or eliminated because multiple sensors from different systems can be used to examine the situation.

Since ZigBee is a standards based solution, it gives building owners the freedom to buy from multiple sources. They'll get best value for their money and can buy with confidence knowing that these building systems will be around for years to come.

ZigBee also enables solutions to be both AC powered and battery powered. Battery powered devices have been engineered to last for years allowing them to be installed in difficult or out of the way places. Another benefit is ZigBee's interoperability. We're taking many painstaking steps to ensure that all products bearing a ZigBee logo will work as stated and we've implemented probably the most robust testing criteria out there. Quite frankly, if it doesn't work, it won't be sold.

The reality is that over the coming years, as ZigBee wireless mesh network technology becomes more dominant, commercial buildings will see a number of features and benefits that will change the way we look and think about building construction, operation and maintenance, all this while providing building occupants a better experience and safer environment.
Sinclair: Can you provide some examples on how ZigBee will change the commercial market?
Heile: Energy, lighting, HVAC, security, shipping and receiving, landscaping are just a few areas off the top of my head. For example, you could eliminate the always common complaint of hot and cold spots in offices by using a combination of a ZigBee wireless thermostat and an automated ZigBee baffle in the HVAC ducting that opens and closes based on need. That thermostat could run on an alkaline battery for 5 years and a lithium ion battery for up to 15 years.
Many companies proactively replace fluorescent bulbs on a five year schedule whether they're burnt out or not. By putting a ZigBee control module in the lighting fixture, you can know when the bulb is ready to die as opposed to simply guessing. That's a tremendous cost savings and environmental waste reduction savings too. Imagine if you needed another light switch because of a remodel? Just stick a ZigBee light switch on the wall that's powered by a battery. Add it to the network and there you go. No rewiring and no electrician needed. In cooperation with your local utility building lighting can be dimmed slowly by up to 10% without it being noticed as a load shedding and cost savings measure.

Now to extend that lighting example further and demonstrate an add-on benefit of ZigBee, consider this: Since your building already has ZigBee in the lighting fixtures, you could leverage that existing wireless mesh network to do other things. You could find the physical location of where a pallet or container of goods has been moved or stored by attaching ZigBee modules to the container and ending the guessing games and hours of spent searching for something that's been misplaced. We like to think of it as an active or advanced RFID. It will never replace RFID, but ZigBee gives you the ability to do more with less intervention than RFID, requiring proximity readers, does.

You could also use those ZigBee lighting fixtures to extend your mesh network to the landscape controllers outside and eliminate the need for miles of wires to control sprinklers, determine water needs in different areas of your landscaping or even control outdoor lighting. That's the great thing about a single ZigBee mesh network because you can expand that single network up to 65,000 devices.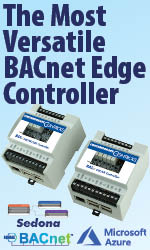 Sinclair: How is ZigBee different from BACnet and other technologies that are currently in the commercial space?
Heile: BACnet is a wired industry standard for remote control and management of buildings, whereas ZigBee is a wireless industry standard for us in homes, commercial buildings and industrial applications. We're in discussions with BACnet now to ensure that buildings that have BACnet can leverage ZigBee and vice versa. There is common agreement on both sides that these two standards can, and should, work together to benefit the commercial sector.
Sinclair: What are ZigBee's strengths?
Heile: Without a doubt, the strength of ZigBee is the Alliance itself. Having great technology or standard is one thing, but you can not simply sit back and take a 'if we build it, they will come approach.' You must have widespread support from companies who can put their money with their mouth is. Our members are global companies located in 25 countries with trillions of dollars of resources who have committed to making ZigBee a success. The Alliance has been recognized by many industry analysts, and by media pros like you, as the only standard across all three markets that will work around the world and will work in homes, commercial and industrial markets.
Sinclair: Where is ZigBee deployed today?
Heile: ZigBee is still young but we're seeing some innovators stepping out early. Philips has installed ZigBee lighting products in a commercial building in Chicago, SK telecom has installed a large residential deployment in Korea, Telecom Italia is in the process of building out its new Zsim service that allows its mobile phone customers to use their phone to pay for goods and services at various point-of-sale locations, Amron is deploying Automatic Meter Reading systems, Control 4 is integrating the control of multimedia, lighting, security and HVAC into a single comprehensive solution. We've got more products gearing up for our mandatory certification process and you can expect to hear more products coming out over the next year.
---


[Click Banner To Learn More]
[Home Page] [The Automator] [About] [Subscribe ] [Contact Us]