---


EMAIL INTERVIEW Denis Du Bois & David Orr
Dr. David Orr, Oberlin College Professor of Environmental Studies and Politics

---
Zero Energy Main Streets and Cities
Can we live well and live sustainably?
The U.S. Department of Energy wants the "ZEB" to be the standard for new buildings. It's not a pipe dream. We've been building them in the United States for a decade. Can we achieve marketable net zero energy buildings by 2025? After ten years of zero-energy design, why do we only have eight buildings to show for it? David Orr, who designed and built the largest zero-energy building in the United States, shares some surprising insights with Denis Du Bois in this interview.

Unprecedented efforts are underway to control the more than $90 billion commercial buildings spend on energy per year. Among them is an initiative at the U.S. Department of Energy to develop marketable net zero energy buildings by 2025.

There are eight buildings in the United States that qualify as zero-energy buildings. The largest one is the 13,000 square foot Adam Joseph Lewis Center for Environmental Studies at Oberlin College in Ohio.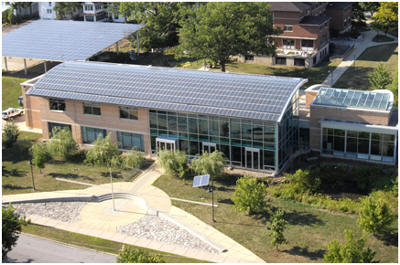 Oberlin College's net zero energy building, the Adam Joseph Lewis Center for Environmental Studies,
opened ten years ago and is a net exporter of electricity.
Back when the Lewis Center was built -- it opened in 2000 -- it demonstrated advancements in how we design really efficient buildings. It uses passive solar design, natural ventilation, and geothermal heat pumps for heating and cooling, all to reduce its energy demand. Then it uses rooftop solar power for its electricity.

The man behind the design and construction of this zero-energy marvel is an Oberlin College Professor of Environmental Studies and Politics named David Orr.

Orr didn't stop with the Lewis Center. He turned his sights to one city block adjacent to the college, in the small town of Oberlin, and started working to make that a zero-energy "green district." His plan is to renovate or construct 13 acres of buildings that will be energy self-sufficient and carbon-neutral. The following is a condensed version of my interview with Dr. Orr for my March 2010 public radio program, the Building Priorities Briefing
















Denis Du Bois: Is it exciting for you to have had the college's support to build the Lewis Center, and now the community's support to do what you're doing in the town of Oberlin?
David Orr: My great passion in life has been moving things across the chasm from idea to mainstream reality, and we've gotten the opportunity here to build a model of a workable, sustainable system. That's exhilarating and hugely daunting. To say I'm in over my head is a huge understatement.

But I'm having fun with it. It's like a huge puzzle, and I've got all the pieces on the table. If we can arrange them in the right relationship, we'll make a beautiful picture. Because the question for society is, Can we live well and live sustainably? And those presently operate at crossed purposes. Living well, for us, means living pretty wastefully.

And can we live at the boundaries of natural systems and current sunlight and yet still have great community? And I think frankly the answer is yes, but we'll also live better, if we can make this transition, than we ever thought possible.
Denis Du Bois: In 1995, you managed to find the technology, money, advisors and contractors to construct a zero-energy building. Why is it now, 15 years later, we have only eight relatively small non-residential buildings that are net-zero-energy buildings in the U.S.?
David Orr: That's a great question. I don't think the answer is technology. We used basically off-the-shelf technology in 1995. The innovation was how we integrated the parts into a coherent whole.

I don't think the answer to that question is even necessarily economics. Greg Kats, who's a former student of mine, did a study of around 160 green buildings, and the economics all worked out very positively, for pretty obvious reasons. If you integrate a green building well enough, for every cost you add, you're subtracting some.
Denis Du Bois: So why aren't we doing more of it?
David Orr: When you get down to the nub of it, I think the resistance is explainable by politics, the lack of leadership on the issue at the national level, a fair amount of resistance and institutional barriers, building codes and zoning requirements.

For way too long we were building essentially obsolete buildings. And power was cheap enough to the owners, or they could offload those costs on renters.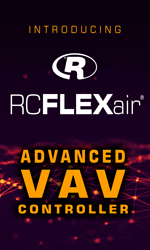 Denis Du Bois: We're obviously stuck with a lot of those buildings for quite a while. Is it even possible to make them zero-energy buildings?
David Orr: Well, they may not get to be zero-energy buildings, but I think they can sure be improved in terms of efficiency. And retrofits of existing housing, commercial, and even industrial buildings are certainly worthwhile.

Take the recent retrofitting of the Empire State Building, for example. Here's an old building from the 1930s, but can you improve it with more efficient elevators, windows, heating systems and so forth? And the answer has been, apparently, yes. They can eliminate a substantial fraction of the building's energy consumption.

And there's all that embodied energy in existing structures, so it would be foolish to tear them down and plan to build new in every case, although that may be necessary sometimes. We are likely to see a shrinkage of our spatial footprint, as it will be more profitable, more convenient, and a lot better for the fabric of public life to condense, consolidate, and move into closer spaces.

The art of doing that is well within the designer's repertoire now. We can build really livable, walkable great cities that will be more dense but, if done right, will include rooftop gardens and parks and lots of amenities that people really want.
Denis Du Bois: Are there any really exemplary zero energy buildings in the world?
David Orr: No. Every building is a claim on future assets and resources. So in that sense, there may be no such thing as a zero-energy building. But the question is, can we make them a lot smarter than we have made them up to this point? I think the answer is, quite clearly, yes.
Denis Du Bois: The Lewis Center was an early example of your many contributions to green campus initiatives. Where do you hope the college will go from here?
David Orr: We are now one of 18 or 19 projects worldwide selected by the Clinton Climate Initiative and designated climate-positive projects. So the city and the college have already made that choice. We're going to hold hands and move into the future to try to build a radically different future, one much better than what's in prospect.
---

[Click Banner To Learn More]
[Home Page] [The Automator] [About] [Subscribe ] [Contact Us]