---
EMAIL INTERVIEW - Gus Ezcurra & Ken Sinclair
Gus Ezcurra, President, Advanced Telemetry

Gus Ezcurra is an experienced senior executive with a career spanning Fortune 100 companies as well as high tech start-ups. Prior to Advanced Telemetry, he held management positions at VeriSign Corporation, Coactive Networks, Echelon Corporation, and Harris Corporation. At Coactive, he led the sales team of the world's pioneer in the development of gateways for Home Area Networks. At Echelon, he spearheaded an EMEA sales team whose efforts resulted in the deployment of nearly 50 million smart meters across Europe in the early 2000s.
Mr. Ezcurra will be participating in the New Energy Management Landscape panel during ConnectivityWeek 2010. The Department of Energy's most recent Commercial Buildings Energy Consumption Survey revealed that much commercial building floor space lacks even basic thermostat adjustments to reduce energy use during periods of non-occupancy. This session will review BAS projects that are addressing this situation by using technologies such as the Internet and Automated Continuous Commissioning (ACC) to deliver energy efficiency improvements and other paybacks. New modeling techniques have emerged to create models that predict performance and you'll learn how these tools are applied by building managers to improve building operations and understand the new BAS landscape.
---
Energy Management Solutions
View energy and resource consumption in real-time to modify the energy usage from heating, ventilation, and air conditioning (HVAC) systems.















Sinclair: What products or solutions do you have to address energy efficiency in commercial buildings?
Ezcurra: Our family of energy management solutions enables small commercial building operators to view energy and resource consumption in real-time and to modify the energy usage from high consumption mechanicals such as heating, ventilation, and air conditioning (HVAC) systems, thereby leading to decreased utility bills and to a reduced carbon footprint.
Sinclair: How does it do that?
Ezcurra: Our proprietary software is embedded into a high resolution, Internet-ready touchpanel. The touchpanel is mounted in high traffic area providing real time resource consumption information. Research has shown that awareness of energy consumption and energy usage habits can lead to behavior changes that in turn lead to lower energy usage and substantially lower energy bills.

In addition to the touch panel, the product also includes an energy meter that measures whole building energy consumption in real-time, communicating thermostats, temperature sensors and a controller module that can be used to manage lighting, ventilation and other kinds of energy-consuming electrical loads. All these devices are communicating back to the touch panel using the ZigBee open wireless communicating protocol. Our software allows for seamless communication between the touch panel and the various nodes and that greatly simplifies the installation. In addition to having access via the touch panel, EcoView provides remote access through any Internet enabled device to our Web 2.0 web portal. Remote access and control of onsite devices and systems is available 24-7 through the Web application. From any browser, anywhere in the world, a site owner or manager can examine current conditions, view historical trends and make modifications to schedules and settings affecting onsite equipment. Making a temperature set point change to a group of sites is as easy as controlling a single site with the group command feature. And with its intuitive user interface has been designed to be accessible to all levels of users.
Sinclair: The commercial and industrial building market is a very expansive field, is your product especially targeted for one particular segment?
Ezcurra: EvoView Commercial is targeted for small buildings of less than 10,000 sq ft. and is cost-effective for retrofits as well as new construction. With the wireless solution, building owners, tenants and facility managers can implement energy efficiency strategies to reduce operating costs and carbon emissions at a third of the cost of traditional energy management systems.

We always felt that when it came to energy management solutions (EMS) the small building segment was woefully underserved. Until now this market segment was forced to have to buy EMS systems that were designed and priced for large commercial and industrial facilities. It became acceptable for these small buildings to accept a return on their EMS investment in the 12-24 months range. For a small building operator, this was unacceptable, especially in these tight economic times. Our experience has been that those small operators that install EcoView Commercial see a return in less than 6-months! The energy savings in some locations is so dramatic that a 30-day return is not unusual.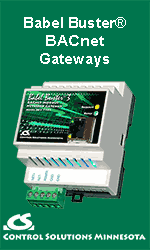 Sinclair: How do you approach the market?
Ezcurra: We sell through a network of dealer/installers that can be found on our web site or by contacting us directly at http://www.AdvancedTelemetry.com. In addition, we have a national wholesale distribution agreement with United Refrigeration Inc. so HVAC contractors, facility managers, integrators, builders and others have access to product and training locally.
Sinclair: Is Advanced Telemetry doing anything in the residential energy management space?
Ezcurra: We announced this past January the introduction of EcoView™ Residential. The Advanced Telemetry team has many years of experience developing residential gateways and home automation systems and has worked for or with companies such as General Electric, VeriSign, Echelon, Vattenfall, ATT and others in developing in-home energy management systems. We took the experience we had learned in developing and deploying our commercial product and put together a low cost solution for the home that not only delivers the simple tools needed for energy management, but also delivers a custom in-home experience through a home portal that allows you to better control and manage your home and your family's lifestyle.

Our residential product is designed to provide detailed data on personal energy usage to a homeowner independent of the utility or any other third party energy aggregator. By deploying an inexpensive energy meter that communicates in real-time back to the wall mounted touch panel, a user can view information on energy consumption as well as receive immediate feedback due to changes in consumption, such as turning off a television. It also allows users to access additional services such as water consumption information, lighting control, temperature control, integration with security systems, customized messaging services delivered to the touch screen, and third-party services such as weather warnings, customized news and information, and even e-commerce services and search. In addition, users may choose from a range of services designed to facilitate understanding of energy consumption. All of the information available through the touch panel is also available online, allowing for remote access, control, and customization.
Advanced Telemetry, Inc. www.advancedtelemetry.com is the developer of the EcoView™ line of smart energy and resource management systems for residential and small commercial customers that can help manage and reduce energy consumption. EcoView is an innovative solution addressing the rapidly growing smart grid industry enabling homeowners and small commercial operators to actively participate in taking the pressure off our overloaded grid infrastructure, helping to improve grid reliability and security, while reducing their energy bills and carbon footprint.
---

[Click Banner To Learn More]
[Home Page] [The Automator] [About] [Subscribe ] [Contact Us]