---

EMAIL INTERVIEW - Harry Sim & Ken Sinclair
Harry Sim, CEO Cypress Envirosystems
Harry is the CEO of Cypress Envirosystems, a company which produces low-cost, easy-to-install technologies to retrofit existing facilities for energy efficiency. Before Cypress, Harry was a VP at Honeywell, holding General Management and Marketing positions. He holds BS and MS degrees in Engineering from Stanford and an MBA from Insead in France.
---
RCx and Ongoing Commissioning
Enabling Retro-Commissioning and Ongoing Commissioning for Legacy HVAC Systems
Background
The performance of existing buildings are known to degrade over time as buildings go through operational or occupancy changes, and equipment malfunction. A Retro-commissioning process (RCx) helps existing buildings identify and enhance overall efficiency and performance. After Retro-commissioning is done, ongoing commissioning uses continuous monitoring and data analysis to maintain a building in optimal performance, without allowing it to degrade.















Sinclair: What is the problem you are addressing?
Sim: Many existing buildings have older pneumatic HVAC control systems. These legacy systems have little or no monitoring or diagnostics and are virtually impossible to implement a RCx and Ongoing Commissioning effort. The pneumatics cannot be easily upgraded to modern DDC systems without significant disruption to existing occupants and high labor cost. As a result, most existing buildings cannot enjoy the benefits of RCx and Ongoing Commissioning.
Sinclair: How do you solve the problem?
Sim: Cypress Envirosystems provide a Wireless Pneumatic Thermostat system which retrofits existing buildings at about 80% lower cost vs. conventional DDC solutions, and takes only a few minutes per zone compared with hours or even days for traditional approaches. Typically, a pneumatic to digital retrofit can be done for about 50 cents per sq-ft, in about 10 minutes per zone.

Once installed, this system allows the building owner to add intelligence to his existing pneumatic control system…essentially making a dumb building "smart". Once the intelligence is there, you can remotely program setpoints, plot trends, set alarms and obtain diagnostic data.
Sinclair: Why is this important?
Sim: There are over 70 billion sq-ft of pneumatically controlled space still in use in the US and Canada. Because of their manual nature, these buildings tend to degrade over time due to lack of calibration, user manipulation, or equipment faults.

Just to give you an example…we saw in one building which is only 10 years old, occupied by the County of Santa Clara, over half the VAV zones were malfunctioning in some way. Inappropriate setpoints, stuck dampers or lack of pneumatic air means that energy is wasted and occupants are less comfortable. However, there was no easy and systematic way for the building manager to know of these problems.

Making these buildings "smart" will enable quick identification and correction of problems which will unlock a huge potential in energy savings. The US Department of Energy has identified RCx and Ongoing Commissioning as one of the most cost effective ways to save energy for existing buildings.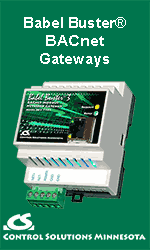 Sinclair: What are the benefits?
Sim: Energy savings is an obvious benefit. We documented the energy savings at Santa Clara County to be over 10% of the original HVAC baseline. Much of this was achieved via low-cost or no-cost retrocommissioning involving temperature setpoint enforcement, recalibration of reset velocity controllers, correcting minor mechanical faults at VAV boxes etc.

However, the surprising thing is how much maintenance savings was also achieved. Because of the continuous monitoring, problems were identified much quicker and more accurately without time wasted on troubleshooting. Tenant complaints were reduced. After the retrofit, we found that the maintenance effort was reduced by over 50% while tenants were happier. A documented case study may be downloaded here:
http://www.cypressenvirosystems.com/files/pdf/County_of_SantaClara_tri-fold.pdf
Sinclair: Has this been widely deployed already?
Sim: The Wireless Pneumatic Thermostat technology was first announced in September 2008, and since then a large number of customers across the country including Stanford University, Kaiser Permanente, Google, NASA, Veterans Administration Hospital etc. have installed the system. Many have documented and quantified benefits. To ensure quality, we have certified channel partners who are trained in estimating, installation and service, including Honeywell, ACCO, EMCOR, Sunbelt Controls, RSD etc.
Sinclair: Where can people learn more?
Sim: We will be discussing this at the upcoming ConnectivityWeek conference in Santa Clara, CA on May 25th, 1:30pm. This is the session titled "A New Energy Management Landscape." Also our website www.CypressEnvirosystems.com has a great deal more information and case studies.
---


[Click Banner To Learn More]
[Home Page] [The Automator] [About] [Subscribe ] [Contact Us]