---
EMAIL INTERVIEW - Lisa Varga & Ken Sinclair

Lisa Varga, Founder & President of Phoenix Energy Technologies, has over 15 years of industry experience including Edison Source and GPU Energy. Lisa has Executive positions in the energy industry's leading trade organizations. Phoenix's EnterpriseDX platform connects thousands of large multi-site retail, commercial and university systems.
Lisa is also a panelist in the "A New Energy Landscape" session at this year's BuilConn event in San Jose, CA - May 25th at 1:30pm to 3:00pm.
---
Using contextual data in a true Enterprise Energy Management system.

"A true Enterprise Energy Management (EEM) system encompasses all areas of business operations that have direct and measurable impact on the energy budget."















Sinclair: Lisa, a pleasure to introduce you to our readers on AutomatedBuildings.Com. Your partner, Keith Gipson, has been a regular contributor over the years and we're very pleased to hear your industry perspective.
Varga: Thanks Ken. I'm very excited to share the EEM solution, EnterpriseDX, we've come up with, for the benefit of your audience.
Sinclair: Tell us more about that?
Varga: EnterpriseDX stands for "Enterprise Data eXchange". The underlying principle behind it is that it incorporates ALL areas of business that have a direct and measurable impact on the energy budget.
Sinclair: So, you're integrating, of course, all the metering together, along with other data; like HVAC?
Varga: Correct, but it's much more than that. EEM is not just enterprise-wide metering, but rather thinking about energy as a strategic resource process flow, rather than an uncontrollable (metered or billed) cost. This means using contextual data such as metering, weather, occupancy, point-of-sale, forecasts, budgets, etc. to provide real meaning (context) to energy use.
Sinclair: Sounds very complex! What's it take to pull something like that together?
Varga: It can be. However, our goal is to always lever our customers existing assets (legacy control systems, POS data, meters and any type of data point valid) and not promote an overall "rip and replace" scenario.

We use software gateways, instead of hardware boxes, to connect locations together - which for most of our customers, who might have thousands of sites, makes it very cost effective and quick and easy to deploy. Many of our clients with thousands of locations can be up and running in as little as 12 weeks!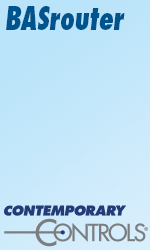 Sinclair: So what type of clients are currently using your product?
Varga: We have clients from the university market, like CalTech, from the commercial market, like Universal Studios and from national accounts/multi-site organizations like Office Depot and Cinemark Theaters. We manage over $2 billion in energy and have many clients of all shapes and sizes.
Sinclair: Does your company support the end user?
Varga: Absolutely! We have a professional services side to our business where we actually manage and monitor the customerís locations as well as serve as their outsourced energy department. That is what makes our product so special, we built the functionality to better manage our services side of the business while creating a tool for customers who have the resources to manage their operations and energy themselves.
Sinclair: Where can readers get more information about Phoenix and EnterpriseDX?
Varga: For more information (http://www.phoenixet.com/htmlver/downloads/slickR2.pdf), visit our web-site at www.phoenixet.com
---


[Click Banner To Learn More]
[Home Page] [The Automator] [About] [Subscribe ] [Contact Us]