---
Hosting Services for the Building Automation Industry

It's different, and it matters.

Brian Turner,
President
Controlco


We've been tracking and reporting real-time data for our end user clients and our Vykon System Integrator partners for a while now. Buildings generate so much data, and the ability to store this data for a long time and access it quickly is key to any successful BAS implementation. Doing this requires very fast servers and tons of space. The traditional datacenter offerings are simply not supplying the kind of service we in the building automation industry need. We learned this the hard way.
Primarily serving enterprise clients with multiple sites, we leased a hosted server and virtual servers from a few different providers, like Amazon. By doing that for the past seven years, we learned a lot about the specific needs of cloud based energy management and eventually it became more cost effective to invest in our own infrastructure. So we leased an IT cabinet from Digital Realty, a datacenter solutions provider which supplies all the cooling space, power infrastructure and redundancy needed. But we went a step further and purchased all of our own hardware – we maintain the firewall, the servers and all the infrastructure so we have full control of how the system operates. We also built all of the necessary redundancy at all the right spots, providing our customers the options required to move real-time energy management to the cloud.
We in the smart buildings and smart grid industry need to access data in a completely different way than those in the business intelligence space. While the analytic engines are very similar, our databases are typically time-series databases specifically designed to allow high speed, frequent access to information. They're built to scale to the demand of smart buildings and the smart grid. In order to effectively manage the energy in a facility, or a group of facilities, the routines must have a historical perspective, all the time. This means the data needs to be accessed quickly so machines can truly make decisions...in the cloud.
Since we built the infrastructure and are using it for our enterprise clients, we're making it available to other people who are using Niagara. We now have the infrastructure built to support the enterprise client, but are keenly interested in bringing these resources to the rest of the buildings industry. Building owners, system integrators, and controls contractors can now gain access to our infrastructure for prices similar to those purchased from the more commonly recognized hosting providers. For those customers, we build a window server and firewall rules, then run the service on a monthly lease agreement. This gives customers the ability to enter the cloud within our database without having to cut their own teeth trying to figure out how to customize an out-of-the-box service like they'd get elsewhere.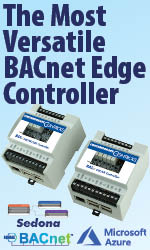 These databases are able to access thousands of rows of historical data and compare it to near-real-time data to make intelligent decisions and take action, several times per minute. We needed this capability and we knew our customers did too.
"We had done a minor project several years earlier," Jeff Nash, senior director of energy management for GGP, explained one day over the phone, "we had that server in-house. We owned and built that server and it was really an alien within our network architecture. It created lots of issues for our technical team to maintain. So going into this full portfolio integration, we made the decision to have Controlco host the server."
And things have been going great. There's still plenty of space for more systems to run off our specially-configured servers, so get in touch with questions and details on your hosting needs soon.

---


[Click Banner To Learn More]
[Home Page] [The Automator] [About] [Subscribe ] [Contact Us]